Thanks to the internet and technology progression, you can find over 30 language learning apps for learning German online. In this article, we have selected the best app to learn German, for all different learning styles, that go beyond Duolingo and Rosetta Stone.
The best and easiest way to learn German or languages in general for that matter is by living it and being in a country where the target language is spoken as a native language. Whether you will have the opportunity to move to Germany or just want to brush up on your resume, starting to learn German through an app will give you a head start. Should you already be living in Germany, it still makes sense to use language apps as daily support to gain more confidence with German.
Why Is It A Good Idea To Learn German With More Than One App?
Every person learns differently. Some people learn by reading or writing, others by listening and speaking. When it comes to learning a foreign language, most people can read and understand a lot more than they can write or speak. That is the main difference between mastering a language passively or actively.
To fully master a language, you need to be able to do all four. That can be very overwhelming. While some apps for learning German tackle all four language-learning areas, most apps focus on one or two main areas.
In our selection below, we have specifically picked apps that tackle visual, aural, verbal, or social learning as a core area, for you to either build on your strength or work on your weaker area.
Ideally, you combine two or three of the below best apps for learning German to find out which learning style suits you best. Pay attention to how much fun you are having and how much progress you are making to determine which learning style is easiest and best for you to learn German anywhere you are.
Our Choice
What Are The Best Apps For Learning German?
Here are our picks for the best apps for learning German this year for visual, aural, verbal, and social learners. All apps are available in the iOS and the Google Play app store.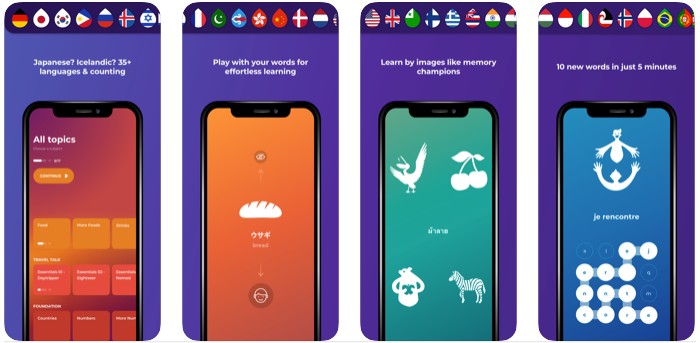 Drops is a visual learning app, focusing on vocabulary training. You will have to match each word to its image, making it a fun and relaxed way to learn. Especially visual learners will be surprised how easy it is to remember vocabulary with Drops.
Each day, Drops will remind you to turn 5 minutes of study time into 5 minutes of playtime with the free version. With the premium version, you get unlimited playtime, offline access, and pronunciation listening tests. Drops is a great app to build your German vocabulary regardless of whether you are a beginner or advanced.
Cost Structure
Free Version or Premium Version starting at 5 euros per month.
Similar to Drops, Memrise is a great vocabulary trainer. However, it goes beyond that. While colorful flashcards are at their core, short video clips will also enhance your listening skills. Next to single word vocabulary, Memrise will also teach you phrases. You can choose from seven different German levels.
Memrise uses the so-called spaced repetition system, in which words and phrases get repeated just before your brain would tend to forget them again. Thus your memory of German words is grown systematically over time. Next to the courses prepared by Memrise, you can also select user-generated courses and thus really choose topics that interest you.
Cost Structure
Free Basic Version or Premium Version from 8.99 euros monthly .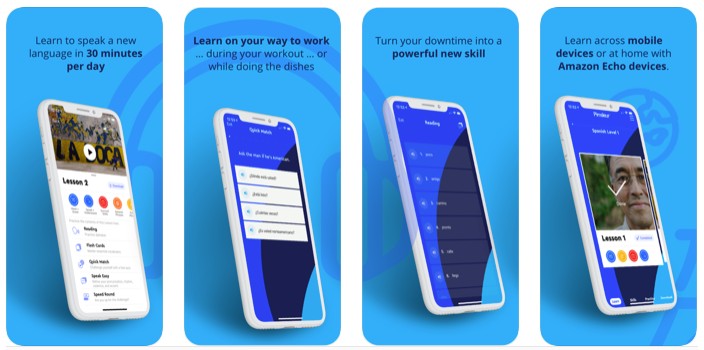 Pimsleur is one of the best audio apps with 5 German Levels consisting of 80 hours of listening exercises. Pimsleur is built with 30-minute lessons to do on the go. You will not need to enter words or swipe on the screen; instead, you get to engage with speaking by repeating the words used for the listening exercise.
Pimsleur is great for anyone wishing to understand the spoken word and improving their speaking skills while still focusing on grammar and vocabulary.
Cost Structure
One Free Lesson, then 21,99 euros monthly.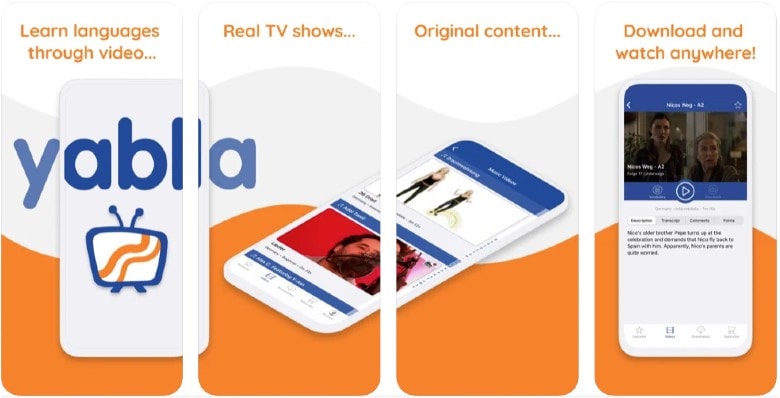 Yabla is an interactive video-based learning app focusing on language immersion. You get to choose videos by topic or language level. The cool thing about the video player is, that you can slow it down, click on a word in the subtitles to get it translated and add games to the video to test your understanding. You can also remove the English or German subtitles completely or download the entire transcript.
The concept of Yabla is pretty great, however, some videos seem to be stuck in the 90s. If that doesn't bother you, give Yabla a try.
Cost Structure
15 days free trial, then starting from 11,95 euros per month.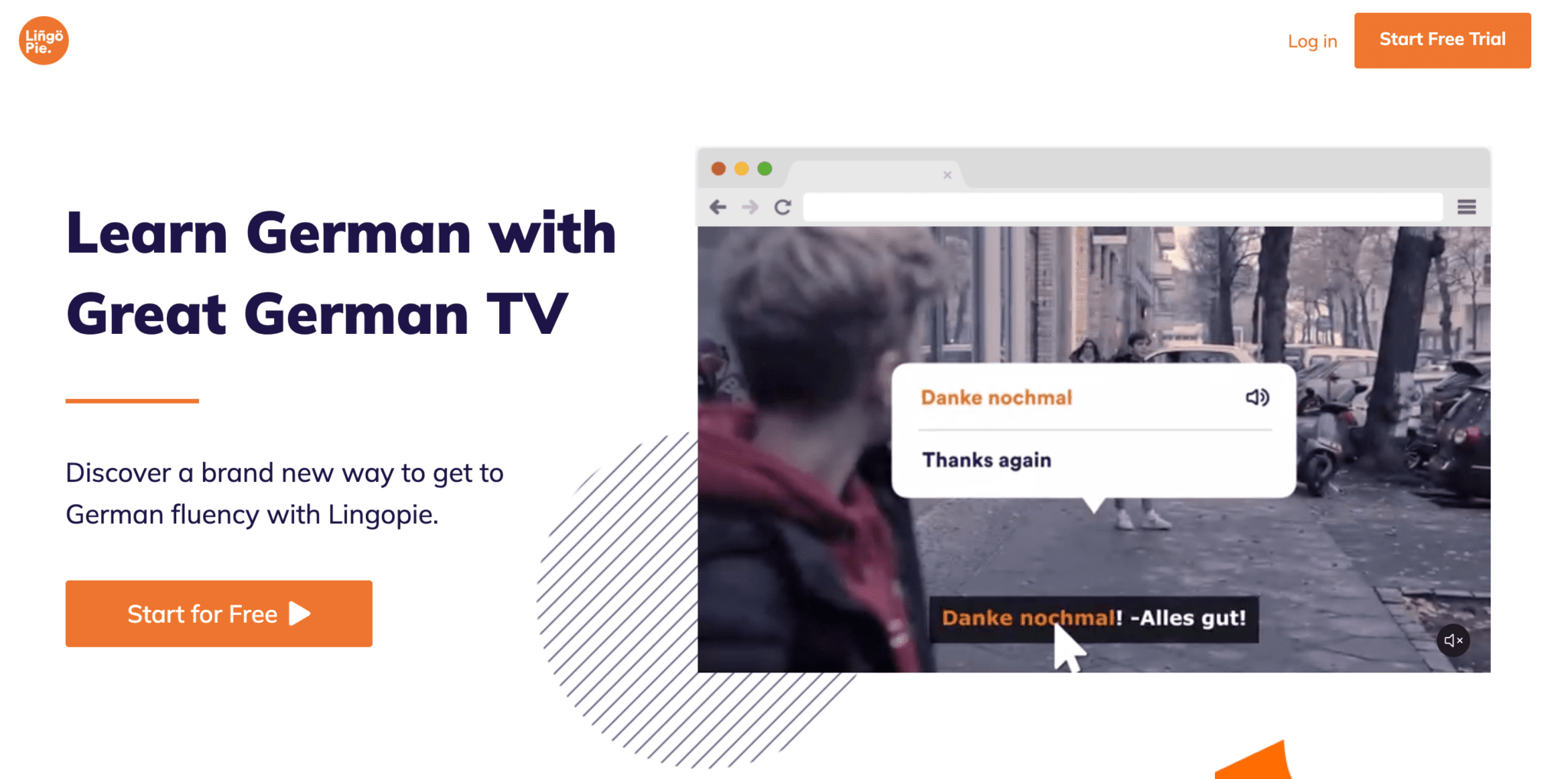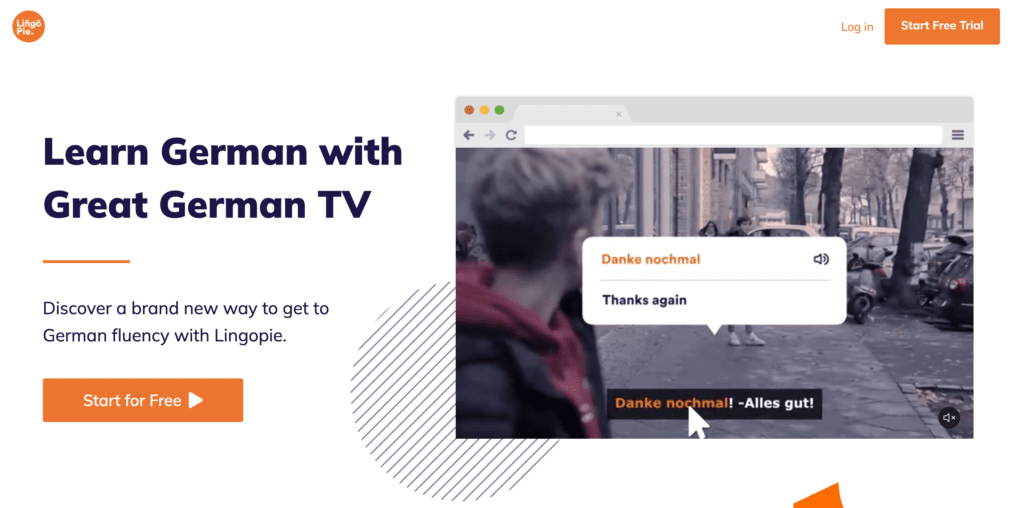 Similar to Yabla, Lingopie is a video-based learning app. However, instead of showing videos that are stuck in the 90s, Lingopie has a database of over 1000 actual real-life TV shows and movies. So instead of watching Netflix, you could watch Lingopie and learn German along the way.
Lingopie is for all levels, you can select different play speeds, watch with English and/or German subtitles, and mark words, which will be saved on flashcards for you to continue studying after the movie.
Lingopie is available on desktop and in the Apple and Google Play store and really is a refreshing alternative to study a language.
Cost Structure
7 days free trial, then starting from 10,89 euros per month.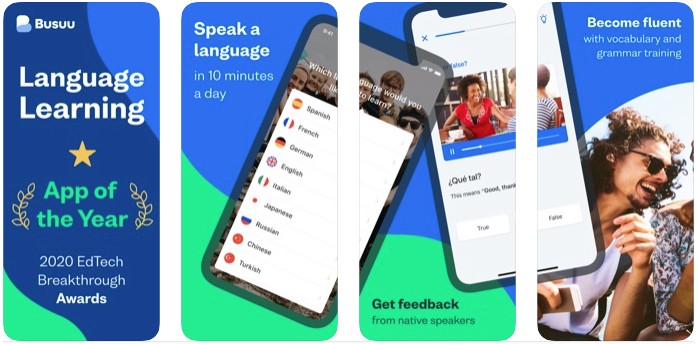 Busuu is a comprehensive language app, focusing on vocabulary and grammar through speaking, writing, and listening exercises. Busuu is the best free language learning app to learn German thanks to its comprehensiveness. Before starting with the exercises, you get to assess your level with a 10-minute placement test.
The Premium Plus version provides you with a personalized study plan for learning 5-20 minutes a day. 100 million worldwide learners use Busuu, through which you can get your written and spoken exercise instantly checked by a native speaker.
You can download your German lessons for offline use and advance fast. A study done by the City University in New York has shown that 22 hours of studying with Busuu Premium equal one college semester of language study. The Complete German course could just be what you need.
Cost Structure
Free Version or Premium Plus for 6,66 euros per month.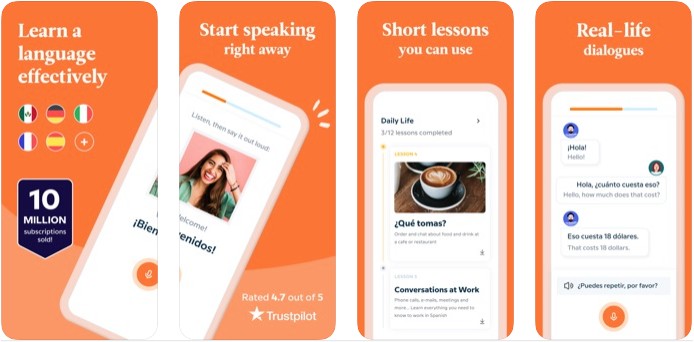 Babbel is the most professional interactive language app with a clean design and no gamification. Before starting your course, Babbel quizzes your level and then places you in the correct course. You can practice all aspects of German with a dialogue trainer and speech recognition and set daily reminders to study 5-60 minutes. For more advanced learners, Babbel provides an entire Business German course, which makes it the best app for advanced German.
Babbel is one of the more professional apps suited for the ambitious and sincere learner who does not fancy other language learning apps' colors and gimmicks. In November 2021, Babbel also introduced live classes to get you speaking faster and more confidently. Discover Babbel Live now!
Cost Structure
Free Lesson, then starting at 8,00 euros per month.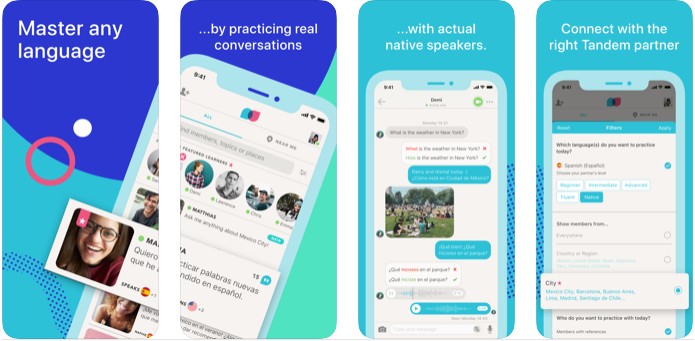 Tandem is a language exchange app, that does not provide courses or exercises but instead connects you to another Tandem user, native in German, and with similar interests. The concept is based on chatting, voice messaging, and video calling with native speakers to overcome the fear of speaking German. In exchange, you will teach your mother tongue to your new Tandem partner.
You can build your profile with pictures and interests and search for a language partner by language, location, and interests. As an added feature, the app also offers a translation tool and spelling corrections.
Since you are aiming to have conversations with real people on Tandem, this app might not be the best for absolute beginners, but rather for advanced German learners wishing to improve their fluency with the help of native speakers.
Cost Structure
Completely Free, Paid tutoring possible.
Preply is the most individual language learning platform on our list, as it connects tutors with language learners for 1:1 video call lessons. After signing up, you can choose your tutor based on language, country of origin, specialty (e.g., for beginners or professionals), time availability, and price per hour. Each tutor sets their own price. For a German lesson with a tutor from Germany, the price ranges between 20 and 50 euros.
You can schedule a first trial lesson with a tutor and then decide on how many hours of tutoring you want to purchase (e.g. 6, 10, 20, etc.). You can always change your tutor in between or ask for your money back, in case a lesson was not satisfactory or didn't take place.
Cost Structure
Around 20-50 euros per lesson, depending on tutor.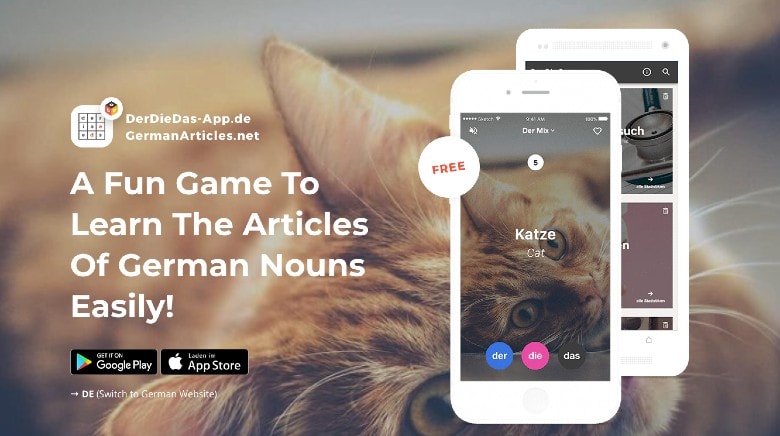 This app fulfills one main goal, to learn the three German articles. Let's face it, it does not matter what level of German you have, the three different articles of der, die and das keep tripping you up.
The Der Die Das App has a very simple design, it is easy to use and quite effective. You also have the option to search for particular words that you might be struggling with or need an answer for. Next to pointing out the correct article, you can also learn about the rules, of when to use which articles.
Cost Structure
Completely Free.
Final Thoughts On The Best App To Learn German
You now have a list of fun and goal-oriented learning apps to improve your German skills. It is up to you to make it count. To boost your joy for the German language, even more, take a look at our list of 111 German idioms in English. You better start laughing and learning.
To complement your online language learning with the fundaments of German, it might be a good idea to get a traditional German grammar book as well, and to sign up with an online language school like Lingoda.
Related Guides: The 5 Best German Grammar Books
Lingoda Review: My Honest Experience Learning German
And remember, the best way to master German, is to move to beautiful Germany and indulge in its culture.
Happy studying!