You have landed here because you are considering Lingoda to learn German and wonder if it is worth it. In this Lingoda review, we will go over the pros and cons and provide you some tips to make the most out of the Lingoda classes. In the end, you will be able to decide whether this online language school is right for you or not.
Let's get to it!
Quick Overview
If you are short on time and just want the scoop, here is our short overview.
What We Like About Lingoda
Flexible schedule: As long as you have an internet connection and a device that can run Zoom, you can take a class with Lingoda at any time and from anywhere. They offer German classes 24/7. 
Small classes: The maximum number of students is 5 per class.
Quiz after every lesson: There is a small quiz you can take after every class to review what you have learned.
What We Don't Like About Lingoda
Limited interaction with other students: Teachers always have their video on. However, not all students feel comfortable participating in the class with their video on. This limits the interaction between students and the teacher, and other students.
Teachers are not always able to go through all the teaching material: It is very common that the teacher is not able to finish the learning material within the 60 minutes of the class. If this happens they motivate you to complete the exercises on your own and check the answers at the end of the learning material.
Now, let's dig a little deeper into this Lingoda review!
Our Choice
About Lingoda
Lingoda was founded in Berlin in 2013 by two German brothers who share a strong passion for language.
During 2020 Lingoda had explosive growth in the market. They currently have over 70.000 students and over 1.400 native-speaking teachers.
All their classes are online, and their pricing is quite competitive compared to traditional language courses.
Currently, they teach English, Business English, French, Spanish, and German. In this Lingoda review, we will be focusing on the German language classes.
Lingoda's teaching method
Lingoda's teaching method is based on 20 years of research by experts from Cambridge and Oxford Universities. Two of the top 10 renowned universities in the world.
Lingoda's teaching methodology is immersion. Their goal is to provide you with enough speaking practice and relevant material that you can immediately use in real life.
One of Lingoda's focuses is to teach students to speak like a local. Students can connect with native speakers through online classes and learn local expressions, idioms, conjunctions, and cultural references.
Lingoda uniquely develops the learning material to align with CEFR standards. CEFR stands for Common European Framework of Reference for Languages. It is an internationally recognized standard that describes the level a student has. For more details about this, make sure to visit Lingoda's page explaining what CEFR is.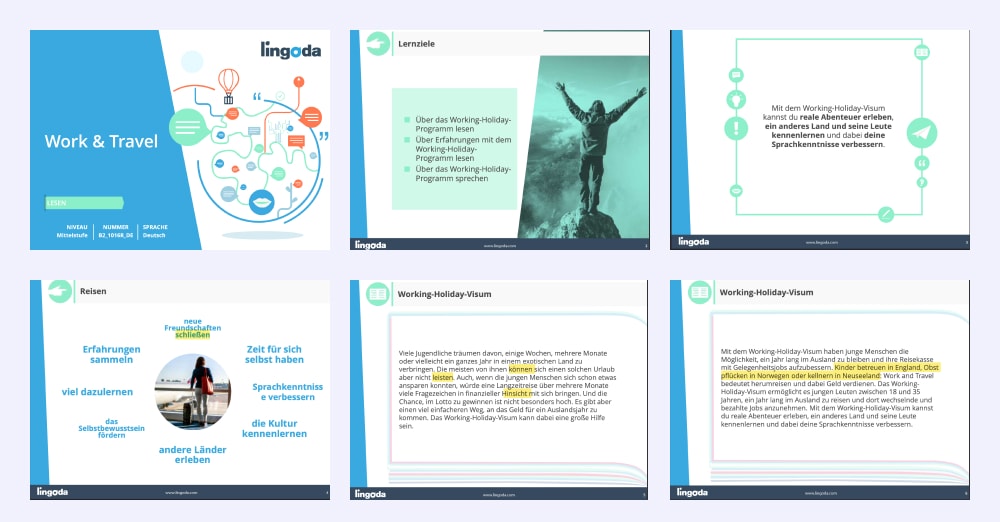 How does Lingoda work?
Lessons are held online through Zoom. As soon as you book a class, the material is available to you. You can download the class material and prepare ahead of time or wait for the date and time when the lesson takes place.
The class material consists of reading, speaking, and writing exercises. During the class, the teacher goes through the Lingoda material and makes annotations along the way. After the class is over, the material with the teacher's annotations is available to all students.
To complete a language level, you need to complete two sublevels. For example, to accomplish level A1, you would need to complete sublevels A1.1 and A1.2.
How fast you complete a level with Lingoda depends on the frequency of your classes. According to Lingoda's website, the following time frame is how long you should expect to complete a sublevel:
5 classes per week – 2.5 months
3 classes per week – 4 months
1 class per week – 12 months
Lingoda's pricing model
Lingoda offers a subscription-based model. The price per lesson depends on the frequency of lessons per week, the plan you decide to take, and whether you choose to have group classes or 1-1 classes.
You can try Lingoda out with their 7-day free trial. You need to provide a payment method during registration. So if you decide that Lingoda is not a good fit for you, you should set a reminder to cancel your subscription before the charge for the month happens.
Lingoda provides three types of plans:
Monthly subscriptions: As the name suggests, you pay for your lessons monthly upfront. You can join and cancel anytime.
Sprints: This is their intensive language training. Sprints open a few times a year, and you can choose to join a sprint with classes every day or every second day. If you attend 100% of your classes, Lingoda will give you 50% money back!
Our Choice
Lingoda's Pros
1. Flexibility of schedule
Lingoda's website allows you to schedule your classes whenever it fits your schedule, 24/7. They have native-speaking teachers worldwide, so there is a high chance that you will be able to find classes whenever you want. I once took a class at 21:00 from a German teacher living in Peru!
To find the class that best fits your schedule, Lingoda recommends that you book it at least seven days in advance. If you are a bit more flexible with your schedule, like me, you can always book classes up to 2 days in advance.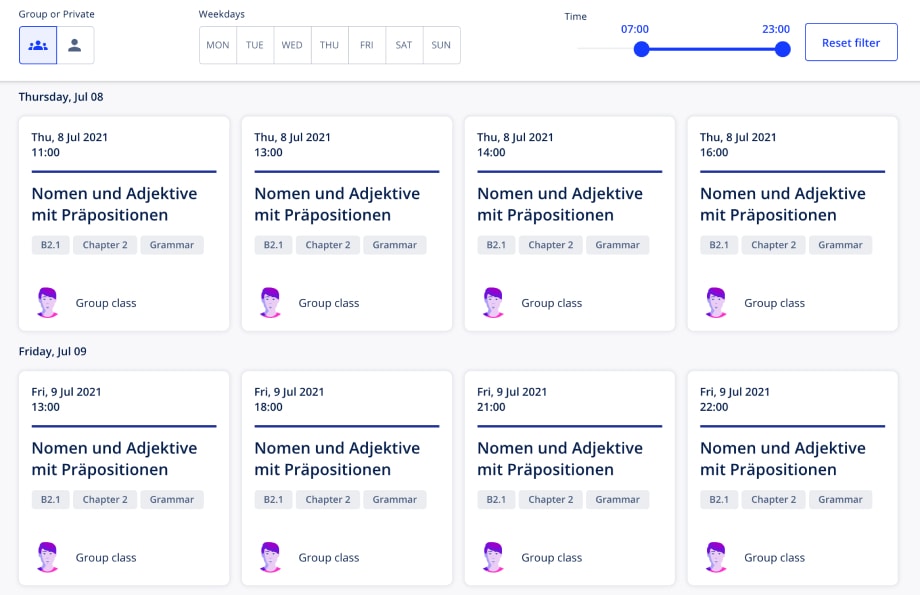 2. Join Classes From Wherever
The only two requirements to join a Lingoda class are having a stable internet connection and a device that you can use Zoom with. You have the freedom to join a class from wherever you are in the world. Also, you don't need to commute to a faraway language school.
Lingoda's classes are 60 minutes long, packed with information, and require your full attention and participation. My only recommendation would be to always take the classes in a quiet place where you can read the screen and participate freely.
3. Certified Native German teachers
All of Lingoda's teachers are native and certified German teachers. During the lessons, you will learn how to speak German from a real local. Also, a certified teacher will be able to explain to you the nuances of the language.
4. Small classes
You will be online with a maximum of 4 other students from around the world plus the teacher. This makes the number of students per class the smallest that I have experienced in a language school.
Generally, in a language school, you have a group of students of 7 to 17 people. The more students in a class, the less chance you get to participate. So another point for Lingoda on this one!
5. Visual learning material
In each class, the teacher will share their screen and the learning material for that class. During the class, the teacher will make digital annotations on the learning material. At the end of the class, you can download this material with the teacher's annotations.
6. Constant request for feedback
After every lesson, you are encouraged to provide feedback about the learning material and the teacher. It is the perfect opportunity to let Lingoda know if you would like anything to improve or how much you loved the lesson.
Also, every teacher provides feedback on the lesson. If it is a group lesson, they summarize what they taught and tips on how to keep on practicing the material. If it is a private lesson, they provide feedback on a more personal level. A teacher might provide more detailed feedback on pronunciation and grammar.

7. Each lesson is 60 minutes and it focuses on one area
What I like about Lingoda is that each lesson is just 60 minutes. You have the flexibility to increase the intensity by booking several lessons per day if you wish so.
Generally, in Germany, a language school and private lessons are taught for a minimum of 90 minutes. I have personally struggled with such long classes, as I feel that there is an information overload and too many subjects at the same time.
8. Easy to use interface
Lingoda's website has an easy-to-use interface. Once you have your account set up, you can schedule classes with one click.
The material, quizzes, schedule, lesson plan, and account information are easy to find. Their website is mobile-friendly, which means that you can easily navigate through your account on your mobile device.
9. Easy access to certificates and summary of classes
In your Lingoda account, you can easily access a signed summary of classes you have taken. Once you have completed a sublevel (e.g. A1.1), you can easily access your official certificate.
Usually, in offline language schools, you need to request this information through a written request and wait for their reply. I once had a language school deliver my certificate one month after I had completed my course.
Having such easy access to your language learning progress allows you to easily print proof if you need to, to provide to your employer or German authorities.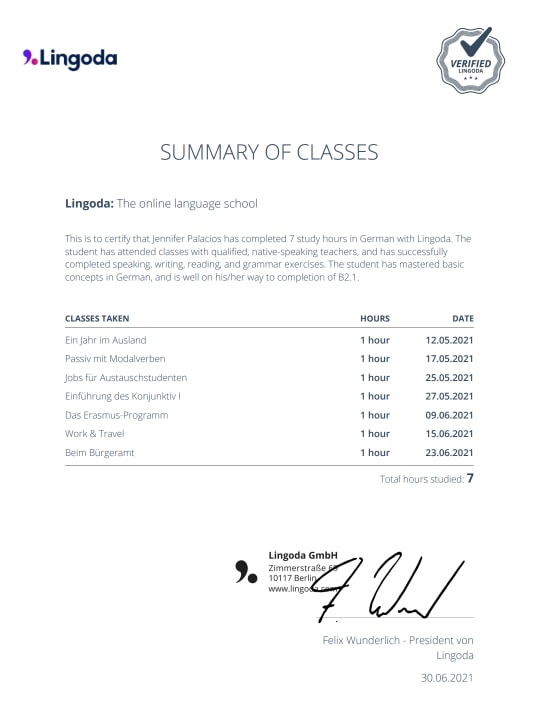 10. Competitive pricing + cashback options
Lingoda offers high-quality courses at competitive prices and with no hidden costs. You don't need to pay for a book or other materials, as it is all digital, and you can access it whenever you wish to.
The price of your language course will depend on the frequency of classes you have per week and whether you choose a monthly or a Sprint plan. If you select a monthly plan, a class might be a bit more expensive.
As of 2023, the price for 4 weeks, including 20 classes to learn German with Lingoda, is roughly 200 euros. If you sign up for a Sprint, which is an intense 2-month language learning commitment, you even have the chance to qualify for a 50% cashback.
I once paid 330 euros for an 8-week course including 40 classes + 17 euros for the book on a traditional language course, where I had to commute twice a week. Each session was 2.5 hours long after long days of work with 16 other students. I don't remember learning much from that course and just feeling exhausted after each lesson.
Lingoda's Cons
1. Placement test can be improved
The placement test takes only around 5 minutes to complete. It is very grammar-focused. So if you have been living in Germany for some time and can speak somewhat fluently, this test might not be the best assessment of your level.
For example, I have been living in Germany since 2012 and took the Lingoda test in 2021. Even though I can communicate and understand German fluently in most situations, I was placed on an A2.1 level.
I wish for the test to be more in-depth and to focus on listening and reading and not just on grammar. If you take the placement test and feel like it is not accurate, you can always contact Lingoda's customer service. They are more than happy to place you at a level that you think is accurate to try it out.
2. Limited interaction with other students
Lingoda uses Zoom as the software to conduct the online lessons. Unfortunately, most students have their cameras off during class. This leads, in my opinion, to limited interaction with others as you cannot see the reactions or emotions of the other participants.
I have also noticed that it also leads to teachers asking questions multiple times, as they cannot see if the students are nodding their heads or not 😅.
Another thing that I noticed during a lesson with Lingoda is that you cannot communicate with other students during the class. One can only send a direct chat message to the teacher.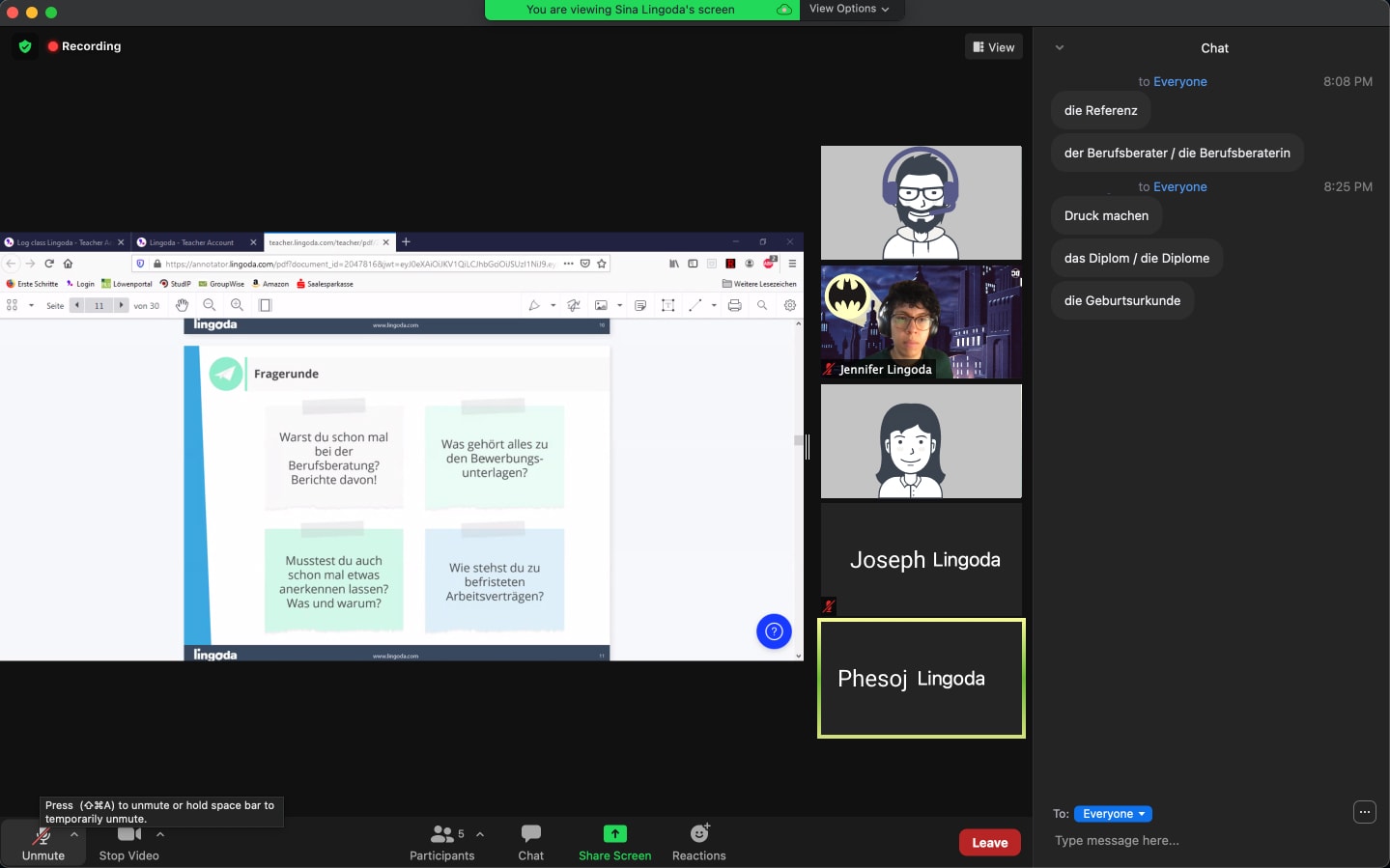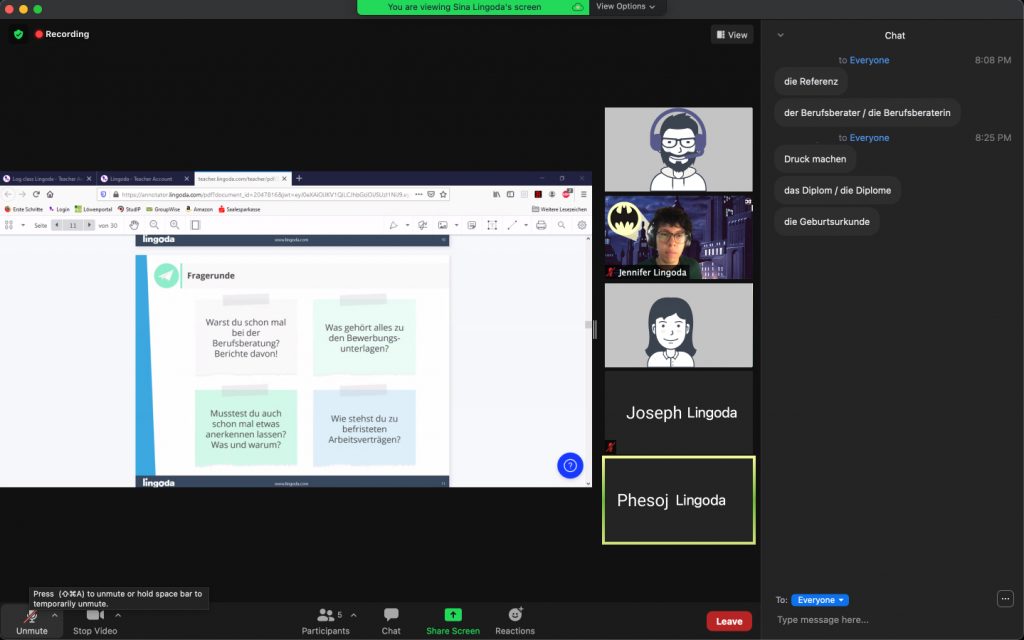 3. You cannot always choose your teacher
To find the best class that matches your schedule, Lingoda recommends booking a class 7 days in advance. The downside of booking a class that much time in advance, is that a teacher might not have been assigned to it yet.
Throughout your journey with Lingoda, you will most likely get to know teachers you really like and others whose teaching methods you don't fancy that much.
So, if you book an unassigned class, you might end up with a teacher you don't fancy so much.
4. Learning material is too long for a class
Most teachers are not able to finish teaching the learning material in 60 minutes. Therefore, they highly encourage you to complete the exercises on your own time.
Once you have completed the exercises, you can check the answers at the end of the teaching material. Also, Lingoda offers small quizzes at the end of every lesson to practice what you just learned. So you are accountable to finish the lessons on your own.
Tips to make the most out of your classes with Lingoda
If you are genuinely committed to improving your German language skills with Lingoda, here are a few tips that will help you make the most of your time:
1. Study the learning material
Most successful students prepare before a class by reading through the material that will be taught in the class. They write down the words they don't understand and write down questions to ask the teacher during the class. Once the class is over, they dedicate some time to finishing the exercises and completing the quiz Lingoda provides after every lesson.
2. Keep track of your schedule
Lingoda's flexibility is both a good and bad thing. I can tell you from experience that it is always a good idea to set a reminder for yourself 30 minutes before a class begins.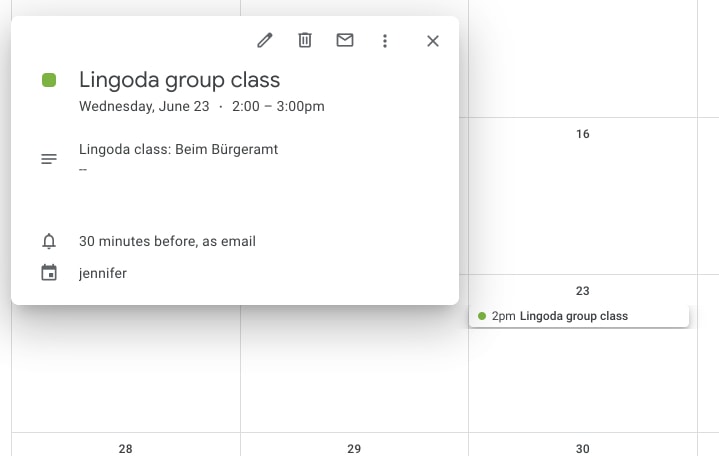 If you do forget that you had a class, you will lose a credit from your account. The same goes if you need to cancel a class last minute. The only way you can cancel a class without losing a credit is to do so seven days in advance. This means that once you commit to a class, you should try to make it, whether it rains or shines.
If you miss a class in traditional language courses, you can never go back to it again. In the worst-case scenario that you miss a class and you lose a credit with Lingoda, you can always re-book the same class and not miss the learning from your curriculum.
3. Be aware of Auto-Renewal
Like any monthly subscription-based service, Lingoda will automatically charge you for the next payment if you don't manually cancel it.
If you wish to cancel your subscription on time, put a reminder on your phone or calendar. This way, you will not be charged for something you are not ready to pay for again.
Recap of my Lingoda Review
Overall, I think Lingoda is an excellent method to learn German. I have had much better success with courses that push me to speak and read aloud than those focusing just on grammar. To dig deeper into grammar, I prefer using a good old-fashioned German grammar book.
As a reminder, learning any language is a big commitment, and you should be aware that it will require time, patience, and consistency on your part. If you join a language school, whether online or offline, you commit to this language school that you will participate in all their lessons.
With an online language school, you need to be more self-reliant than ever because you need to plan your schedule effectively, go over the teaching material, and complete the quiz after each lesson.
Lingoda is

not for you

if you can't stand:
Fast-paced classes: Each class is 60 minutes; therefore it is very fast-paced. Students are encouraged to ask questions, but if no one responds quickly to the teacher's questions, they move on to the next subject in the lesson.
You're bad at keeping a schedule: Because Lingoda is so flexible, you need to be able to keep track of when you booked your class. I forgot I had a class one day just because I forgot to set a reminder. Again, you need to be committed and create a system that works for you in your journey to learn German.
Lingoda is

great for you

if you like to:
Learn German from wherever you are: As long as you have an internet connection, you can book any Lingoda class with a certified German teacher. No need to commute or deal with unqualified teachers.
Learn German in small groups: Lingoda promises to place a maximum of 5 students in each group class.
Learn German 1-to-1: If you want to have private lessons, Lingoda offers you the ability to book 1-to-1 lessons with qualified native German teachers.
I had a private teacher once here in Dusseldorf, and it took me a very long time to find him, and it was always a struggle to align our schedules.
I have enjoyed improving my German with Lingoda very much, especially compared to other offline language schools. So I can only encourage you to give Lingoda a try with their 7-day free trial to see if it is also for you!
We wish you all the best in learning Deutsch!