Christmas time in Germany is one of the most precious times of the year. Not only for Germans but also for expats and tourists alike. We will let you in on how Germans celebrate Christmas, what really happens during the advent season, and why Christmas without Christmas markets is not considered Christmas.
How is Christmas celebrated in Germany?
Christmas in Germany is called Weihnachten, and it is a three day holiday. The main celebration is on Christmas Eve (Heiligabend), December 24th. Shops and offices are usually open until noon (unless it is a Sunday), and then everything closes up for a mainly silent and quiet time spent with family.
German Christmas traditions have families put up and decorate the Christmas tree (Weihnachtsbaum) on December 24th, although nowadays, many families already get their tree some days in advance to enjoy it longer.
Germany has about 41 million households, and in 2019 almost 30 million homes had their own Christmas tree. That shows that a whopping 73% of German homes have their own Christmas tree, which is always a real tree (only 22% put up a fake tree) and decorated with classic color-matching decorations and white lights. Traditionally, German Christmas trees are decorated with wooden ornaments and real candles.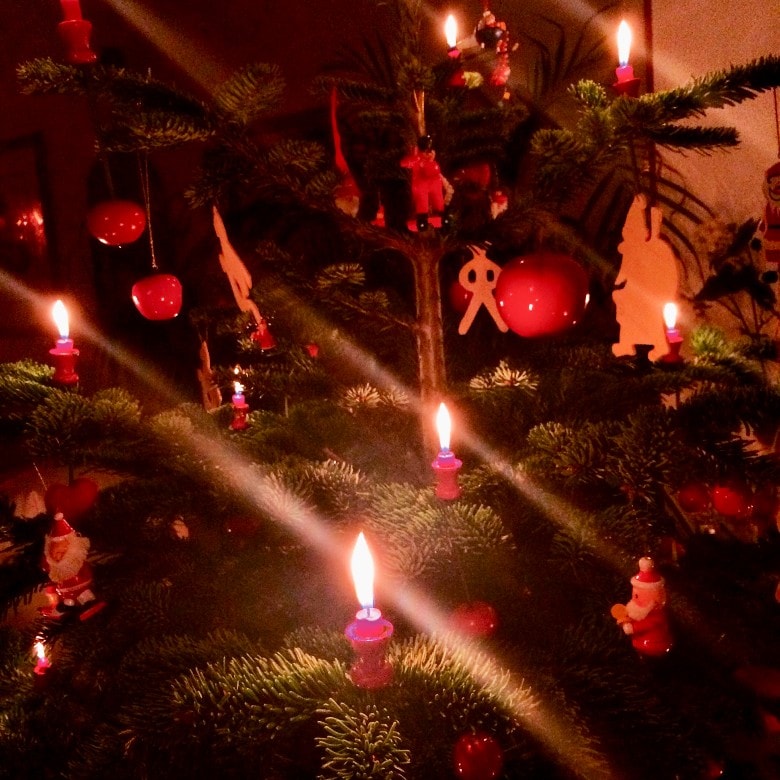 Germans usually keep their Christmas tree up until January 6th, the day of the Three Wise Men (die Heiligen Drei Könige). In order to get rid of the by now dried up Christmas tree, they put it out on their sidewalk the night before the official Christmas tree pickup. Yes, you have read that right and if you are curious for more, take a look at our German Trash Guide.
Some families (29% of Germans) go to church in the afternoon of the 24th for a special Christmas mass (Christmette). In Germany, Christmas gifts are placed underneath the Christmas tree and opened on the 24th in the evening. Traditionally, Christmas gifts are brought by the Christkind (child of Christ). Santa Claus also exists in Germany and is simply called the Christmas man (Weihnachtsmann).
Usually, before or after unwrapping Christmas gifts, German families gather around the Christmas tree, wish each other Merry Christmas (Frohe Weihnachten), and sing traditional German Christmas songs, such as 'O Tannenbaum', 'Stille Nacht', and 'Kling Glöckchen'. This tradition disappears more and more, as only 14% of German families still sing Christmas carols.
Germans love a traditional Christmas dinner on December 24th with potato salad and sausage, duck, or goose, forming the top 3 dishes.
December 25th and 26th are official holidays called First and Second Christmas Day (Erster und Zweiter Weihnachtstag). These days, Germans usually visit other parts of the family or dine out.
What is the Advent Season in Germany?
Christmas time in Germany officially starts already at the beginning of December with the Adventszeit. The advent season marks the four Sundays in December. Traditionally, every home has a decorative advent wreath (Adventskranz) with four candles. On the first advent, the first Sunday, one candle gets litten. On the second advent, the second Sunday, a second candle gets lit, and so on. On Christmas itself, all four candles are giving light.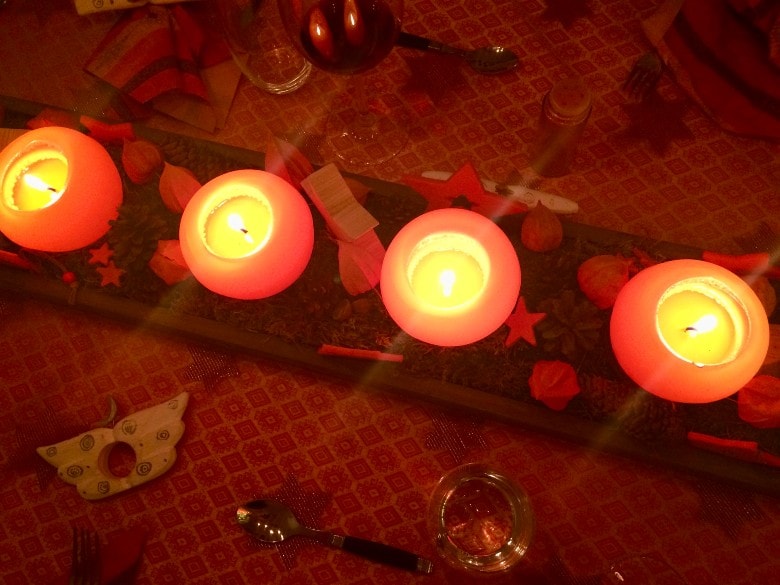 For children (and some adults as well 😉 ), the advent season resembles a countdown to Christmas, sweetened with an advent calendar (Adventskalender). A typical advent calendar is made of cardboard with 24 small numbered 'doors' (Türchen) marking each day in December until Christmas Eve (December 24th). Behind each door is a drawing, saying, or small Christmassy picture. Every morning the kids run to their advent calendar eager to discover what is behind the next door.
Nowadays, there are tons of variations of advent calendars, a favorite being with chocolate.
My sister and I had a medieval castle village made out of cardboard. Underneath each house, my mum either hid a little treat or a piece of paper with instructions to search the house for the treat. That was fun!
Among the favorite German Christmas foods during the advent season are homemade Christmas cookies (Plätzchen), Stollen, the oldest known German Christmas sweet/cake, and gingerbread (Lebkuchen).
During the advent season, a lot of traditional activities and decorations take place. Germans put up wooden nutcrackers (Nußknacker), Christmas pyramids (Weihnachtspyramiden) that spin when its candles are lit, and of course, the famous Christmas tree (Weihnachtsbaum).
What is Saint Nicholas Day (Nikolaustag) in Germany?
The advent season has one particular day before the actual Christmas celebrations. On December 6th, Germans celebrate Nikolaustag. It is pretty much a pre-Christmas, as in the eyes of the kids, Nikolaus is dressed just like Santa Claus. Tradition has it that on the evening of December 5th, before children go to bed, they clean and polish their winter boots and place them in front of their closed room door together with a wish list. At night Nikolaus arrives and puts some items off the wishlist as gifts into the boots.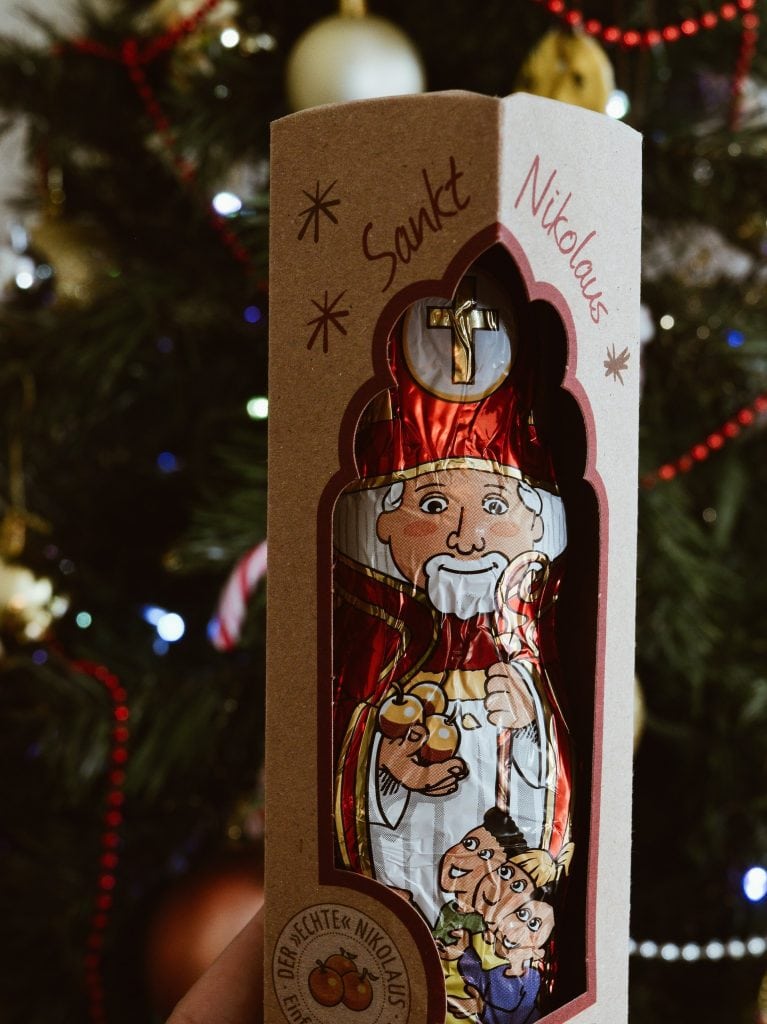 There is also the tradition of Knecht Ruprecht, a folklore figure and companion of Saint Nicholas, who punishes children that misbehaved throughout the year with his birch. Parents use this traditional saga to encourage their children to be good, so Knecht Ruprecht won't have to pay a visit at the end of the year.
Christmas Markets in Germany
Oh, the famous Christmas Markets, who has not heard of them yet. Pretty much every German city has at least one Christmas market along with a massive Christmas tree on one of the main squares in the city. It is not uncommon for each Christmas market to have a theme, such as the angels market (Engelmarkt), the star market (Sternchen Markt), or even a medieval Christmas market (Mittelalterlicher Weihnachtsmarkt).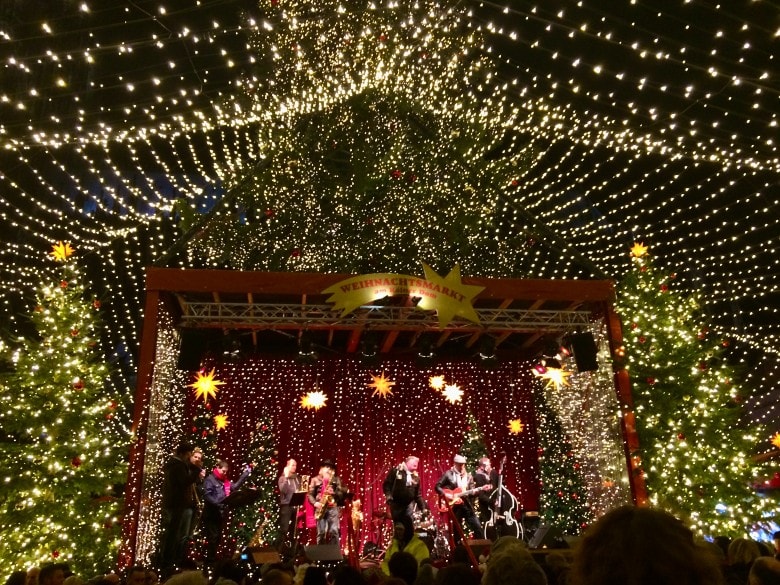 Each year there is a debate about the most beautiful Christmas market in all of Germany. I think there are just too many pretty ones, and everyone ends up having a favorite. You might have heard of some of the best Christmas markets in Germany, such as:
Christkindl Markt in Munich
Weihnachtsmarkt am Dom in Cologne (the most visited Christmas market with over 4 million visitors)
Weihnachtsmarkt Römerberg in Frankfurt (one of the oldest Christmas markets dating from the 14th century)
Striezelmarkt in Dresden
Christkindlesmarkt in Nürnberg
Reiterlesmarkt in Rothenburg ob der Tauber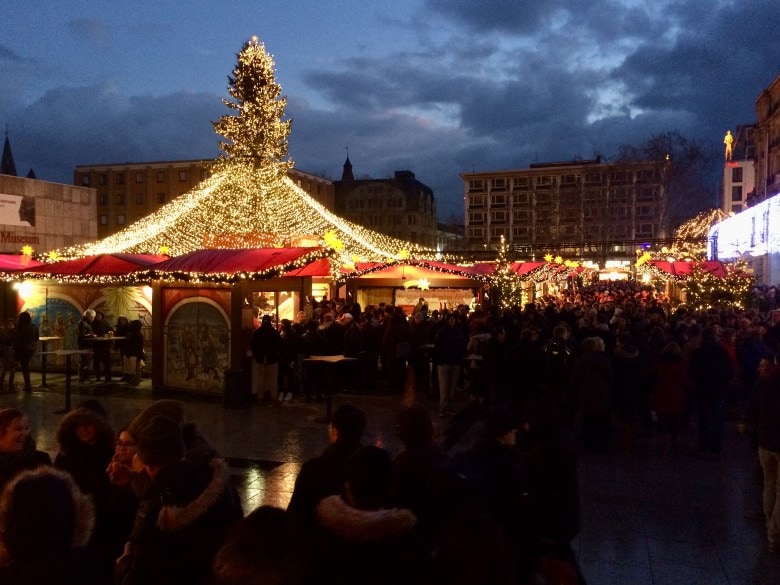 The Christmas markets open at the end of November and are traditionally open until December 24th. However, in the past years, I have seen a few open until New Year's Eve. You can also find some more exclusive smaller Christmas markets at old castles on the weekends (e.g., at the Burg Satzvey close to Cologne or the Landpartie close to Bremen) with more high-quality huts and artists. Some of those unique markets might ask for an entrance fee. The ones in the cities are always free.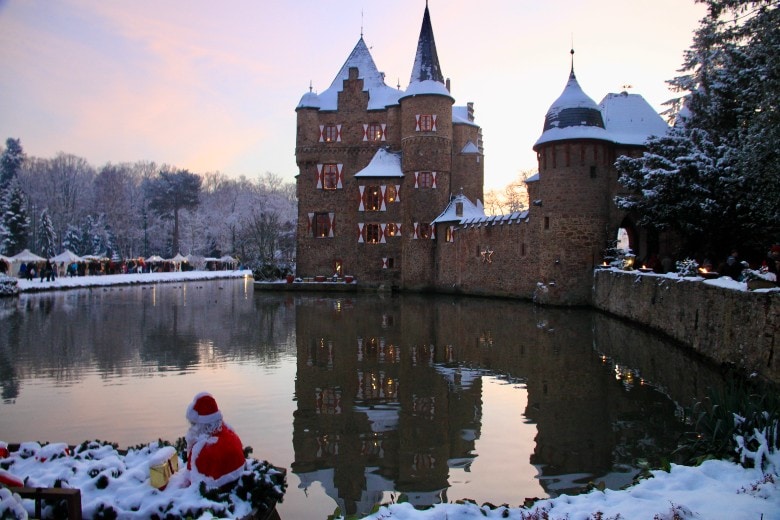 Germans, expats, and tourists alike flock to the markets and its many huts. According to a YouGov survey in 2017, 71% of all people in Germany were planning to visit Christmas markets, and 73% say that they cannot imagine an advent season without Christmas markets. The intentions of the visit vary. While the majority, 81%, will have a Glühwein, the typical hot spiced wine, 34% enjoy buying their Christmas gifts at the markets, and 69% have the feeling that Christmas markets put them in a contemplative mood.
Final Thoughts
Christmas time in Germany simply is magical, and you should experience it at least once in your life. As an expat, be sure to visit several different markets and even other cities to get a more fabulous feel for the German Christmas traditions. Be careful, though, Glühwein contains more alcohol than you might think 😉 .