Your first weeks in Germany can be overwhelming at times, and it is our mission with Simple Germany to help you out and simplify most of the bureaucratic and cultural hurdles you are facing. Here is your ultimate trash guide for Germany.
How to separate the trash in Germany will be one of the many questions you will have. Recycling in Germany is more than a thing. There is a good reason why Germany has the best recycling rate in the world – 56% of all municipal waste gets recycled.
On average each person in Germany produced 194 kg of house trash per year in 2020. An interesting fact is that people in southern Germany produce a lot less trash per person than in northern Germany.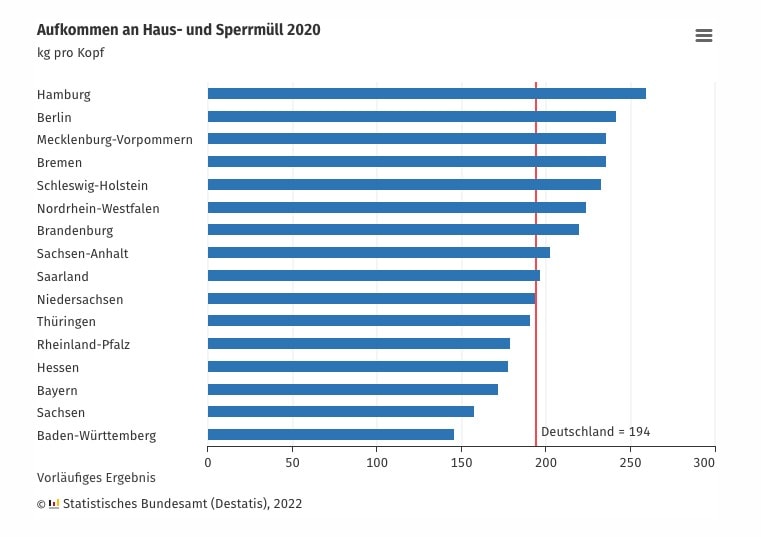 Why is Germany so good at recycling?
The waste separation in Germany (Mülltrennung) is quite comprehensive and taken seriously. Not only by strict governmental and state policies but also by the Germans themselves. I got raised separating trash properly; it is as if it's in our blood 😅. It is therefore my pleasure to help you out with this trash guide for Germany.
How many trash bins are common in German homes?
In German homes, it is common to find the following 3-4 different trash bins:
Blue bin
Yellow bin (or yellow bag in Southern Germany)
Black or gray bin
Green or brown bin (not in all homes)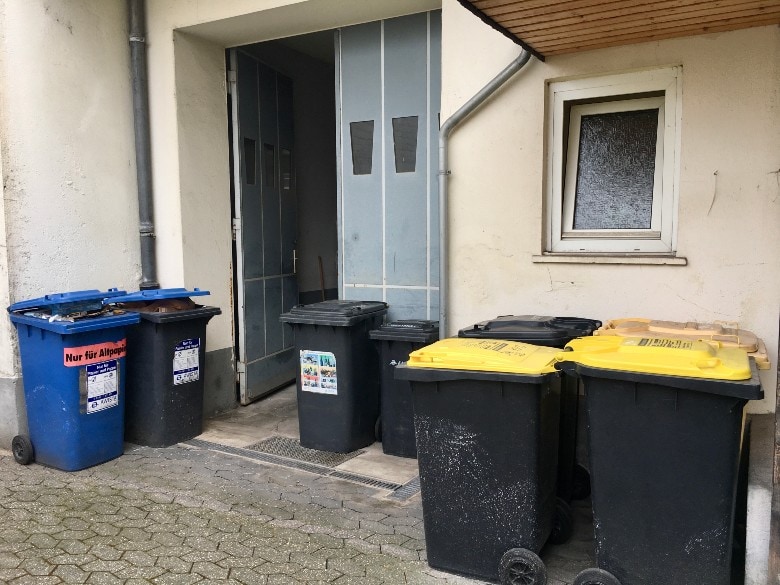 How do you separate trash in a German home?
You should start separating your trash the moment you produce it. Sifting through one big bag afterward is not so much fun, and throwing it unseparated will either lead to a fine or your trash simply won't be picked up.
So how do you become a model German resident and separate your trash correctly at home? Let's take a closer look at each bin color.
Blue bin = paper and cardboard
This is pretty straight forward. Any clean paper product belongs in the blue bin (Blaue Tonne).
What belongs in the blue bin?
Newspapers
Magazines
Egg cartons
Letters and Envelopes
Carton Packaging (folded)
What does not belong in the blue bin?
Drink cartons = yellow bin
Paper towels = black bin
Dirty cardboard with food residues = black bin
Large carton shipping boxes = special large carton containers on your neighborhood streets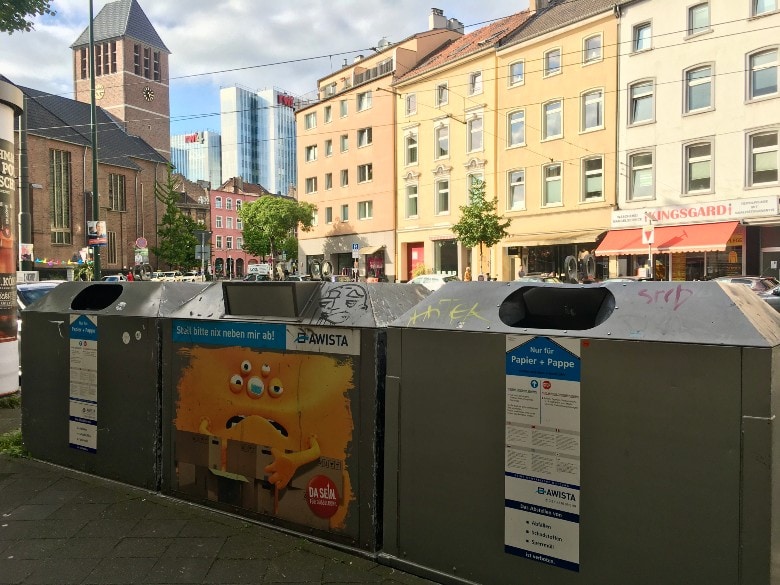 Yellow bin = Plastic and soft metal
Any garbage and packaging made of plastic, soft metal or coated paper with the Green Dot (Der Grüne Punkt) belong in the yellow bin (Gelbe Tonne) or yellow bag (Gelber Sack). Clean or rinse food containers beforehand to allow recycling.
What belongs in the yellow bin?
No-deposit plastic bottles
No-deposit cans
Milk and juice cartons/Tetra-packs
Yogurt containers (pull the metal lid of the plastic container fully, as they get separated by machines and recycled differently)
Drink cartons
Aluminum foil
Tins
What does not belong in the yellow bin?
Batteries = special containers (see below)
Light bulbs = special containers (see below)
Styrofoam = black bin
Green/Brown bin = organic/bio waste
The green or brown/green bin (Biotonne) is for all biodegradable products.
What belongs in the brown/green bin?
Coffee grounds and filters
Eggshells
Food leftovers
Fruit and vegetables and their skin
Waste from the garden, such as flowers, grass, leaves, etc.
What does not belong in the Biotonne?
Ashes = black bin
General dirt = black bin
Pet litter = black bin
The Biotonne is the newest addition to the German recycling system and was introduced in 2015. Each household should have a green or brown bin; unfortunately, this is not reality, however. Our house in Dusseldorf, for example, does not have one yet.
Gray/Black bin = Residual waste
The German gray or black trash can (Restmüll) is for all other trash, including sanitary products with the below exceptions.
Glass bottles
You need to dispose of wine and spirit bottles or smaller jars and oil bottles separately. You have probably noticed these big containers with holes in them in your neighborhood. This is precisely where your glass bottles go, of course, separated by brown, white, and green glass.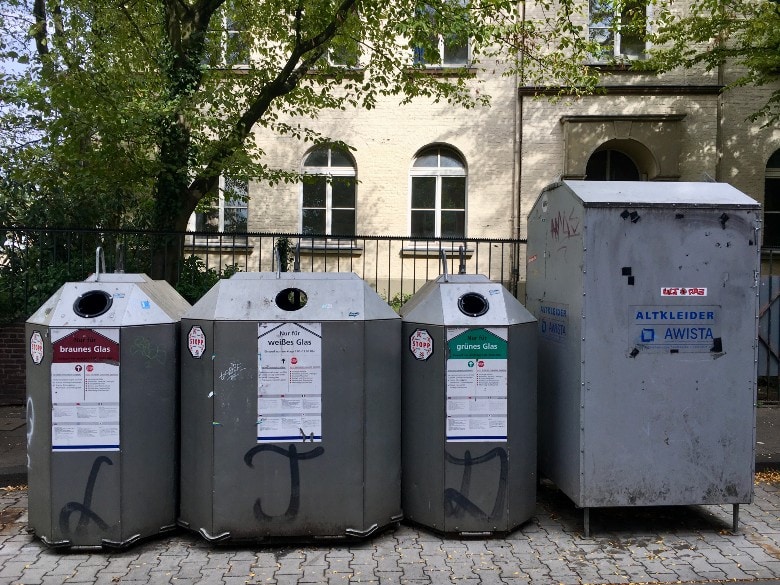 Very important: Do not throw beer bottles in such containers. You would be throwing money away, as they have a deposit (Pfand).
What do I need to know about the deposit (Pfand)?
Most glass bottles (except for wine and spirits) and plastic bottles have a deposit (Pfand). When you buy these items, you pay an extra 8-25 cents each, which you will get back upon returning them. We have written a detailed guide about how Pfand works in Germany.
Related Guide: How does Pfand in Germany work?
Special waste disposal in Germany
Electronics, Batteries and Light bulbs
Please do not put electronics in your regular house trash. Instead, return them in dedicated locations to allow proper recycling.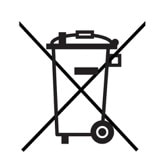 The easiest way to return electronics and light bulbs is in your nearest electronics store, such as MediaMarkt and Saturn, and hardware stores such as Bauhaus and Hornbach.
You can also find batteries and light bulbs recycling bins in supermarkets such as REWE, Aldi, or dm.
Related Guide: Top 12 Supermarkets In Germany [Buy Groceries Like A Local]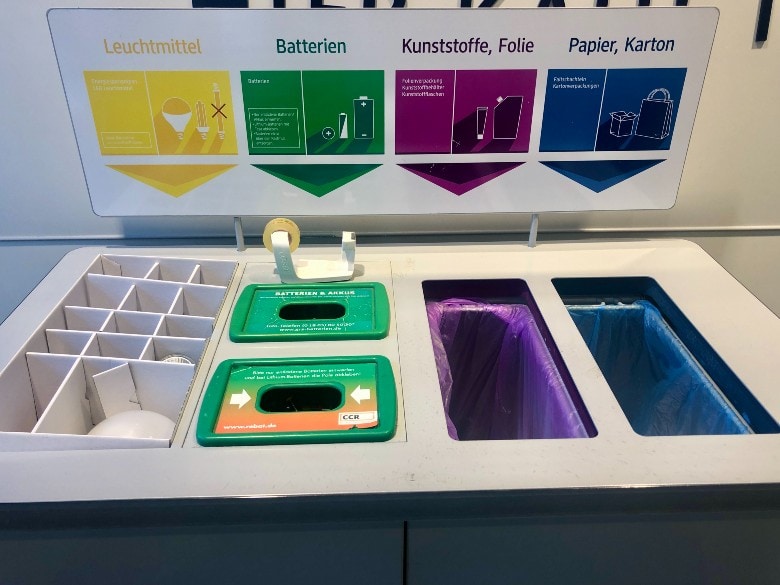 Paint and lacquers
The same as for electronics applies for leftovers of paint and lacquers. They should be disposed of properly, and your local hardware store takes care of that. You can return them to the likes of Obi and Hornbach.
Old clothes and shoes
Where to throw old clothes in Germany? You have several options to donate old clothes and shoes that are still in good condition.
Next to the glass and cardboard containers on your neighborhood streets, you will also find a big container for clothes (Altkleidersammlung). Be sure to put your clothes in a tied-up bag before dropping them in.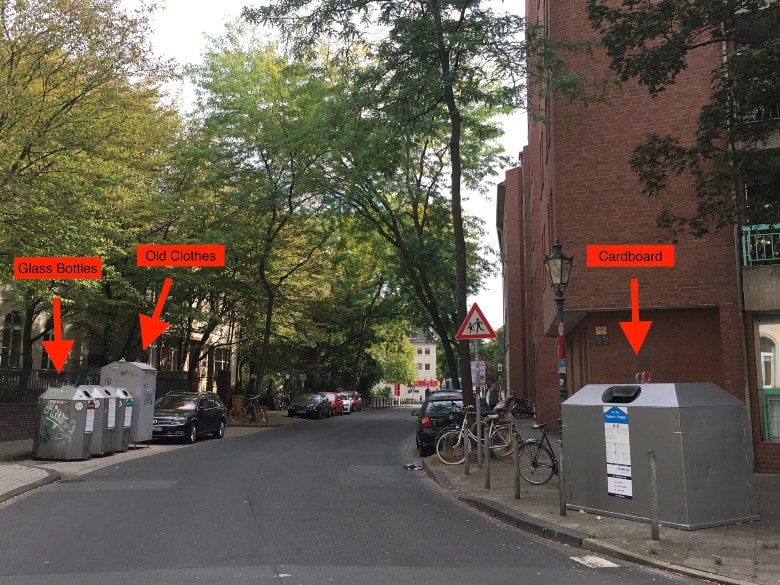 Another option to donate old clothes is to pack them in a cardboard box and mail them free of charge from your nearby post office to the German Clothing Foundation. The package needs to weigh between 5 to 31,5 kg. You can also add up to two old smartphones or tablets to each box.
Furniture and bulky items
Germans have a love-hate relationship with Sperrmüll. It translates to bulky trash and refers to furniture and any other big and bulky items (including big electronics, such as washing machines, refrigerators, and TVs) that do not belong or fit into the regular trash.
Why a love-hate relationship? Because some people living in Germany do not understand how Sperrmüll works, misuse it, and cause a mess by doing so. Wow, that didn't sound nice, let me explain.
The correct way of disposing of your old furniture and bulky objects is by signing up with your local garbage removal service. You tell them what you would like to dispose of, and they will notify you when they will come and pick it up. Usually, they give the same date to everyone in a neighborhood.
The evening before the pickup, everyone puts their stuff on the sidewalk in front of their house. For that night, your neighborhood looks like a mess, and there will be strangers digging through everyone's pile and putting things into their Sprinter cars for them to resell elsewhere.
The problem is that some people just put their stuff on the street, without notifying the local pick-up service, and it remains on the roadside for days or even weeks.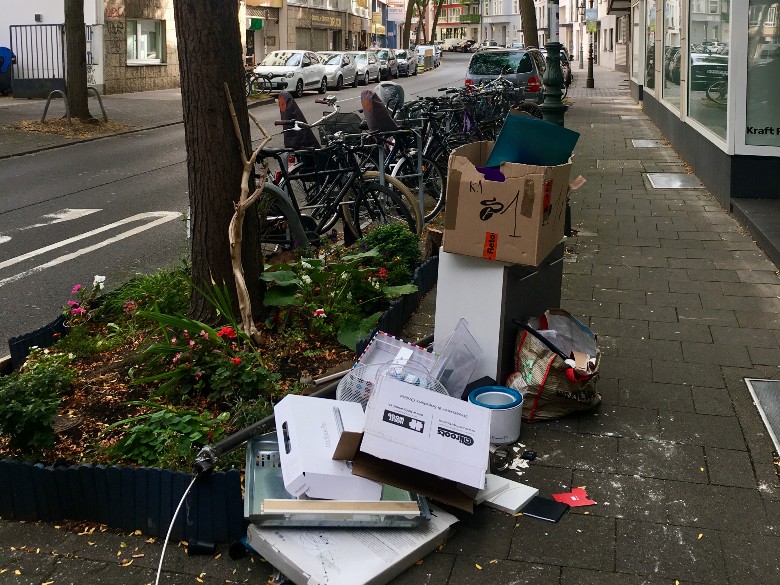 Some cities charge for this special pick-up, others don't. In Dusseldorf, where we live, the pickup is free of charge, if you sign up for it and place less than 2m³ of stuff in front of your house.
Disposing of Sperrmüll illegally can get you a fine of up to 2.500 euros.
Christmas tree Disposal
Oh yes, Germans love their Christmas tree, and it must be a real one. We even love to put real candles on the real Christmas tree, crazy, right?! Since we are talking about how to separate trash, the question is, how do you dispose of your Christmas tree in Germany? Take a look at the Abfallkalender of your city. Each neighborhood will have a set date of pick up. The night before the pickup, you need to put your Christmas tree on the sidewalk in front of your house.
The German waste management calendar
Each city prints its waste management calendar (Abfallkalender) and sends it to each household at the beginning of the year. It tells you the dates when the different bins will get picked up in your neighborhood and how to dispose of special waste in your area.
You have to put those bins on the sidewalk in front of your house the night before the pickup. The waste pickup truck (Müllabfuhr) will pass by in the early morning hours. If you live in an apartment building, there is usually a janitor or neighbor taking care of this.
In Dusseldorf, the local recycling company Awista even has an app with a digital trash guide.
This was the waste pickup calendar for Dusseldorf in 2020:
You can generate your own waste pickup calendar for the following cities or you can Google 'Abfallkalender + city name'. On the page, you enter your exact street address to receive the calendar:
German recycling fines
Where there are rules, there, of course, are fines. You can find a summary of all penalties for disrespecting German regulations and laws in the German Fine Catalog (Bußgeldkatalog). Each German state manages the fines differently. For disposing of your trash against the rules and, more importantly, in a way that does not allow recycling, you can receive a fine of 10-1.500 euros.
Conclusion
We hope that after reading this trash guide for Germany, you feel more confident handling your trash. 💪🏼 You have learned that Germany is the world champion in recycling waste thanks to its comprehensive and strict waste separation system.
It is not only enforced by the government and the city councils but also by your German neighbors. Do not be surprised if you get lectured by your neighbor, should they catch you throwing unseparated trash into the house bins. Please take it as a learning experience; after all, waste separation is a good thing. 🤗