As an expat, you might be shocked to hear or read that streaming is illegal in Germany. I have personally known two friends who have received fines for thousands of euros. Germans take rules and laws very seriously.
Is streaming illegal in Germany in 2023?
Streaming content that does not follow the proper copyright rules is illegal in Germany. An example of illegal streaming sites in Germany is 123movies or similar. Streaming services like Netflix, Discord, Twitch, and YouTube, however, are completely legal to use.
Some legal background: back in 2017, The Court of Justice of the European Union issued a ruling making streaming (in some instances) illegal.
Is torrenting legal in Germany?
No, torrenting is illegal in Germany – just as with streaming. I used to have a greek coworker who got two fines within the first six months of living in Germany. It turns out he loved to download the latest Marvel movies to watch at home with his kids.
He was able to negotiate the price down and ended up paying a fraction of what he was being sued for. The lesson here: he ended up paying.
Are sites like 123movies and fmovies legal in Germany?
If sites like 123movies, movies, or Popcorn Time are not following the copyright rules, then they are illegal. When in doubt, it is best to stay away from these sites.
Most illegal streaming websites might want to trick you and start downloading the movie in the background, as you are watching the movie. After the movie has been downloaded into your computer, it is later uploaded and shared with other users. This is the definition of illegal distribution (torrent) and you can open the door for you to receive a fine in Germany. Just how it happened to this guy in Frankfurt who used Popcorn Time.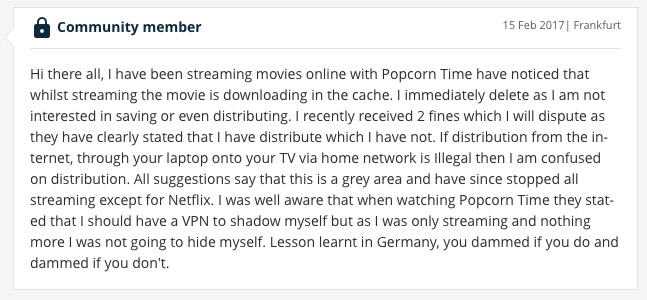 The reply below explains in detail why this person got fined in Germany for using Popcorn Time

You can read the complete thread here.
You can still get fined – even if you live with other flatmates
If you live with flatmates and your name is the one on the mobile contract, you can still get in trouble. Let's say your flatmate streams or downloads the latest episode of Game of Thrones.
Most likely you will receive a fine under your name. This is because the law firms catch the IP address used to make the download and request the information of the user to the internet providers. Legally, the providers are obliged to give the law firms your information.
You are entitled to dispute this fine and claim that it was your flatmate who did the download. However, you might need to go to great lengths to prove this.
Can you use Hulu in Germany?
Unfortunately, Hulu is not available in Germany. This is because Hulu only has the right to show its content in the USA. The same rule applies to other sites like SHOWTIME.
The ultimate list of legal streaming sites in Germany
Although not all streaming services are available in Germany, here is the list of the most popular ones used, which are 100% legal:
Netflix and Amazon Prime are by far the most popular streaming services people use in Germany.
You can access some geo-blocked content by using a VPN. We have written a guide on the best VPN in Germany for you to check out.
NordVPN - Best VPN service
NordVPN is considered the best VPN in the market. This VPN provides fast speeds, an accurate ad blocker, and can unblock almost any geo-blocked content.
Get NordVPN
Transparency: We earn a commission if you click this link and make a purchase at no additional cost to you.
Related Guide: Best VPN in Germany
Sports streaming services in Germany
Dying to watch that football / soccer match on Sunday? You can do so through any of the following legal sport streaming services:
The most popular, and expensive, way to stream sports is WOW. In other cases, the sporting event might be streamed on German TV channels.
🔥 Hot tip: A large number of pubs in Germany pay for a WOW subscription. You can always go to a local bar in Germany and watch the sporting event while enjoying a cold beer and maybe meeting some locals or other expats.
To wrap it up
Streaming and torrenting are both illegal in Germany. To stay out of trouble, avoid doing it and use paid services instead.
There you have it, the complete guide to help you stay out of trouble while you stream your favorite content during your stay in Germany. Have fun!
Further reading: If you found this guide helpful and would like to learn about other unique things in Germany, please refer to our 'Living in Germany' section.