If you are planning to move to Germany, one of the first questions you will have is: 'Will my salary be enough to cover my expenses?'.
You can expect the average cost of living in Germany to range anywhere between 1.000 to 3.000 euros per month. Your monthly expenses depend greatly on your lifestyle, the city you live in, and how many family members you are living with.
The southern cities of Munich and Stuttgart are the most expensive cities to live in Germany. Berlin used to be one of the cheapest cities to live in, but the rent prices have rapidly increased in recent years. The average rent in Berlin for a 60m2 apartment could easily range between 1.300 and 1.600 euros. Berlin is now more expensive to live in than cities like Düsseldorf, Cologne, and Hamburg. On the other hand, Leipzig and Dresden are still very affordable cities.
In this guide, I will break down the cost of living per month you need to consider during your time in Germany. I will start with a real-life example of how much Yvonne (my wife) and I spend a month. These expenses will not include things like Netflix or Amazon Prime subscriptions 🤓.
Disclaimer: Please take the amounts and estimates in this article as a guide to help you plan your monthly budget. Do not take these numbers as the absolute truth. I would recommend you to do the proper research to find the best services and options that cover your individual needs.
An Example Of Costs Of Living In Germany
Yvonne and I have an average living cost of 2.636 euros per month in Germany:
Warm Rent: 1.431 euros
Electricity: 69 euros
Mobile Phone contracts: 30 euros
Internet: 40 euros
Groceries: 600 euros
Insurances: 216 euros
Car: 250 euros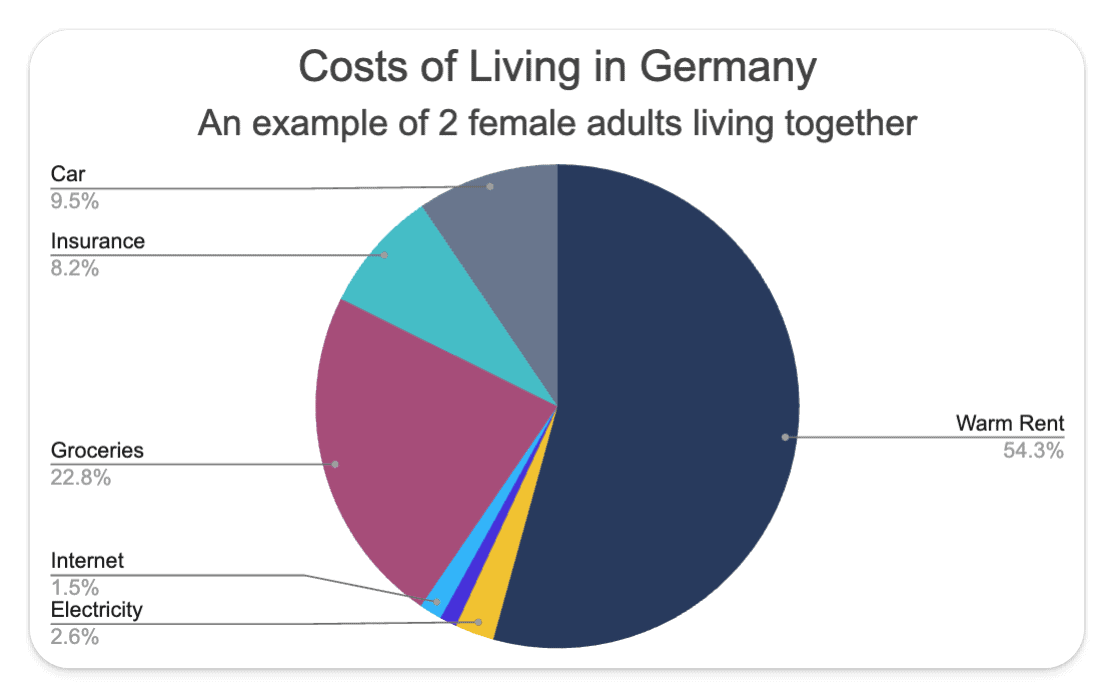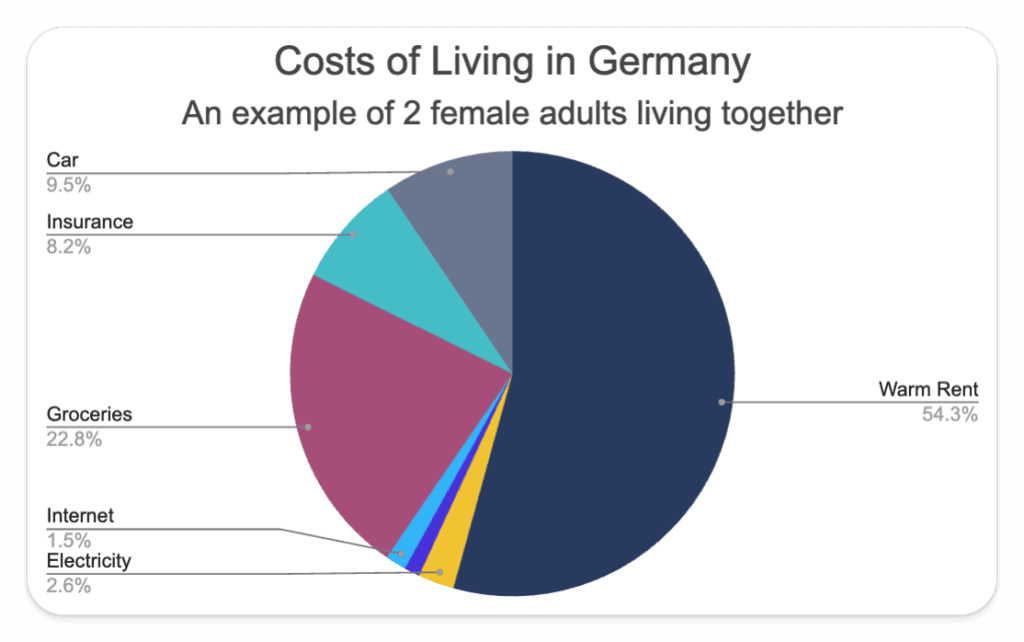 This number might be different for you. So before you jump to any conclusions, please take into account the following facts:
We live in Düsseldorf
We are a married couple without kids or pets
We live in a freshly renovated apartment (70m2) in a sought-after location
We bought a car in November 2020 and use it for weekly errands and vacation travel
We rarely use public transportation, as we do most of our commuting with our bikes or by car
We cook most of our breakfasts, lunches, and dinners and mostly shop at Aldi👩🏽‍🍳
We eat out around two to three times per month
We pay for home contents, liability, legal & income protection insurance
We have public health insurance
My recommendation for you would be to take our monthly living expenses as an example. As you read this guide, you can either add or subtract things from your budget.
If you'd like to reduce your living expenses without impacting your lifestyle, you can follow our tips on how to save money in Germany as well.
Related Guide: How To Save Money In Germany [11 Easy Tips]
Cost Of Renting A Home In Germany
Housing costs will be the most significant part of your cost of living in Germany. The price of your rent will depend on whether you live alone or share a flat with other people, which is very popular amongst students. The term for a shared apartment in Germany is Wohngemeinschaft or WG for short.
The city you live in and the location of your flat will also influence the price. The further away you live from the city center, the cheaper your apartment will be.
Remember, Stuttgart, Munich, and Berlin are the cities with the highest rental prices.
According to Numbeo, the average monthly rental price in all of Germany is:
850 euros for a 1-bedroom apartment in the city center
633 euros for the same 1-bedroom apartment outside of the city center
1.560 euros for a 3-bedroom apartment in the city center
1.180 euros for the same 3-bedroom apartment outside the city center
Related Guide: Renting In Germany [A Detailed Guide For Expats]
Monthly Costs For Renting A Home In Germany
You need to consider the following different monthly costs on top of your rent:
1. Utilities
When you rent an apartment in Germany, the rental price will either be cold (Kaltmiete) or warm (Warmmiete).
Kaltmiete means that the price of the rent does not include utilities. Warmmiete means that it does include them.
Every landlord chooses what utilities to include in the rental price. Water and heating are usually always included. Additional services the landlord might include are cable tv and building maintenance costs. Be aware that internet and electricity are rarely part of the rental price.
2. Internet
As I mentioned earlier, internet is a utility that most likely will not be part of the rental price. The price of this service depends on your connection speed, the company you are hiring the service from, and your location. On average, expect to pay between 30 and 50 euros a month for an internet connection. Yvonne and I pay 40 euros a month for a 1000 Mbit cable connection.
Related Guide: Best Internet Providers in Germany
3. Electricity
When you move to a new apartment, you will most likely need to get a contract with an electricity provider. How high your electric bill is will depend on how much electricity you use. You can expect to pay between 50 and 150 euros a month. Yvonne and I pay 69 euros a month for electricity.
Related Guide: Best Electricity Provider in Germany
4. Fees for German public broadcasting
There is a German public agency called ARD ZDF Deutschlandradio Beitragsservice 🤷🏽‍♀️ . Don't worry; you won't need to learn such a long German word! This agency used to be called 'the GEZ'.
In short, this agency charges all German residents a fee. This fee will finance the production of public German TV and radio shows.
It does not matter if you watch or listen to these shows or if you speak German at all. You still need to pay up!
The official page states that the fee is 18,36 euros a month per household. The GEZ charges this amount every three months. This means you will need to pay 55,08 euros every quarter. If you live in a WG, you can split this cost amongst your fellow flatmates.
Related Guide: Radio Tax Germany Explained
One-Time Costs For Renting A Home In Germany
1. Deposit
In Germany, asking for a deposit when you rent a flat is common practice. This deposit can range from one to three months of cold rent. Therefore, you must consider this expense in your budget.
The landlord uses this deposit to cover expenses caused by any damages you might have done to the flat. So you better take good care of your German nest.
If you left the flat just as you found it, you should receive your deposit back. The landlord should transfer this money back to you as soon as possible after leaving the rented property.
2. Furniture
Finding furnished apartments in Germany is not that common. If you find one, the previous renter is most likely selling their furniture. If you find a long-term furnished apartment, you will usually pay a higher monthly rental price. If you are looking to buy your own furniture, be sure to read our guide on the best furniture stores in Germany.
Related Guide: Best Furniture Stores In Germany
3. Kitchen
In Germany, not all flats come with kitchen appliances included. Yup, you read that right!
You might see a few listings with a kitchen in the pictures. Be aware that this does not mean that your contract includes such a kitchen.
In some cases, the kitchen might be for sale, and you will be able to purchase it. In other cases, it could be that the kitchen belongs to the previous renter and is not for sale since they will take the kitchen to their new home. So make sure to inquire about the kitchen before signing any contract.
More and more apartments, however, include a kitchen which is part of the rent (yay!). Just be aware that your monthly rent will be higher than without a kitchen.
Our Monthly Costs For Renting A Home In Germany
Yvonne and I spend 1.431 euros a month on rent. This amount is warm and already includes all utilities and the Rundfunkbeitrag. Here are the specs of our place:
70 square meters
Balcony
Freshly renovated
New kitchen included
Sought-after location
Tram stop is 2-minute walking distance
Cost Of Mobile Phone Plans In Germany
Your monthly expense for a mobile plan will depend on the following factors:
The type of contract you get: pre-paid or post-pay
The amount of data you need
If you wish to pay monthly installments to the provider for a new phone
If you want to have a flat rate for nationwide calls and text messages
If you already own an unlocked phone that you are happy with, you can find prepaid and postpaid mobile deals of as little as 9 euros for 10 GB of data per month.
If you would like to purchase a new phone through a mobile provider, you can expect to pay between 40 and 70 euros a month. This amount will include the monthly installments of your new phone (if you choose to get one), plus the amount of data that you choose, a flat rate for phone calls and text messages.
The largest and most popular mobile providers are Vodafone, Telekom, 1&1, and O2.
Related Guide: Best Mobile Network in Germany
Our Monthly Costs For Mobile Phone Service In Germany
Back in 2012, I got a contract at Vodafone with a brand new phone for a really good deal. I have finished paying my phone off, and now I am paying 21 euros for 18GB a month. Yvonne has a flexible postpaid plan and pays 9 euros a month for 10GB.
Transportation In Germany
Your monthly transportation cost will depend on the distance of your commute and your preferred way of transportation.
Related Section: For more details on transportation in Germany, cycling, and driving tips, make sure to check out our section on getting around in Germany.
Cost Of Cycling In Germany
The great thing about European cities is that most of them allow you to do most of your commutes with a bicycle. So if you are into cycling, this is by far the cheapest way to get around in Germany.
You can purchase a used bike at a flea market for as little as 25 euros or buy a new decent bike from a shop for 500 euros. Remember that the cheaper your bike is, the more you might need to pay for maintenance.
Cost Of Public Transportation In Germany
The second cheapest option is public transportation. The system in most German cities is great. A one-way ticket costs around 3,10 euros. If you would like to purchase a monthly pass, your best option is the new 'Deutschland-Ticket'. It costs 49 euros and allows unlimited rides in local transportation (Nahverkehr) all over Germany. Train rides in long-distance trains (Fernverkehr) such as EC, IC, and ICE trains are not included.
🔥 Tip: Some companies cover the full or partial costs of a monthly ticket. So be sure to ask your future employer about this.
Cost Of Owning A Car In Germany
We bought our first car in 2020 and talk about the cost of buying a car in Germany in detail in our guide on 'How to buy a car in Germany'. When considering the monthly cost of owning a car in Germany, factors like gas consumption and distance driven are very individual.
The average gas consumption in Germany in 2021 was around 7,35 liters per 100 km. Car owners in Germany drive on average 11.230 km per year, equaling 935 km per month. The gas price is very volatile. Let's take the average petrol price of 2023 of 1,80 euros per liter as an example.
So let's do a quick calculation for monthly gas costs:
935 km = 68,7 liters of gas
68,7 liters gas * 1,80 euros = 123,66 euros
Therefore, on average, the monthly cost of petrol in Germany is around 125 euros. However, gas is only one part of the cost. Regular inspections, maintenance, tax, and insurance play a big role. According to Friday, you can estimate spending around 200 euros per month for a small car and 400 euros for a medium-sized car.
Our average monthly cost for our car is around 250 euros per month.
Cost Of Renting A Car In Germany
The cost of renting a car in Germany will depend on the size of the vehicle you are interested in, the kilometers you intend to drive, the number of days of your rental, and the time of year. Christmas and Easter are the most expensive times of the year to rent a car.
For a weekend, you can find good deals (e.g., with Europcar) online and pay as little as 60 euros to rent a car from Friday to Monday.
The gasoline price depends on whether you are filling up on an Autobahn (more expensive) or in a smaller town.
🔥 Tip: If you are not an EU citizen, your license will be valid in Germany for six months. During these six months, you will be able to rent cars in Germany without any issues. After this time, you might get into trouble. So it is recommended that you get a German driving license.
Cost Of Taxi Services In Germany
If you take or call a taxi, they will start the ride with a fee of 3,50 euros. Every additional kilometer costs, on average, 2 euros.
You can order a taxi through apps like Uber and Free Now. Both applications are available in English and will show you a fixed rate before you place your order. Their price is sometimes lower than calling a regular taxi.
Cost Of Shared Transportation In Germany
1. Cars
The most popular app for shared car service is Share Now. Their page is in English, and they have different rates. The basic rate is 0,19 euros per kilometer.
2. E-Scooters
E-Scooters were allowed to circulate in Germany in 2019. With this came a rise of multiple companies like Dott, Tier, Lime, and Bird. Most of them charge a 1 euro unlock fee. Their rates range between 0,15 and 0,19 cents per minute.
3. Bikes
Each city might have a different shared bike service. The one that you might find all across Germany is the one from the Deutsche Bahn. Their service is called Call a Bike, which offers different tariffs. Their basic fee is 0,10 euros per minute.
Our Monthly Costs For Transportation In Germany
Yvonne and I both own a bike, and we used to cycle to work every day. I bought a bike from a flea market for 35 euros, and it ended up breaking every couple of months. Fixing a bike in Germany can get quite expensive. So I decided to ditch it and get a new proper one for about 400 euros. Yvonne's bike is of even better quality and was 800 euros.
Be sure to get individual bicycle insurance or add it to your home contents insurance, as bike theft is common in Germany.
Related Guide: Best Bicycle Insurance in Germany
Cost Of Food In Germany
Supermarkets
Your monthly grocery shopping costs will depend on the size of your family, your diet preferences, how many meals you plan to cook, and the type of supermarket you go to.
The food prices in Germany vary depending on the supermarket that you visit. The budget-friendly supermarket brands in Germany are Aldi, Lidl, and Netto. Rewe is in the semi-expensive spectrum, and Edeka is usually the most expensive option.
Related Guide: Top 12 Supermarkets In Germany [Buy Groceries Like A Local]
Our Monthly Costs In Grocery Shopping
We tend to do our grocery shopping at Aldi. They have really good quality products at an excellent price. For a family of 2 non-vegetarian female adults, we spend an average of 150 euros a week. We tend to cook breakfast, lunch, and dinner at home and mainly buy organic products.
Eating Out
A night out with your loved ones or friends is always fun. Germans love to go out for dinner, especially if it's a summer night.
If you go to a low-range restaurant, like a local pizza shop, you can have a mini pizza and a beer for 10 euros.
At a mid-range restaurant, you can expect to pay somewhere between 20 and 30 euros per person. This includes an appetizer, a main course, and a small beer.
Drinks: The beer price at a restaurant or bar in Germany could range between 2,5 and 3,5 euros for a small beer. A pint (0,5 liters) could range between 4 and 6 euros. A cocktail could range between 8 and 15 euros.
Costs Of Banks In Germany
There are three types of banks in Germany:
Privately owned German banks
International banks
Online banks
Opening a bank account is generally free of charge. Keep in mind that some private German and international banks might charge you a monthly fee if you don't have your salary transferred to the account you open with them.
Related Guide: Best Banks in Germany for English Speakers
If you would like to have a credit card, you might need to pay a yearly fee to the bank. Each bank charges a different amount. The price depends on the credit card you choose and the benefits you get from it.
I used to pay for my credit card 25 euros a year, and it did not include any special benefits really, which is why I canceled it and got a free credit card instead.
There are also some very good independent credit card providers that offer credit cards with great benefits for free.
Related Guide: Best Free Credit Card in Germany
Tax Costs In Germany
Due to its strong social system, the deductions on your payslip in Germany are quite high.
The more money you earn, the more taxes and social security contributions you will need to pay to the government. Also, if you are single, your taxes will be higher compared to a married couple. The percentage of taxes ranges between a progressive 14% and 42%.
If you earn a super high salary, somewhere above 270.000 euros per year, you will pay 45% in taxes.
So don't be surprised if you end up receiving only 60% of your gross salary.
The taxes and contributions you pay to the German government are:
Income tax (Lohnsteuer)
Health insurance (Krankenversicherung)
Pension (Rentenversicherung)
Unemployment support (Arbeitslosenversicherung)
Longterm care insurance (Pflegeversicherung)
Solidarity tax (Solidaritätszuschlag) – only if you earn more than 75.000 euros gross
Related Guide: How to File a Tax Declaration in Germany
Church tax
If you are religious, you might need to pay a church tax. This tax comes on top of the taxes mentioned above. You only need to pay a church tax if your religion is recognized as a corporation.
Religions that fall under these criteria are Catholic, Protestant, and Jewish. Muslims and Buddhists do not pay the church tax.
In some German states, the church tax is 8%, and in others, it is 9%.
Related Guide: Church Tax in Germany Explained
Education
Daycare
If you are moving to Germany with small children between one and six years old and wish to place them in a daycare center, be aware that you might need to pay a monthly fee for this service.
Although the state subsidizes some daycare centers, it is very hard to get a place in these. Some families apply one year in advance to get a spot for their children. Therefore, placing a kid in a private daycare might be the only option for some.
The monthly cost for daycare in Germany depends on your income, the hours you book, the number of kids you register, and the state you live in.
For a subsidized daycare, you can expect to pay between 100 and 200 euros a month per child. For a privately owned daycare, you can pay up to 1,000 euros a month per child. The amount really depends on the type of daycare.
Primary, Secondary, High School And University
If you plan for your kids to go to any public educational institution, you should know that there are no school or university tuition fees, unlike in the United States and other countries. Parents only need to cover the materials the kids will use, such as books, notebooks, meals, etc.
Students at universities might have to pay a semester contribution fee, which could be between 50 and 300 euros.
Related Guide: An Introduction to the German School System
Insurances
Germans love their insurances. They have insurance for absolutely everything! When you first arrive in Germany, you might feel overwhelmed by the information you will receive from local colleagues regarding insurance.
But fear not, we are here to shed some light on the matter.
Related Guide: Insurance In Germany: Must-Haves For Expats
The Top 5 Insurances To Consider
If you tell any German that you don't have this insurance, they will look at you with a very confused face. "This insurance is a must-have!", they will say.
The Haftpflichtversicherung covers any damages you might cause to other property or people. For example, imagine that you accidentally cause someone to trip and break their leg. In Germany, people might sue you for this. So this insurance would pay the legal fees and reparations.
The price of this insurance will depend on the number of people you are insuring (you or all of your family). You can expect to pay anywhere between 30 and 150 euros a year. Yvonne and I pay 120 euros a year for this insurance.
Related Guide: 5 Best Liability Insurances in Germany.
This will cover any damages caused in your flat by fire, water, or burglary. The price of this insurance will depend on where you live and how big your house or flat is.
The additional things you can insure are:
The theft of your bike
Coverage to repair the windows or glasses in your house if they get broken
Coverage to the value of your belongings in case of some natural disasters
You can expect to pay somewhere between 50 to 150 euros a year. Yvonne and I pay 130 euros a year for this insurance.
Related Guide: 4 Best Home Contents Insurances in Germany.
Other Insurances
This insurance is useful if you get into a legal dispute with someone. This could be because you got sued by someone or you are disputing the deposit with your landlord.
Lawyers around the world are expensive, and Germany is no exception. You can easily pay a lawyer anywhere between 150 and 500 euros an hour!
Having legal insurance in Germany will definitely help you out in tough moments and, hopefully, save you tons of money. This insurance would reimburse you for the court costs and lawyer fees. It would also cover any legal consultation you have with a lawyer.
You can expect to pay anywhere between 200 and 450 euros a year for this insurance. Yvonne and I have this insurance, and we pay 380 euros a year.
Related Guide: Best Legal Insurances in Germany
Obviously, this insurance only applies when you own a car; however, if you do, this insurance is mandatory. There are three different parts of car insurance in Germany, into which we go into detail in our below guide. On average, a fully comprehensive cover costs roughly 600-700 euros per year, which is also what Yvonne and I pay.
Related Guide: Car Insurance In Germany
Experts consider this insurance as one of the most important insurance to have. It protects you from financial ruin in case you are unable to work long-term due to illness or disability.
Since your capability to work is your biggest asset and income source, it is important to have a backup in case that resource is taken away from you.
Costs vary depending on your age, profession, health, and insurance coverage. Yvonne and I pay around 150 euros per month.
Related Guide: Income Protection Insurance [Secure Your Finances]
Other Costs
Cost Of Going To The Movies In Germany
I am not going to lie; finding a good cinema that has movies in the original language is very hard in Germany. Many movie theatres only show the original version in 3D, which naturally increases the price of the cinema tickets.
You can expect to pay anywhere between 11 to 17 euros for a movie ticket. This, of course, depends on what language the movie is in, how modern the cinema is, and if the movie is 2D or 3D.
Related Guide: The Best English Movie Theaters in Germany
Cost Of A Gym Membership In Germany
If you would like to join a gym in Germany, be aware that most of them will only be able to give you either a one-year or two-year contract. You can expect to pay anywhere between 15 to 40 euros a month for a gym membership.
A nice alternative to one gym is Urban Sports Club, which combines access to several sports facilities in cities all over Europe. This is the most flexible option for practicing different sports.
Cost Of A Hair Cut In Germany
The cost of cutting your hair will depend on whether you have long or short hair, how fancy your hair salon is, and the city you live in.
On average, if you have long hair and would like to take care of your tips, you can expect to pay between 40 to 50 euros. If you have short hair, you can expect to pay anywhere between 30 to 40 euros.
Most salons will charge an additional fee to dry and style your hair after it has been cut. So be sure to check what is included or not in the price before you sit down on that chair 💇🏽.
Resources To Help You Calculate Your Expenses In Germany
Cost vary depending on the city. Take a look at our guide: Best cities to live in Germany
Join expat Facebook groups in your city. The members here are usually a warm bunch who will be able to answer any specific questions you might have.
Final Thoughts
As I covered in this guide, remember that your monthly living costs will depend on your lifestyle, where you decide to live, and your family's size.
The standard of living in Germany is very high, and the cost of living is relatively cheap here when you compare it to other European countries like Denmark or Switzerland.
To understand how far your salary will get you in Germany, you can take a look at the purchasing power you will have in Germany, which we describe in our guide below.
Related Guide: What Is Considered A Good Salary In Germany?