When moving to Germany, finding a place to stay is one of the most important quests. Most expats opt for renting in Germany; only a few choose to buy a house or apartment after having lived in Germany for some time already. When it comes to renting an apartment in Germany as a foreigner, there are certain things you need to know to avoid a bureaucratic rat race and unnecessary stress.
This guide will outline all the tripping hazards and peculiarities of German flats and give you essential tips on finding an apartment in Germany and what to look out for in the rental contract. If you prefer video, we have also recorded our in-depth guide on renting an apartment in Germany.
Is It Better To Rent Or Buy In Germany?
Historically, renting is by far more popular than buying a house or a flat in Germany. In the last 30 years, 57% of all households in Germany were rented, while 43% of all households are owned property. However, within the EU, Germany is by far the country with the lowest amount of private property owners, as the European average lies around 70% of all residents.
To get a better idea of whether buying or renting is better for you, you can check out the buying or renting calculator from Hypofriend, an expat-friendly mortgage service.
Related Guide: Buying A House In Germany [Expat Guide]
8 Peculiarities About German Apartments For Rent
Before you start your apartment hunt in Germany, you should know a few things about what to expect from German apartments. They do vary from what you are used to in your home country.
Most apartments for rent in Germany are unfurnished. Let us explain what this means.
1. The bathroom is included in German apartments
All German apartments for rent are equipped with bathroom(s). It is quite common that the shower is part of the bathtub instead of being a separate shower. The smaller the apartment, the more likely this is.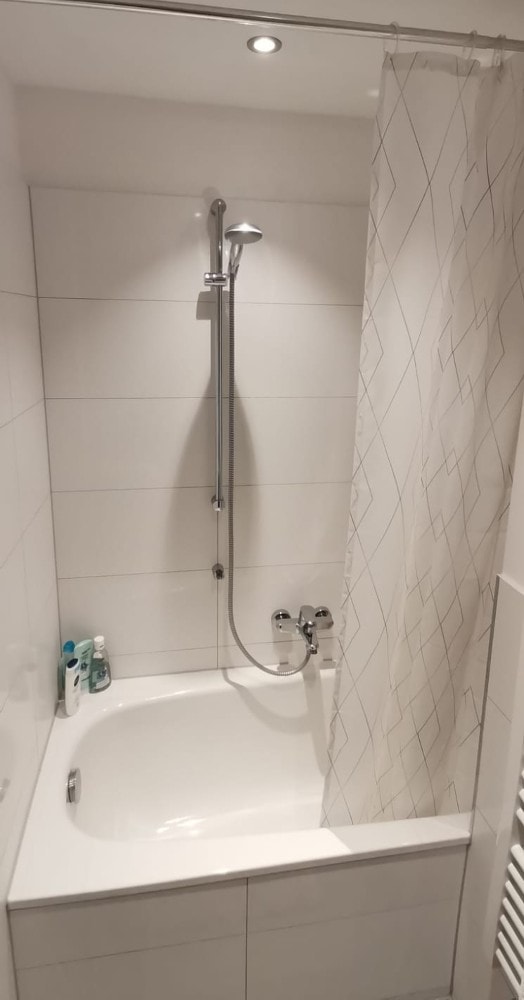 2. The kitchen is not included in apartments in Germany
This is by far the biggest surprise factor to most expats and causes big disbeliefs. Most unfurnished apartments for rent in Germany do not come with a kitchen. Yes, you read that right!
On Quora, you can find a great answer of the reason why, which I could not have written better, so here is the quote:
"Many people live in a flat as if it's their own for many decades, often their entire life. Tenant rights ensure that it's pretty much impossible to kick them out as long as they pay their rent and follow some basic rules. As a consequence people treat it like their property, which often means state-of-the-art kitchens, which are then used for a long time. They probably invest more in a kitchen than the average landlord would be willing to invest in a rental. In return, the rents are much cheaper than in most parts of the world."
So the big question is, what are your options?
If you see a listing with a kitchen on the pictures of the flat, make sure that it is included in your rental agreement. If it's not, most likely the previous tenant (who possibly is the owner of the kitchen) will take it with them. So your options for the kitchen are:
1. Buy the kitchen from the previous renter
This usually goes two ways, either the previous tenant really wants to take the kitchen with them to their new place, or they really don't want to take the kitchen and make it a necessity for you to buy it, often for a rather high price.
I did not only buy the kitchen from the previous tenant but the entire furniture. He didn't need it for his new place, and I didn't own any furniture yet, so it was a perfect scenario. After eight years everything is still working fine 😅.
2. Only search for apartments with a kitchen included
Often listed as EBK for Einbauküche (built-in kitchen) or mit Küche.
3. Rent a fully furnished apartment
You might get lucky and find a few furnished apartments on the most popular rental property websites in Germany. However, that really is not that common. In recent years, with the rise of digital nomads and internationals coming to Germany, a new market of furnished flat rentals emerged for short- and long-term stays. We will look at both options in detail below.
4. Rent an apartment without a kitchen and buy one yourself
With this option, you will have the widest variety when looking for a flat in Germany. You can expect lower rents but higher costs to buy a kitchen. If you want to go for a state-of-the-art all-in-one kitchen, you need to expect up to two months delivery time and several thousand euros of investment. Needless to say, this option only makes sense when you plan on staying for several years.
3. Appliances are usually not included in German flats
The same as for the kitchen goes for appliances, like washers and dryers. Most likely, they are not included. Should you need to buy one, make sure you check the measurements, as washing machines come in all shapes and sizes in Germany to fit in smaller apartments. Dryers on the other hand are not that popular in Germany, as they take spaces and consume a lot of (expensive) energy. Germans use clothes racks to dry their clothes.
4. Utilities are calculated apart from the rent in Germany
You will come across two different terminologies regarding the price of a flat: Warmmiete (warm rent) and Kaltmiete (cold rent). Usually, the first price you see for an apartment is the cold rent. However, this is not the final price you will end up paying, as you still need to add utilities (Nebenkosten) for water, heating, garbage pick-up, sometimes TV cable, etc., to the rental price. So cold rent plus utilities form the warm rent, your total monthly rental price. Electricity is usually not included in the utilities, and you will have to sign up with an electricity provider.
Related Guide: Best Electricity Providers In Germany
5. Communication partners vary when looking for an apartment in Germany
There is no one given person to talk to when looking for an apartment rental. The person handling the listing could be the landlord (Vermieter), the previous tenant (Vormieter), the property management (Hausverwaltung), a real estate agent (Makler), a tenant (Mieter) looking for a sublet (Untervermieter) or flat partner (WG-Bewohner). So read the listing carefully to know who you are dealing with.
6. Deposits are very common in Germany
You will most certainly be asked to pay a deposit (Kaution) before you can move into your new home. By law, a deposit can be a maximum of three times as high as the net cold rent. The landlord will keep the deposit for as long as you are living in the flat. Upon moving out, you will get the deposit back latest within three to six months. Trustworthiness is generally high, and the deposit usually gets paid back within days or a few weeks after you move out.
Should you, however, have caused damages or not renovated the flat properly to the appearance it had when you moved in, the landlord may hang on to a portion of your deposit. So be sure to treat your apartment properly and report any damages so they can get fixed in time.
7. Apartment floor numbers are counted differently in Germany
Don't get confused by the floor numbering of German apartment listings. In Germany, floors carry the following names:
Keller (Basement)
Erdgeschoss (Ground floor)
1. Etage (First floor above the ground floor)
2. Etage, etc.
Dachgeschoss (top floor – literally under the roof)
8. Definition of number of rooms in an apartment in Germany
The kitchen and bathroom of a flat in Germany are never counted as a room. That being said, if you would like to have a living room and a bedroom, you are looking at a 2-bedroom apartment (2 Zimmer Wohnung) in Germany. 
How Much Is Rent In Germany?
In all of Germany, the average monthly rental price for a 1-bedroom apartment in the city center is 850 euros. In comparison, the average price for a similar apartment outside of the city center is 633 euros. These numbers were researched by Numbeo and really only give a very rough estimate.
The actual price you will face depends highly on the city, the location in the city, and the type of apartment. Take a look at our guide on the cost of living in Germany for a more detailed insight.
Related Guide: Cost Of Living In Germany
How To Find An Apartment In Germany
Now that you better understand what to look for, it is time to start your search. Before you get overwhelmed with the abundance of possible rental property websites, we will list the best and most popular ones for you.
🔥 Tip: Be sure to also join Facebook expat groups of the city you are interested in, as you can also often find listings of people leaving or moving on Facebook.
German Rental Property Websites
Here are the most popular German rental property websites (in order of popularity) for your apartment hunt.
You should definitely look on more than one site, as not every apartment is listed on all of these pages. Ideally, you create an account and activate an alert whenever a new matching listing is added. Speed is most important depending on the city or area you are looking in. In other areas, a proper application is more important.
Furnished Short-Term Rental Property Websites For Germany
Since a lot of German landlords want to meet the future tenant before signing a rental contract, it could be trickier for you to find and get your perfect place while you are still abroad, still not impossible, though 😉.
For the ease of a smooth arrival, renting a furnished short-term apartment has become a very common practice. That way, you can scout your city and the different neighborhoods first and then decide where you want to live long-term. You also avoid buying furniture during your first weeks of arrival in Germany, which can already be a little bit overwhelming.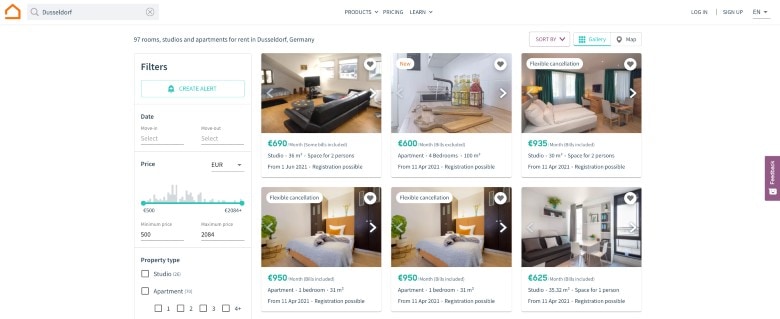 Here are the best furnished short-term rental property websites for Germany that our readers use most:
Be aware that rental prices will be more expensive than with listings for unfurnished long-term flats. However, the higher price brings the comfort of having internet included and mostly doesn't require a credit check, known as SCHUFA record in Germany. We go into more detail in the below documents section.
❗️One more very important note❗️
When looking at furnished apartments, make sure that the details state that you can register with this flat. It should say Anmeldung or registration possible, landlord's confirmation of residence, or Wohnungsgeberbestätigung included. This is absolutely crucial, as without registering, you will not be able to:
get other German services, such as a bank account, mobile phone contract, etc.
your German tax ID, which you need to give to your employer, so you can get paid properly
start your credit record, which is super important to rent a long-term German flat
We are not trying to scare you here, but it is important to know the interrelationships between the bureaucratic hurdles to have a smooth start in Germany.
Try to avoid renting an Airbnb to start your life in Germany, as most Airbnbs will not allow you to register and hence put a major roadblock on your settling-in process.
Related Guide: The Anmeldung In Germany [How To Register And Why]
Shared Flat Rental Websites in Germany
Renting a room in a flatshare (WG short for Wohnungsgemeinschaft) is also quite popular in Germany, especially in Berlin, where the rental market is particularly tight. Here are the most popular websites to search for flatshares in Germany.
Also, make sure that you can register with your WG-Zimmer.
Real Estate Agents in Germany
Another option to look for an apartment is through a real estate agent (Makler). Engel & Völkel is one of the nationwide agencies. The real estate agent fee has to be paid by the person who hires the agent by law (Bestellerprinzip). So if you find a listing that gets handled by a Makler, you do not have to pay the fee. However, if you specifically hire a real estate agent to scout for your dream place, you will pay the fee.
Documents Needed For Renting In Germany
The documents you will need to provide will be mentioned in the rental property listing. These are the 7 most common documents required to show when renting an apartment in Germany.
1. Copy or scan of passport or ID (Necessity)
2. Proof of income (Necessity)
This could be your last three payslips or a work contract, or a bank statement if you don't have those yet. As a freelancer, you can also open your books and show the profits of the past months.
3. A SCHUFA record (Requested most of the time)
This is the German credit score, which does not state how much wealth you have but gives insight into your creditworthiness. Basically, it states whether you pay your bills on time. We have written a detailed guide on the topic to explain how to get a SCHUFA record.
Related Guide: How To Get SCHUFA In Germany?
4. A Mietkostenfreiheitsbescheinigung (Not always requested)
This document states that you have no debts with previous landlords and always paid your rent on time. You can request your current landlord to fill this form out for you before looking for a new place to live. Here is an example from immonet.de. If you are moving straight from abroad, you should still ask your landlord there to write a simple letter in English stating that you have been a reliable tenant.
5. A Mietbürgschaft (Not always requested)
This document states a guarantor who will have to pay your rent if you are unable to pay rent on time. Usually, this is only requested if you cannot provide sufficient proof of income or a stable work contract. A guarantor ideally is someone in Germany.
6. An application form or letter (Sometimes requested)
Some listings want you to fill in an application form or write an application letter to better compare the interested parties. Even if an application letter is not required, this may be a way to set yourself apart from other applicants.
7. Private Liability insurance (Beneficial)
Some landlords demand you to have private liability insurance (Haftpflichtversicherung) against third-party damage. However, even if your landlord does not require it, we suggest adding it to your application, as it shows that you are covered and makes you seem more reliable.
Related Guide: Liability Insurance In Germany Explained
6 Tips For Applying For An Apartment For Rent In Germany
As you can see from the listed necessary documents for renting in Germany, you can probably guess that reliability in tenants is the name of the game. Since tenants' rights are so strong in the German rental market, landlords put high emphasis on allowing reliable and responsible people in their properties. Here are a few tips on how you can increase your chances of landing the apartment that caught your eye.
1. Be fast
When you find a listing online, don't waste your time writing long emails, instead call the responsible person up and ask if the listing is still available and state that you are interested and would like to see it in person (Wohnungsbesichtigung).
2. Make a great first impression
Be polite, confident, and dress properly when visiting the apartment. Viewing apartments is similar to going to a job interview.
3. Brush up your German
Even if your German is not that great yet, make an effort to speak it and indicate that you want to learn it better. It shows the landlord that you won't just stay for six months or so.
4. Have all documents ready
Here again, is a list of the most common documents you will need:
1. Copy or scan of passport or ID (Necessity)
2. Proof of income (Necessity)
3. A SCHUFA record (Requested most of the time)
4. A Mietkostenfreiheitsbescheinigung (Not always requested)
5. A Mietbürgschaft (Not always requested)
6. An application form or letter (Sometimes requested)
7. Private Liability insurance (Beneficial)
5. If you have a pet, don't bring it to the visit
Having a pet reduces the variety of apartments, as a lot of landlords do not allow pets. So try to make a good impression first and if you are amicable, mention your dog or cat and try to negotiate to still get the flat.
Related Guide: Dogs In Germany [A Complete English Guide]
6. Be patient
Depending on where you are looking for an apartment for rent in Germany, it can take months to find one. Or the first apartment you visit could be your lucky shot. So brace yourself and don't give up if it takes some time.
❗️ Important Info: If your family will be joining you in Germany with a family reunification visa, you need to provide adequate housing for your family. That means that every member of the family over six years has to have twelve square meters of living space, members between two and six years old need ten square meters, and members under two years old are exempt from the regulation. Additionally, they must all be able to share the kitchen, bathroom, and toilet. These are the housing regulations that apply to social housing as well.
💡 If you are interested in a real-life experience of what a successful apartment search in Berlin as a foreigner can look like, you can take a look at this personal post from arbeitnow.com.
What Does A German Rental Contract Contain?
Rental Contracts come in different forms and sizes in Germany, as there is not one standard document. However, every rental contract in Germany should contain the 10 following sections.
1. Duration of the contract
Rental contracts in Germany are only allowed to be time-limited if the landlord has a valid reason why they need the flat after the end of the contract (e.g., selling it or using it themselves). Without such a reason, rental contracts with an end date are illegal in Germany.
2. Amount of monthly rent
Split up in cold rent and utilities. You need to know the difference between the two, as utilities can increase through more consumption, e.g. heating. The contract should also state what the utilities contain.
3. Deposit amount
It needs to be in writing how many monthly rents you paid as a deposit to be sure to get it back in the end. A maximum of three monthly cold rents is allowed.
4. Pet rules
Especially if you plan on getting a pet down the line, make sure you are allowed to have one according to the rental contract.
5. A list of all furniture and appliances
If you rent a furnished apartment, make sure you have every piece and its condition listed.
6. The notice period
Usually, the notice length for rentals in Germany is three months for both parties.
7. House rules
Some sort of house rules will most likely be recorded, such as trash separation and handling in the house. Your landlord might also put down what future repairs they will take care of and which ones are your responsibility.
8. Future rental price increments
This is optional and depends on your landlord. They may include a line about future raises of the rental price. If so, be aware that there are strict rules on how much rent can be increased in Germany. The maximum amount is 20% spread over three years. The maximum is always determined by the average rental price of similar living spaces in your city. After that, the landlord needs to wait three years to implement another increase.
9. The number of keys
Make sure the number of keys you receive matches the number you are actually getting.
10. Payment method for the rent
The most common practice to pay rent is via bank transfer. The bank account details of the landlord need to be on the rental contract. To avoid late payment, we recommend setting up a standing order in your online bank account two days before the rent is due.
Related Guide: Best Bank Account for English Speakers in Germany
For a more detailed overview of what a German rental contract looks like, we have linked a German and English version from the German association of tenants (Mieterbund).
If you want to play it extra safe, you can also have a legal expert proofread your rental contract before you sign it.
The online consulting platform yourXpert offers such services. Their website is in German, however, you can translate the page by using Chrome as a browser, then do a right-click and select 'translate to English'. You can fill the form and ask your question in English. yourXpert will forward your inquiry to English-speaking lawyers only and you will get a response within 24 hours.
8 Things To Take Care Of After You Move In
Congratulations, you have successfully moved into your new home in Germany! Before it is time to relax and decorate every single corner, you have a few more things to take care of. We have written individual in-depth guides on each step, so this is just a quick summary.
1. Take pictures of your flat
Right after you get the keys to your new apartment, take pictures and videos of its condition, before you put your things in. It is always good to keep a record of it. You never know how long you will end up staying and whether the landlord or property management might change during that time.
2. The Anmeldung
You have to register your new address with the local authorities within two weeks of moving in.
3. Get your surname on the letterbox and doorbell
You will receive official mail over the coming weeks after you moved in and registered. It is absolutely essential that your surname is on the letterbox and doorbell. Check with your landlord or property manager whether they will take care of that or you have to do it yourself.
We created a detailed video on how to send and receive mail in Germany.
4. Get an internet contract for your home
It can take up to six weeks until your internet connection gets activated after you sign a contract, so don't wait too long to get this done.
Related Guide: Best Internet Providers in Germany
5. Sign up with an electricity provider
Don't worry, you will have electricity the moment you move in, but by consciously choosing or changing your provider, you can save several hundred euros a year.
Related Guide: Best Electricity Providers In Germany
6. Get home contents insurance
After you have moved all your belongings to your new home, you might want to consider protecting them from theft, fire, and other damages.
Related Guide: Best Home Contents Insurance in Germany
7. Buy Funiture For Your New Home
If you moved into an unfurnished apartment, it is time to make your new home homey. You could get furniture second-hand if you are on a budget or buy it brand new in the various furniture stores in Germany.
Related Guide: Best Furniture Stores in Germany
8. Watch out for the letter from the Beitragsservice
Every household in Germany has to pay a licensing fee for the public broadcasting stations. You will get a letter asking for your registration and payments a few weeks after you did the Anmeldung. Don't ignore this letter but follow the steps in our guide on the Rundfunkbeitrag.
Related Guide: Radio Tax Germany [Rundfunkbeitrag] What It Is And Why You Should Pay
Important German Vocabulary For Renting In Germany
Here are some words, terminology, and abbreviations you will come across when apartment hunting in Germany (in alphabetical order).
Altbau – old building
Anmeldung – registration with the local authority
Bad – bathroom
Badewanne – bathtub
Balkon or BK – balcony
Dachgeschoss – top floor (literally under the roof)
Dusche – shower
Einbauküche or EBK – built in kitchen
Erdgeschoss or EG – ground floor
Erstbezug or EB – first rental contract after construction or renovation
Fußbodenheizung – floor heating
Garten – garden
Gartennutzung – shared garden
Hausverwaltung – property management company
Kaltmiete or KM – cold rent (utilities are not included)
Kaufen – to buy
Kaution or KT – deposit
Keller – basement (usually referring to a small storage unit in the basement)
Maisonette – a flat with two stories, where the upper floor usually has only half the living space
Makler – real estate agent
Mehrfamilienhaus or MFH – a building with multiple flats in it (mostly common in cities)
Mieten – to rent
Mieter – tenant
Möbliert – furnished
Nachmieter – next tenant
Nebenkosten or NK – utilities
Neubau – new building
Quadratmeter or qm or m2 – square meters (the measure used to determine the living space)
Renoviert – renovated
Schlafzimmer – bedroom
Terrasse – terrace
Untervermietung – subletting (only allowed with the permission of the landlord)
Vermieter – landlord
Warmmiete or WM – warm rent (the final rental price you will pay the landlord)
Wohnberechtigungsschein – Permit for subsidized housing (if you have this permit, you can use this filter to find housing)
Wohnfläche or Wohnfl. – living space (total size of the apartment)
Wohngemeinschaft or WG – shared apartment
Wohnung or Whg – flat
Wohnzimmer – living room
Zentralheizung or ZH – central heating
Zimmer – room

Final Thoughts
This has been a monster of a guide and gives you the most important ins and outs for finding your new home in Germany. We hope you find the information helpful and wish you good luck with your apartment hunt. 🍀