In your first weeks in Germany, you have a lot of things to do and arrange. Changing your electricity provider for your apartment is not a must; however, if you are keen on saving quite some money, you should continue reading. We explain to you how electricity works in Germany and how to find the best electricity providers in Germany for you.
When moving into your new home, you will automatically agree silently to an electricity contract with the basic city provider by consuming electricity. This is great for the beginning, as you don't have to worry about getting electricity to your apartment. Once you are a bit more settled in though, you should consider changing providers.
💡 Note: No need to worry! You will never be without electricity in Germany. Should you not change providers or have a gap between contracts, you will automatically get electricity from your basic city provider (Grundversorger).
How do I choose an electricity provider in Germany?
You can choose your electricity provider when you have moved into your own flat or house and pay for electricity as an extra utility. If you live in a shared flat (WG), the electricity cost should already be included in your rent or additional costs (Nebenkosten).
There are over 1.200 electricity providers in Germany, and recently electricity in Germany turned expat-friendly. Ostrom, a Start-Up founded in 2020, is disrupting the traditional space of energy in Germany.
Ostrom is the first electricity provider to offer an English website, customer service, and a live chat. Even more attention-grabbing, though, is their product model. Ostrom only offers one plan (no more comparisons needed), 100% renewable energy, all digital and flexible. You will not get stuck in a one or two-year contract but can cancel every month.
Their mission is to be fair, smart, and green. With Ostrom, you will no longer need to calculate your actual monthly price, minus random bonuses; instead, you pay one flat fee, so it is very hassle-free. Their electricity plan is available all over Germany, which makes possible moves also very easy.
Additional to their flexible plans, Ostrom also charges market prices. This means that if the energy price goes up, your monthly price will also increase. But more importantly, if the energy price goes down, Ostrom does not keep the profits unlike most other electricity providers, but instead also lowers your monthly price.
In their recent case study, they showcase powerfully that even in a price volatile year like 2022, paying the market price is still cheaper than having a price guarantee from old-fashioned electricity providers.
Our Choice
Ostrom | Energy. Just Better.
English website & customer service
Flexible - cancel every month
One fair & transparent plan
100% digital
Purely renewable electricity
Get Electricity from Ostrom
Transparency: We earn a commission if you click this link and make a purchase at no additional cost to you.
However, if you would like to compare various electricity providers the traditional way, we will outline how to do so via a comparison tool like StromAuskunft below. The page is in German; however, the Chrome feature 'Translate to English' will help you out. We have created a small Wiki at the end of the article with the most critical translations.
By the way, when going the traditional route and not choosing Ostrom, you should make changing your electricity provider your habit and change once a year. The electricity market in Germany is volatile, and electricity prices tend to go up each year.
When changing your electricity provider, you usually benefit from bonuses for the first year only, making regular switching of providers necessary to keep on profiting. Last year we saved 160 euros by switching from our general city provider (Grundversorger) to eprimo green energy. After our contract ends, we will go for Ostrom.
Electricity providers in Germany
Here is a selection of some of the biggest electricity providers in Germany:
Renewable Energy Providers in Germany
Renewable energy (Ökostrom) is becoming more popular amongst German consumers. They often offer better prices and better service than traditional electricity providers. Here is a selection of some of the renewable energy providers in Germany:
Below you find an overview of electricity providers in Germany based on price and service.
3 Simple Steps to change your electricity provider in Germany?
StromAuskunft not only calculates the best rate for you with their electricity cost calculator but just like Ostrom, also cancels your previous contract and arranges the switch smoothly. You will not notice any change other than in your bank account. 😉
Before signing up or changing an electricity provider you need to have a German bank account. Once you have that, you can follow these three simple steps to change your electricity provider:
1. Compare electricity prices
Open the comparison tool. For an accurate comparison, you need to select the number of people in your household and enter your approximate yearly consumption and postal code.
As per StromAuskunft, the approximate yearly electricity consumption in Germany is the following:
| Number of People | Average yearly electricity consumption |
| --- | --- |
| One Person | 1.500 kWh |
| Two Persons | 2.800 kWh |
| Family of 3-4 | 4.000 kWh |
| Large families | 6.000 kWh |
StromAuskunft will now compare all possible tariffs to your basic city provider (Grundversorger). Your legal notice period with the Grundversorger is two weeks to the end of the month.
2. Select a new electricity provider
When comparing the different results, you should pay attention that the tariff you choose includes the following:
Max 12 months contract length
Max 6 weeks notice period
Monthly payments, no prepayments or package deals
A short contract renewal
Price guarantee for the entire duration of the contract
Good customer reviews
Bonuses need to be clearly marked as such
These characteristics allow you to react with great flexibility to changing prices and offers.
Below is an example of a good option to switch to.
As a next step StromAuskunft offers you three different options on how to change the provider:
A simple one-time change (Einmaliger Wechsel)
A one time change and a reminder when it is time to switch electricity providers again (Wechselservice)
A one time change, a reminder when to change again, and an automatic offer to stay with the best provider and price (Premium Wechselservice)
All three options are free of charge for you. Should you choose the Premium Wechselservice, you, of course, will have to confirm the offer sent to you (usually after ten months) before StromAuskunft takes any action. This option is best so as not to get caught in an expensive second year.
3. Wait for confirmation
After you have entered all your personal details, your new electricity provider will send you a confirmation and your contract. Your new provider will also cancel the contract with your current provider.
How to pay your electricity bill in Germany?
During your provider change, you will enter your German bank account details, and thus your monthly payment will be deducted from your bank account automatically by your provider.
If you have changed or signed up to any electricity provider after moving into your apartment or house, you should do so as soon as possible. Simply by using the electricity in your flat, you agree to a contract. You will receive a bill eventually. So it is better to sign up directly with a good provider than wait for a bill of several hundred euros.
Should your consumption be less than the estimate you entered, you will receive your money back after 12 months. Should you use more, you will receive an extra invoice demanding an additional payment (Nachzahlung).
Be sure to cancel your electricity contract when you move out or carry your new electricity provider over to your new flat, by informing them of the move.
🔥 Tip: Upon moving in, ask your landlord where your electricity meter (Stromzähler) is located in the house and take a picture of it (see below). Double-check the counter number with your first invoice. That way, you can prevent possible overcharging for the usage of a previous renter.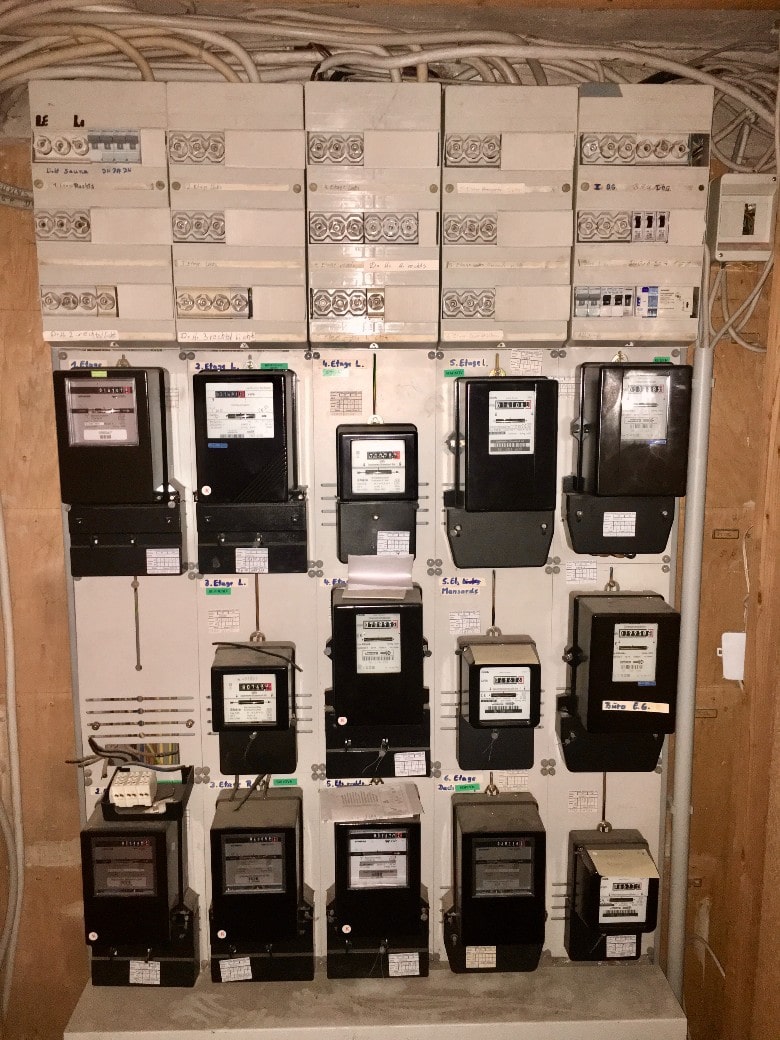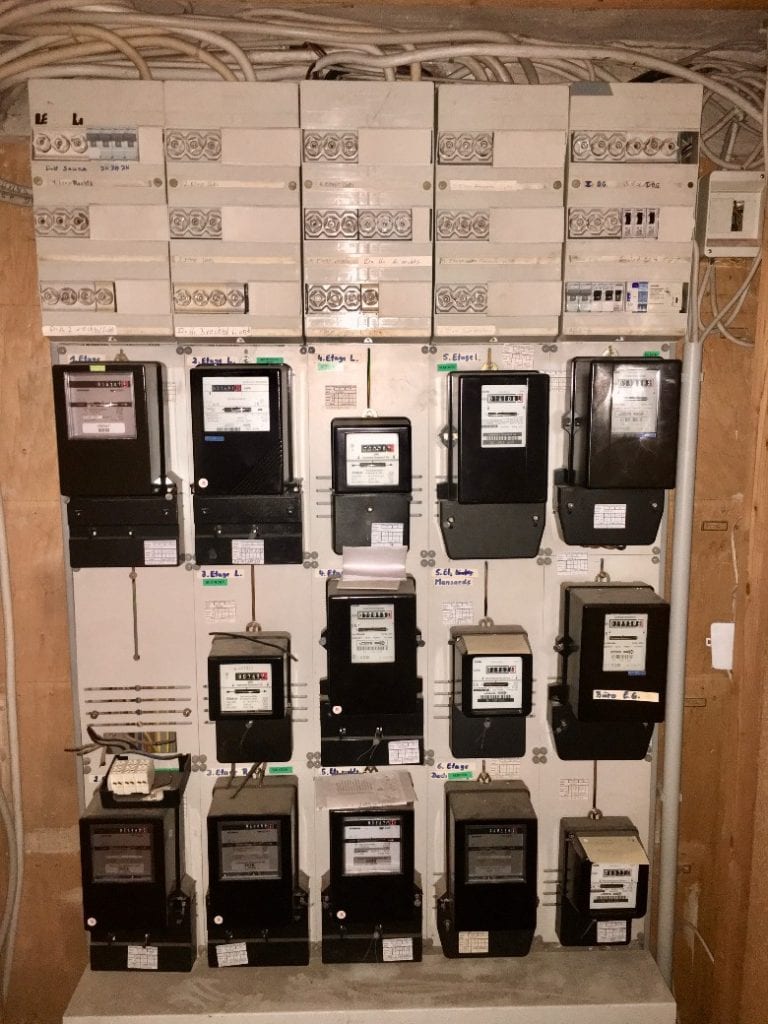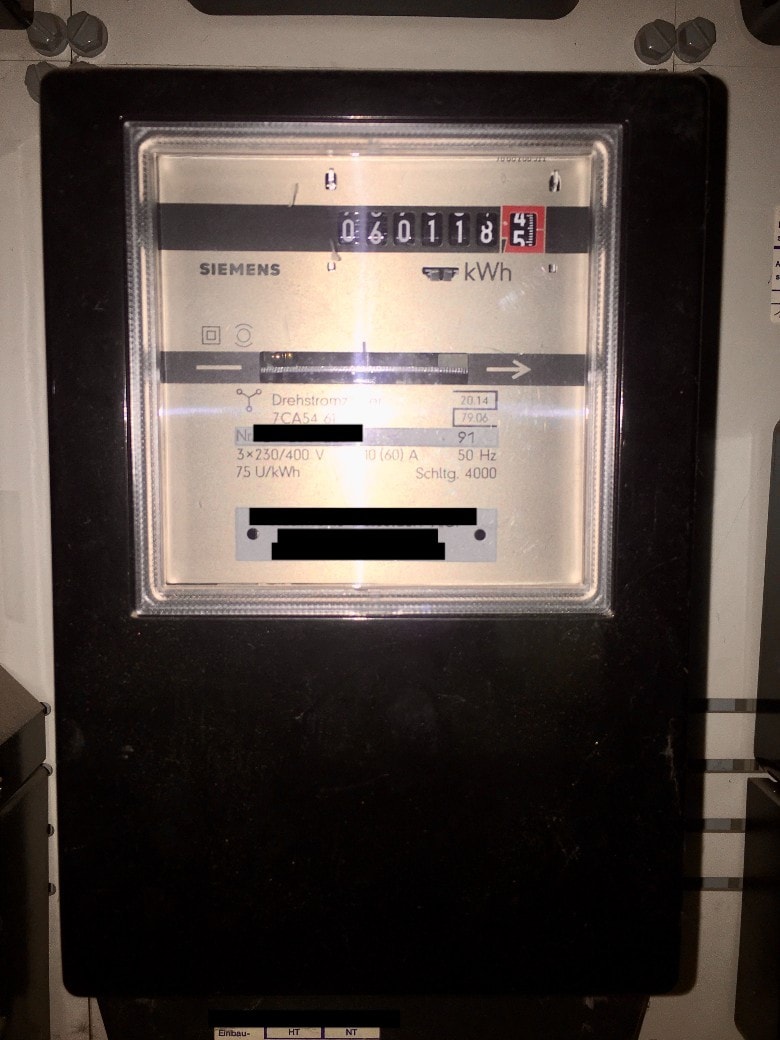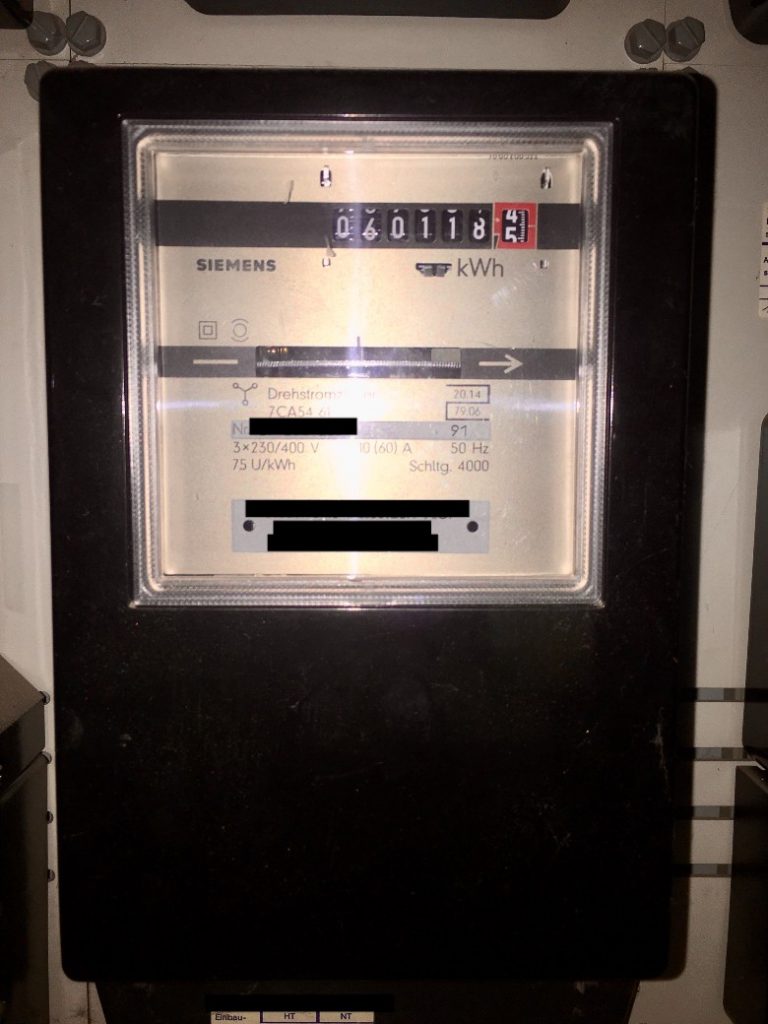 How much does 1 kWh cost in Germany?
In 2019, the average price for 1 kWh in Germany was 30,43 cents. According to the Federal Ministry of Economic Affairs and Energy, the cost per 1 kWh in Germany increased by 53% since 2006.
The average consumption per household for these numbers is 3.500 kWh. Based on that, the average electricity bill in Germany is 88,75 euros per month.
Conclusion
Electricity in Germany ain't cheap, but there is a way to save several hundred euros per year on electricity. The best way is to change your electricity provider every year by comparing the current tariffs on a comparison website like StromAuskunft. Or you can choose Ostrom as an electricity provider to start with, and benefit from fair, transparent prices and English customer service.
German Wiki to change your electricity provider
Nutzung – the type of use – private (privat) or commercial (gewerblich)
Verbrauch – your electricity consumption at home
Vertragslaufzeit – the duration of the contract
Mindestlaufzeit – the minimum duration of the contract
Verlängerung – the duration of the automatically renewed contract
Kündigungsfrist – the notice period – how much time you have to hand in your termination notice before the end of the contract
Vorauskasse – advance payment
Tarif mit Kaution – tariff with a deposit
Abschlagszahlung or Abschläge – installments
Sofortbonus – immediate bonus/discount
Neukundenbonus – a bonus for becoming a new customer
Ökostrom – electricity from renewable sources
Wechselservice – change service – notifying and canceling the contract with your old provider
Grundversorger – the basic city electricity provider from your city
Nachzahlung – additional payment – if your consumption is higher than the estimate
Rückzahlung – repayment – if your consumption is lower than the estimate
Stromzähler – electricity meter measuring your consumption