Your first two weeks in Germany are full of bureaucracy. We have listed the 11 things you need to do in your first two weeks in Germany in our moving to Germany guide. Registering in Germany, aka, doing the Anmeldung in Germany is the very first step.
What is the Anmeldung in Germany?
The Anmeldung (registration in German) is the registration of your residential address with the local citizens' office (Bürgeramt or Bürgerbüro). In Germany, all residents must register within the first two weeks, should you plan on staying longer than three months.
Why is the Anmeldung important?
The Anmeldung is your key to settling in Germany properly and accessing other important services such as getting a bank account, an internet connection, a mobile phone contract, etc. You also need the Anmeldung to get your residence permit and your tax ID.
Directly after completing your Anmeldung, you will receive a registration confirmation called Meldebescheinigung or Anmeldebestätigung, which you will be asked for when setting up above mentioned services. About two weeks after your Anmeldung, you will receive your tax ID (Steueridentifikationsnummer) via postal mail. As soon as you get your tax ID, you should give it to your employer, so the taxes deducted from your salary are calculated correctly.
Should you not hand the tax ID to your employer, you will be taxed at 42%, the highest income tax rate. In case you end up paying too much tax at the beginning of your stay in Germany, you can claim it back at the end of the year with your tax return.
To get your tax ID faster after registering, you can go to the tax office (Finanzamt) in person. Bring your passport and Anmeldebestätigung with you and ask for your Steuer-ID, and they will be able to give it to you right away.
By typing your postal code in the search field on the Federal Central Tax Office's page, you can locate the closest Finanzamt in your city.
How to Register in Germany in 3 Easy Steps
Step 1: Get the appointment at the Bürgeramt
You need to get an appointment at a Bürgeramt in your city to register your apartment (Anmeldung einer Wohnung). You can do so in person, via phone, or online. Booking an appointment online is by far the easiest and most efficient way, especially if your German is limited.
💡 Good To Know: You can make an online appointment before you move to Germany. Just be really sure you'll be able to show up in person on the date of your appointment.
We have listed the individual citizens' offices for the biggest cities in Germany. Each one is somewhat different. You should look out for words such as Wohnsitz Anmeldung, Meldeangelegenheiten, or Anmeldung einer Wohnung. It's best to use Chrome as a browser and use Google's translate function with a right-click.
🔥 Hot Tip: If you live in Berlin, appointments might only be available in 6-8 weeks. You can use the Anmeldung Appointment Finder, a tool that checks every three minutes for better Anmeldung appointments in Berlin.
Not living in a big city? If we didn't list your city above, you can select the registration office (Einwohnermeldeamt) and enter your postal code on the Deutsche Post homepage.
In case there is no appointment available, check back during the day or very early the next morning, as the offices usually update new appointments regularly, especially between 6:30 and 9 am. We have also noticed that for Dusseldorf, chances are highest to find available appointments during the day on Sundays. Each city has several Bürgerbüros for different neighborhoods. You are not required to go to the one closest to you, so also look for appointments at offices across town.
Once you have successfully booked an appointment for your Anmeldung, make sure to read the text on the confirmation page and/or the confirmation email attentively. In Dusseldorf, for example, you need to confirm your appointment by clicking on a link in the confirmation email within one hour of receiving it! Otherwise, your appointment will be canceled.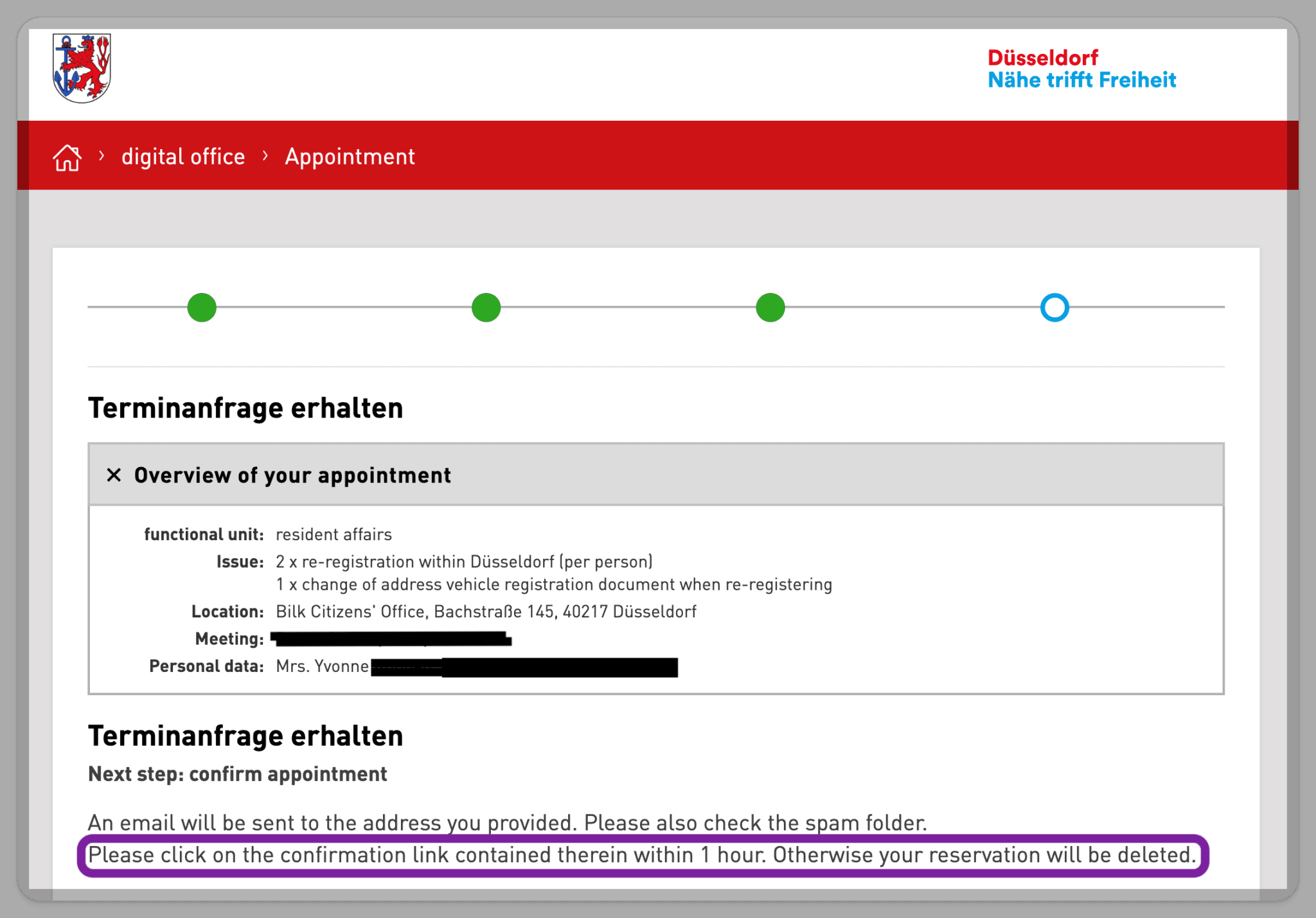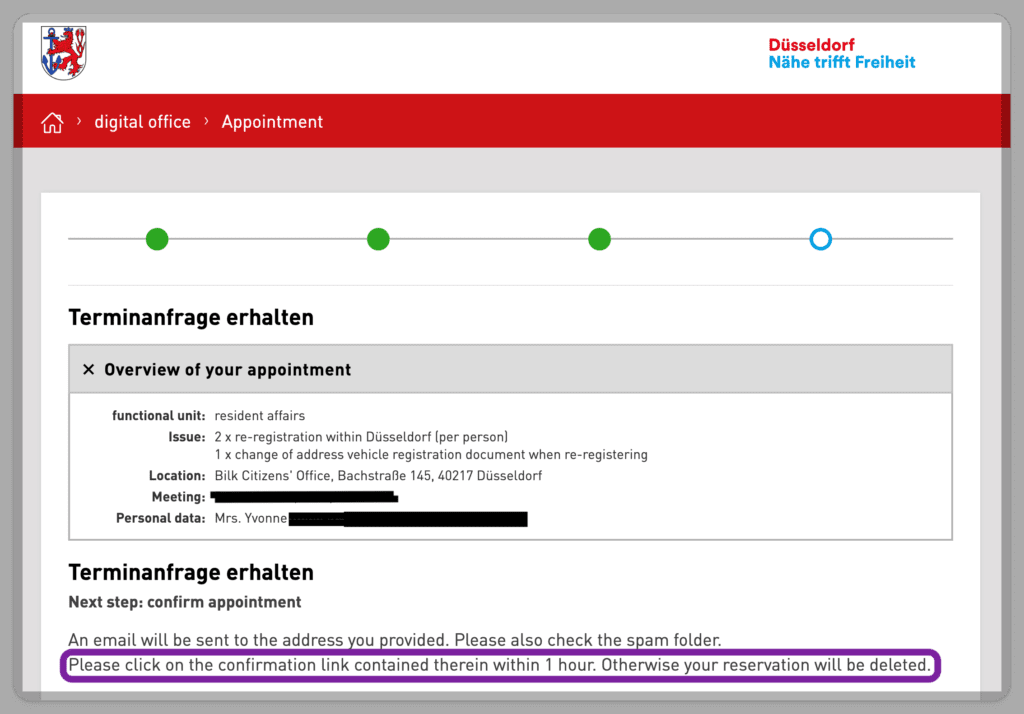 Ideally, you book an appointment to do the Anmeldung in Germany within 14 days of moving to the apartment you are registering with; however, plan enough time to put your documents together (step 2).
💡 Good to know: Each person needs their own appointment. So if you are a non-married couple, be sure to book two appointments. Married families only need one appointment.
Is the Anmeldung possible without an appointment?
Yes, it is (except for Berlin). If you are pressed for time, and absolutely no appointment is available, go to the Bürgeramt at least 30 minutes before opening hours in the morning. This way, you will beat the queue, starting to build about 25 minutes before opening hours. You will need to draw a number once they open and wait until you are called. In my experience, this is the best way of minimizing the waiting time. (Only do this after you have your documents ready as described in step 2.)
Step 2: Gather the documents for the Anmeldung in Germany
If you are married or have children living with you, only one person needs to attend the appointment. You need to bring the following documents to your appointment at the Bürgerbüro:
1. Your Passport
2. Confirmation letter from your landlord
This is known in German as the Wohnungsgeberbestätigung or Einzugsbestätigung des Wohnungsgebers or Vermieterbescheinigung. Since 2015 an Anmeldung without the Wohnungsgeberbestätigung is no longer possible. The form needs to be signed by the person providing you the apartment (Wohnungsgeber). This can be the landlord or the owner. If you are subletting or staying with friends, the tenant can only sign the form with the landlord's permission. Your rental contract will not suffice for the Anmeldung. Generally, your landlord should fill it out and give it to you.
In case you need to remind your landlord about it, you can find the Wohnungsgeberbestätigung for the big cities here:
Here you can find a sample English translation of the Wohnungsgeberbestätigung.
3. The completed Anmeldung form
Again each city has a different format:
Here you can find an example of the Anmeldung in English.
Sorted Berlin has a cool tool that fills the form for free, and you can enter all the information in English.
Some registration forms have a second form called Beiblatt zur Anmeldung. You usually do not need to fill this one out, as it is only for family members, who are not moving with you at this point or if you are registered in other apartments in Germany and wish to stay registered there as well.
4. Your temporary visa (for non-EU citizens)
5. Your marriage certificate (if applicable)
You need to bring the original as well as the official translation. Most likely you can reuse the one that you submitted in your visa application. In case you don't have a German translation yet, you can use the services of lingoking for a certified, fast, and affordable translation.
Our Choice
6. All original documents of family members (if relevant)
If you are moving with your family of up to four, it is enough if one person does the Anmeldung. You need to bring the family member's original passports and original birth certificates, as well as their official translated version.
Step 3: Go to your Bürgeramt appointment
On the day of the appointment, go to the Bürgeramt with all your documents. Be on time to not miss your appointment. Once you arrive to the Bürgeramt, you will most likely check in at the local terminal. Either with the appointment ID you received via email or via a QR code in the same email. You will have to remain in the waiting area and wait until your appointment ID gets called.
Once you sit in front of your caseworker, you hand over all the documents, and you will receive the Meldebescheinigung in return. The Anmeldung takes around 10 to 15 minutes. The process is straightforward; however, you might be asked some questions in German. The clerk workers are not allowed to speak in English, and if they do, they are liable for any misunderstandings or false expressions they make.
So to avoid any language barriers, we suggest that you take a German-speaking colleague/friend with you or book a relocation consultant to assist you. 
Some cities will welcome you as a new resident with a small welcome package. Here in Dusseldorf, it includes reduced entry to museums and other facilities for the first year.
What is the German church tax?
On the registration form, you need to enter your religion. Suppose you are part of a religious community and wish to continue being a member and use their facilities at some point (for example, to get married). In that case, you should mark your religion on the Anmeldung form. If you are Catholic, Protestant, or Jewish, you will then need to pay church tax.
If you are baptized but don't really practice your religion and you have no interest in using their facilities in the future, you should not mark your religion on the Anmeldung form, to avoid paying church tax. We elaborate further in the below guide.
Related Guide: Church Tax in Germany
Can I do the Anmeldung with an Airbnb?
No, most likely you cannot. The owner of an Airbnb will often not allow you to register under their address. As such, they will not provide you with the Wohnungsgeberbestätigung unless you booked it for longer than six months. To find a flat with which you can register yourself, you can read our guide below.
Related Guide: Renting In Germany [A Detailed Guide In English]
What happens when you register late in Germany?
By law, you could get a fine of up to 1000 euros if you do not register within two weeks of moving into your permanent apartment. In reality, most city offices are a bit more tolerant, and you may get away with a disappointed look, especially if you can provide a proper reason for being late. However, you are limiting yourself and your life in Germany, as you won't be able to get a bank account, an internet connection, a mobile phone contract, etc.
How to live in Germany without the Anmeldung?
Upon your move to Germany, sometimes, you will start living in Germany without an Anmeldung, as you start out with a temporary residence like an Airbnb, crash with friends, etc.. In that case, a lot of internationals face the chicken and the egg problem, when applying for bank accounts and other service providers.
Depending on your nationality, you may be able to open a bank account in Germany without having done your Anmeldung. The mobile bank N26, where you can open your N26 bank account in less than 10 minutes, may be an option for you.
N26 - The Mobile Bank
100% in English and digital
Free bank account & virtual Mastercard
Savings & loan options
Customer service 7-days a week
Open N26 Account
Transparency: We earn a small commission if you click this link and open an account at no additional cost to you.
For a better understanding of which German bank will be available for you, please watch our in-depth video below:
You will have similar problems when looking for a mobile phone contract. The best solution is a prepaid mobile SIM card. We have selected the best ones for you in our review.
Related Guide: Best Prepaid SIM Cards In Germany
Change of address – the Ummeldung in Germany
When you move within Germany, even within your same house or neighborhood, you must re-register and inform the authorities of your new address. The process is exactly the same as for Anmeldung, except that you check Ummeldung for the appointment.
Leaving Germany – don't forget the Abmeldung
You can probably guess that when you are leaving Germany for good, you should also not just disappear. Instead, of course, there is the Abmeldung. You need to de-register within two weeks after you have moved away. The earliest you can de-register is in your last week of living in Germany. You will again need a Wohnungsgeberbestätigung, this time confirming that you are moving out (Auszug).
Why do you need to do the Abmeldung?
So you won't keep paying health insurance, for example. Just because you quit your job does not mean you automatically stop paying health insurance. Showing the Abmeldebestätigung will also help you get out of long-term contracts, such as at the gym, with your internet provider, etc..
Related Guide: Leaving Germany [Your Practical To-Do List]
Welcome to bureaucratic Germany 😅. Don't be put off, and keep reading our tips and guides. Our mission is to simplify the German bureaucracy for you and help you settle into life in Germany more smoothly.