Are you confused about the payment reminder in your letterbox from the ARD ZDF Deutschlandradio for the Rundfunkbeitrag? We understand and shed some light on what the radio tax in Germany is, how much you have to pay, and why you should pay it.
What Is The Rundfunkbeitrag In Germany?
The Rundfunkbeitrag is the license fee or broadcasting contribution for public German TV and radio. It often gets called the radio and TV tax; however, it is not a tax. Every household needs to pay a monthly fee of 18,36 euros to support independent public broadcasting in Germany.
You will hear Germans refer to it as the GEZ-Gebühr (Gebühreneinzugszentrale der öffentlich-rechtlichen Rundfunkanstalten – don't you love German 🙈 ), which stands for German fee collection center. Up until 2013, the GEZ used to collect this license fee. Since then, they changed their name to a friendlier ARD ZDF Deutschlandradio Beitragsservice or just short Beitragsservice.
How Much Is The Radio Tax In Germany?
The radio and TV tax in Germany is 18,36 euros a month per household, regardless of how many people live in it. It gets collected per quarter so that you will pay 55,08 euros four times a year. The price was increased last in August 2021.
Is It Mandatory To Pay ARD ZDF?
Yes, it is. Every household in Germany must pay the Rundfunkbeitrag since 2013 unless you fall under one of the below categories that allows an exception. It is irrelevant whether you actually consume the German public broadcasting services or not.
If you want to be proactive, you can register yourself and the flat that you moved into online on the official website of the ARD ZDF Deutschlandradio Beitragsservice. However, the Rundfunkbeitrag is a somewhat controversial topic in Germany, and few people would volunteer to pay it.
Regardless, whether you proactively sign-up online or not, after you have registered through your Anmeldung, your Bürgeramt will notify the Beitragsservice.
So expect to receive a letter from the Beitragsservice a few weeks after your registration, demanding you to sign up with them. We have translated the sign-up form into English, to help you fill it in properly. You have to mail it back to the Beitragsservice, or opt for the online form.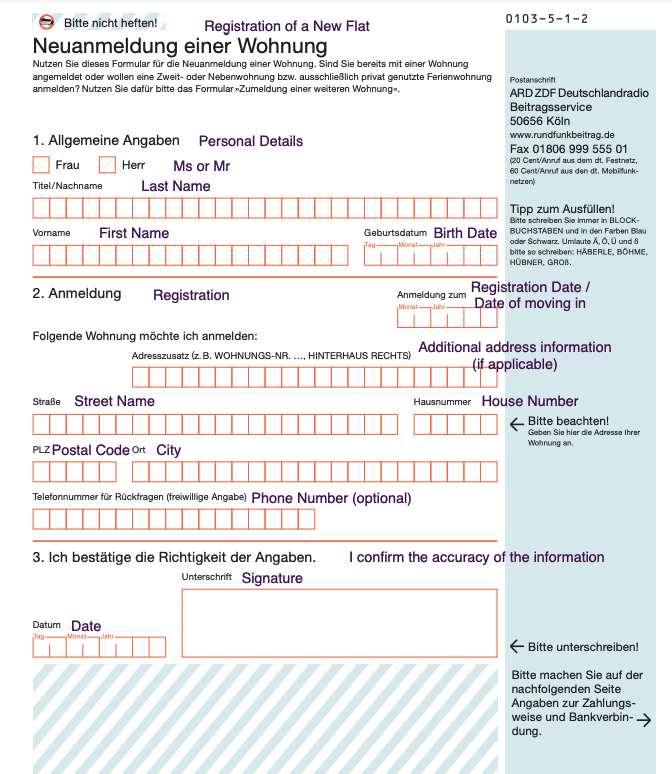 Related Guide: How to Send a Letter in Germany
Rundfunkbeitrag Exemption and Reduction
You can apply for an exemption or reduction of the Rundfunkbeitrag if one of the following applies:
You have severe disabilities which prevent you from participating in public events → You can apply for a reduction to 6,12 euros a month via this form.
You are deaf-blind → You can apply for exemption via the form above.
You receive social security benefits, including unemployment benefit 2 (ALG 2) or a guaranteed minimum pension → You can apply for exemption via this form.
What If You Are Registered In Two Households In Germany?
In case you have a second home (Nebenwohnsitz), you do not need to pay the TV and radio tax twice. You can apply for an exemption for your second home via this form.
What If Someone In My Household Is Already Paying The Rundfunkbeitrag?
If you move into a flatshare, the chances are high that someone in your new household is already paying the Beitragsservice. To avoid paying double, you will need to inform them via this online form which person in your household is already paying the radio tax. You will need the name and Beitragsnummer (see below) of your flatmate, as well as your Meldebescheinigung from your Anmeldung.
Do You Have To Pay Radio Tax As A Student In Germany?
Yes, you do, unless you still live with your parents or receive financial support (BAföG), as mentioned above. If you are an Erasmus student or on a scholarship, you are also obliged to pay the license fee.
If you live in student housing, the following rule applies:
If your room leads off a generally accessible hallway, it gets categorized as its own household, regardless of whether it has a kitchen or bathroom. You have to pay up alone.
If several rooms are separated from a generally accessible hallway or staircase by a separate apartment door, it is considered a Wohngemeinschaft and, as such, as one household. You and your flatmates can share the 18,36 euros license fee.
Where Do You Find Your Beitragsnummer?
You can find your Beitragsnummer for the ARD ZDF Deutschlandradio on your sign-up confirmation or on the payment reminder you receive via postal mail.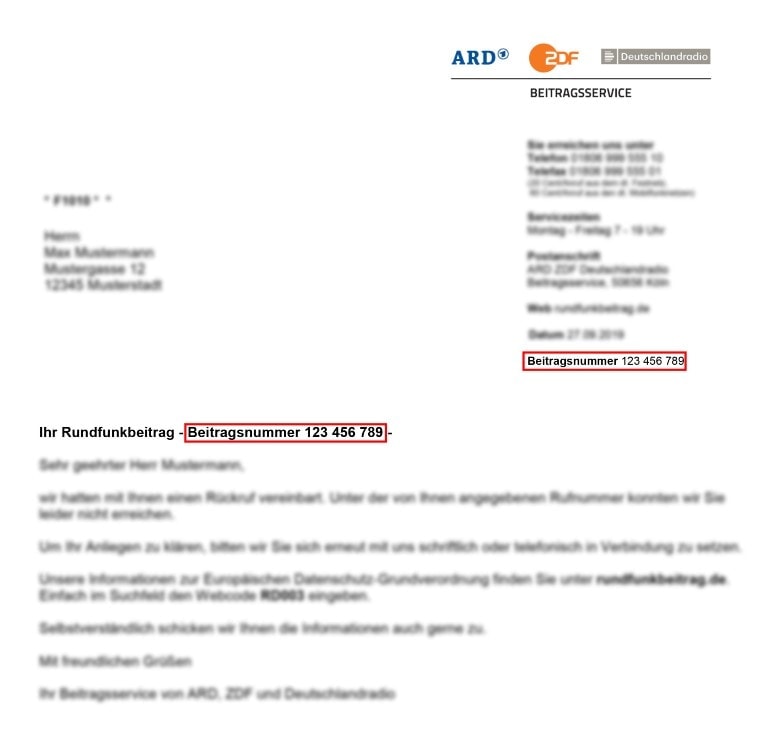 How To Pay The Radio Tax In Germany?
Unlike other services in Germany, the payment for the radio tax does not happen monthly. You can choose to pay for it in the following frequency:
In the middle of the month (15th), every three months (default frequency)
Prepay for three months – at the beginning of a quarter
Prepay six months – at the beginning of a semester
Prepay a year
You have two options to pay the radio tax in Germany:
You give them a direct debit authorization (Lastschrift Einzugsermächtigung) from your German bank account. You can do so by filling a form online.
You set up a standing order from your bank account, so you never forget a payment.
❗️ Important: Since 2022, you will no longer receive a payment reminder via postal mail. So to avoid fees because you forget the payment it is best if you set up a direct debit order.
What Happens If You Don't Pay The Radio Tax In Germany?
If you don't pay the radio tax in Germany, you will get into serious legal trouble. You will receive continued demands for payment, which will turn into official collection procedures. The Beitragsservice will inform the SCHUFA, which holds your credit score in Germany, about your bad payment habit, which will affect your SCHUFA score and any further purchases you will want to make.
You will end up having to pay the total sum that you owe and additional fines for late payment. There is a very prominent case of a German woman who went to prison because she refused to pay the GEZ-Gebühr.
So be sure to pay the Rundfunkgebühr. After all, there is a good reason it exists.
Why Does The Rundfunkgebühr Exist In Germany?
The public broadcast was introduced to Germany after WWII through the British. The belief was that the war was also made possible through propaganda-controlled television and radio.
Hence, a democracy needs to have independent media that cannot be financed and influenced by politics (through taxes) and economics (through advertisement). Instead, it gets equally funded by all residents. That's how the license fee was born.
The public broadcast limits fake news from spreading and allows cultural niches to be present in Germany's media. So instead of ignoring German public television and radio, you can make the most of it.
Use it to practice your German, for example. I made Jen, my wife, who is from Guatemala, watch my all-time favorite kids' TV show on ARD called 'Die Sendung mit der Maus'. It is very educational, fun, and easy to understand. 😉
By the way, Germany is by far not the only country in the world where residents pay broadcasting contributions. There even is a treaty joined by 34 countries around the world. To find out more about the topic, you can read this article. Maybe your home country has a license fee as well, and you are unaware of it.
What German TV And Radio Stations Are Part Of The Public Broadcasting?
The following TV channels are part of the German öffentlich-rechtlichen programs:
ARD (first TV channel) and its regional subchannels:

WDR
BR
hr
MDR
NDR
RB
RBB
SR
SWR

ZDF (second TV channel)
ARTE
Phoenix
3sat
KiKA
ONE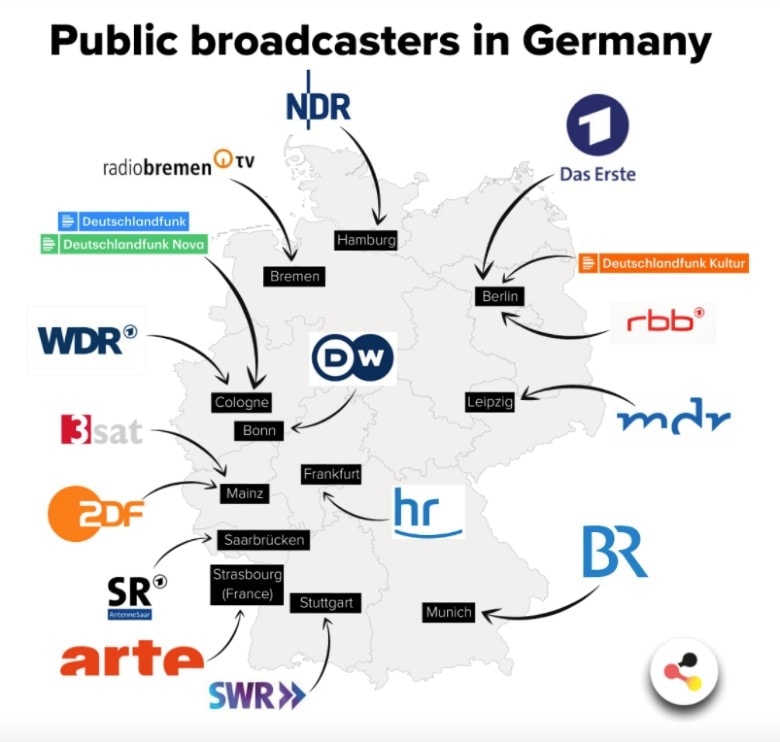 As for radio, the Deutschlandfunk is the only German public nationwide radio station. You can find countless regional public radio stations, each with its individual program and music type. For a full list, check out Wikipedia.
Deutsche Welle, which reports mainly abroad, is also part of the public broadcasting as a member of the ARD; however, Deutsche Welle does not get financed through the license fee but instead through taxes from the federal budget.
How To Cancel The TV Tax In Germany?
When leaving Germany for good, you have to deregister your address (Abmeldung) with your local Bürgeramt and deregister with the ARD ZDF Deutschlandradio Beitragsservice to avoid future payment requests of the GEZ-Gebühr. You can do so via this form.
Related Guide: Leaving Germany [Your Practical To-Do List]
Should you move within Germany, you have to reregister your address (Ummeldung) with the local Bürgeramt, as well as with the GEZ. The latter you can do via this form.
Conclusion
I hope that this guide answered most of your questions and you understand why the license fee is in place and why you should pay it as a resident of Germany.
If you are interested in other bureaucratic topics that might seem confusing at first, take a look at our 'Bureaucratic Know-How' section.