Simple Germany is all about presenting modern, all-digital services to you; however, you will still encounter instances in your life in Germany where you will need to revert to sending a traditional letter. In this guide, we answer the questions of how to send a letter in Germany, how to address it, how much it costs, and how long it takes.
How To Send A Letter In Germany with Deutsche Post
You have two options to send a letter in Germany. You can either go to one of the many post offices (Deutsche Post), DHL Shops, or kiosks with the Deutsche Post sign in your neighborhood to get your envelope stamped and mailed.
Or, in case you have postage stamps at home, you can place your envelope in one of the many big yellow letterboxes (Briefkasten) on the streets in your neighborhood.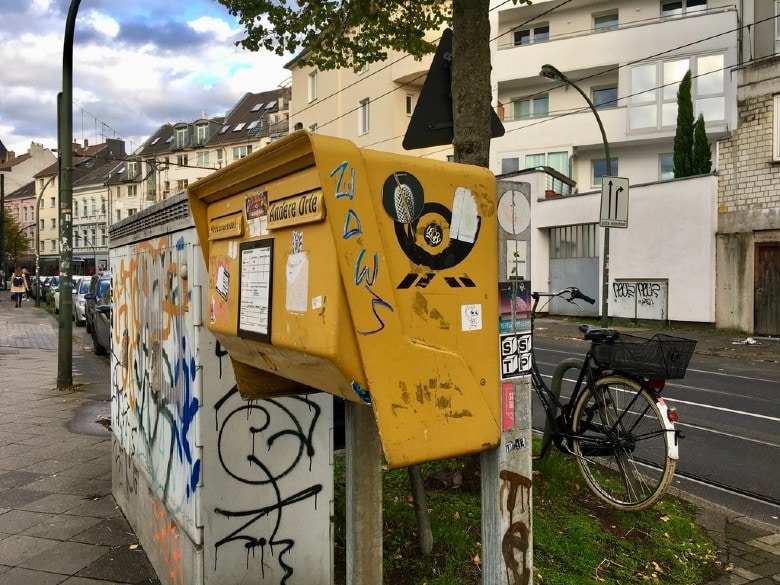 If you haven't found any of these yet, you can use the Deutsche Post location finder, which also tells you at what time the letterboxes will be emptied next and the opening hours of the shops.
In our video below, we talk about the super cool new Post & DHL app, with which you can stamp your letters at home, without a printer. You simply write a code on the envelope. Watch the video to find out more! 😊
If you want to send a package, you can get the packaging materials and box from a post office or kiosk. You will need to hand the package over in person, as it does not fit into the letterboxes.
Where To Write The Address On The Envelope In Germany?
For your letter to arrive fast and safely, it is important to address the envelope correctly. There are strict guidelines you should follow.
The recipient's address needs to be on the bottom right of the envelope, with at least 15 millimeters of space to the right, left, and bottom edge (for the postal service usage) and 40 millimeters to the top edge of the envelope. You should write the address left-aligned with the same font and size and no spacing between the name or address.
The sender's address goes in the upper left corner, and the stamp goes in the top right corner.
What Is The German Address Format?
A German address needs to have the name of the recipient on it. That being said, German letterboxes usually only carry the last name. It is uncommon for German apartments to be numbered.
The German address format looks like this:
1. Private Person
Sandra Becker
Berliner Allee 301c
62502 Frankfurt a. M.
→ Full name of the person
→ Street name and house number
→ Postal code and city
2. Private Family
Familie Müller
Ratinger Straße 11
53175 Bonn
→ Family + the last name
→ Street name and house number
→ Post code and city
3. C/O Family
If the letter's recipient is not the primary tenant or you are writing to a company, you have to write the name that is written on the letterbox on the envelope; otherwise, it will not be delivered. In the second line, you must then put the name of the actual recipient with a German c/o – z.H. stands for 'zu Händen' and means to the attention of.
Christina Lopez
z.H. Alejandra Ramirez
Stresemannweg 3
90874 Erfurt
→ Full name of person on the letterbox
→ The name of the recipient
→ Street name and house number
→ Zip code and city
4. Company
Smile GmbH
Marketing / z.H. Frau Schmidt
Vogelsangstraße 134
40875 Ratingen
→ Full company name
→ Department or contact person
→ Street name and house number
→ Postal code and city
How To Write An International Address On A Letter From Germany?
When you want to mail a letter to your family or a friend in your home country, you should stick to the address format from your home country and write the city in capital letters and in the language of the destination country. The last line needs to have the destination country in German or English language in capital letters.
An international address on an envelope in Germany looks like this:
Miranda Bailey
1/2 Main St SE
MONTREAL, QC H3Z 2Y7
CANADA
How Much Does It Cost To Mail A Letter In Germany?
Here is an overview of postage costs for letters sent within Germany:
| Letter type | Costs |
| --- | --- |
| Standard letter up to 20 g | €0,85 |
| Compact letter up to 50 g | €1,00 |
| Large letter up to 500 g | €1,60 |
| Maxi letter up to 1 kg | €2,75 |
| Postcard | €0,70 |
How Long Does A Letter In Germany Take To Arrive?
About 90% of all national letters sent in Germany get delivered by the Deutsche Post on the following business day if you placed it in a letterbox or postal shop before the last pick-up time.
However, especially during the COVID-19 lockdown in March and April of 2020, you could run into some delays. So if you want to be sure that your letter arrived on time, try to mail it two to three days beforehand.
How To Send A Letter With Tracking In Germany
A letter with tracking is called Einschreiben in Germany. For example, all documents sent by a German court get sent with tracking, to have proof over the date the letter was received. There are three main types of tracking you can choose from:
Einschreiben Einwurf: The envelope simply gets dropped in the letterbox of the recipient.
Einschreiben Rückschein: You will receive a return receipt signed by the recipient.
Einschreiben Eigenhändig: The envelope only gets delivered to the actual recipient or an authorized person, who has to sign with the mailman.
You can also print tracking postage online at home or with your local post office.
Conclusion
The German post system is highly efficient and works best if you address a letter in Germany correctly so that the sorting machines can read it automatically. In case you don't follow the above guidelines, your letter won't be sorted by the machines and either must be sorted by hand or will never make it to its destination.
If this guide was helpful to you, take a look at our Living in Germany section for more informative guides on how things work in Germany.