Having a German mobile phone number and plan is pretty much necessary to participate in everyday life. We take a look at the best mobile network in Germany. Additionally, we also take a look at the best mobile phone contract providers in Germany.
I have had five different mobile providers since getting my first mobile phone in 2002. So let's take a look at what is happening in 2021.
Which is the best mobile network in Germany?
Germany has three main mobile network providers:
Deutsche Telekom (T-Mobile)
O2 (Telefónica)
According to the latest in-depth study across the entire country, Telekom is the best mobile network provider in Germany for internet and phone reception in terms of availability, performance, and reliability. Vodafone comes in second and O2 as third.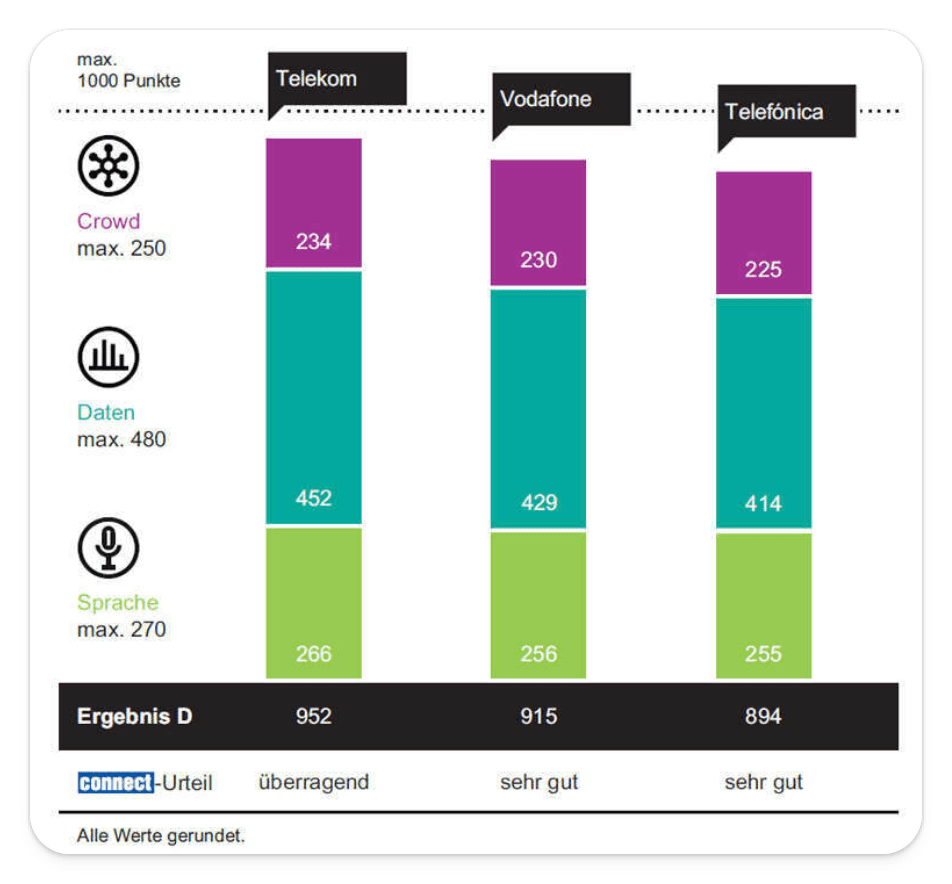 Telekom has won this network test for the last twelve consecutive years.
Which German mobile carrier should you choose?
You should base your decision on where you live and spend the most time in Germany. Despite the high living standards and great infrastructure in Germany, the internet and mobile reception is underdeveloped. Especially in rural areas, it is not uncommon for you to not have reception at all.
To find out which provider is best for your location, you can use the following network coverage checks. Simply enter your address.
From the three providers above, Vodafone and Telekom offer the option to purchase an eSim instead of a physical sim card. If you are looking for the best eSim provider in Germany, make sure to check out our guide How To Get An ESIM In Germany [Everything You Need To Know 2023]
Cell phone contract or Prepaid SIM
When choosing a mobile phone plan, you will also have to decide, whether you want to pay as you go and get a prepaid SIM card or whether you want a contract. Mobile phone contracts in Germany are usually binding for 24 months and the monthly fee gets pulled from your bank account via direct debit.
Contracts are very popular in Germany. The advantages are access to 5G, getting an optional new phone at the same time, and having the option for bigger data plans.
In this guide, we will focus on the best mobile contracts.
Related Guide: Best Prepaid SIM Cards in Germany
5 Features to choose the best mobile phone contract for your needs
1. Talk time & Text messages
Nowadays most contracts offer unlimited calls and text messages included in your contract (FLAT in German). However, you may also choose smaller packages with a minutes package.
2. Internet Data and Speed
Internet Data packages usually start with 1GB. The best mobile network in Germany for internet depends on where you live. The fastest network available is 5G, however only in certain parts of Germany. LTE (4G) is the fastest network with the biggest coverage.
🔥 Tip: Since 2017 you can use your German phone and data plan within the EU without roaming charges. This applies to private and business trips, but not for long-term stays abroad. Some providers, like Telekom, also include Switzerland in the free-roaming zone.
3. Duration of contract
Most mobile contracts run for 24 months. Afterward, you can cancel them with a one-month notice period.
4. Network
You will still find the old terms of D-Netz and E-Netz used by providers. The D1-network refers to Telekom, D2 to Vodafone and E-network refers to O2.
5. Phone Number
Some providers offer you to choose your own number. In case you had a German number before, you can also opt to carry it over to your new provider. Some companies even offer a bonus for this service.
5 Best German Mobile Phone Contract Providers
The mobile phone market in Germany is one of the toughest with countless third-party competitors, who use the lines of the three networks (Telekom, Vodafone, and O2) and often offer better prices. When comparing different providers and contracts, pay attention to possible price changes after the first 6 or 12 months. Marketing for mobile phone contracts tends to be somewhat aggressive.
We base our selection on our own experience, in-depth research, and provider reputation.
Disclaimer: Customer service is generally bad when it comes to mobile phone contracts and there is not one provider really excelling in it. To avoid any hassle, choose a contract once and stick with it.

To cancel your existing contract, you can access our FREE template to cancel contracts in Germany.
All listed providers also have the option to get a contract, which you can cancel each month, so you won't be tied for 24 months. Naturally, prices for those contracts are more expensive. If you are simply looking for the cheapest and easiest option, we recommend opting for a prepaid SIM card, to really be in control and stay flexible.
Related Guide: Best Prepaid SIM Cards in Germany
Here are our top picks for the best German mobile phone contract providers.
| | Vodafone | Telekom | 1&1 | mobilcom debitel | O2 |
| --- | --- | --- | --- | --- | --- |
| English Website & Support | English App & Partial Support | | | | |
| Network Provider | Vodafone | Telekom | Telefónica O2 | Telekom, Vodafone, O2 | Telefónica O2 |
| 5G available | | | | | |
| Max. Download / Upload Speed | 500 / 100 Mbit/s | 300 / 50 Mbit/s | 300 / 50 Mbit/s | 255 / 50 Mbit/s | 500 / 50 Mbit/s |
| Max. Data Volume | unlimited | unlimited | unlimited | unlimited | unlimited |
| Cheapest Connection | from €29,99 | from €39,95 | from €19,99 | from €7,99 | from €19,99 |
| Contract Length | 2 years | 2 years | 2 years | flexible | flexible |
| EU Roaming Included | | | | | |
| Switzerland Roaming Included | | | | | |
| UK Roaming Included | | | until 31.12.2022 | | |

Vodafone Germany is headquartered in Düsseldorf and it is part of the Vodafone Group based in the UK. In 2019 it was the largest provider of mobile phone services in Germany. Vodafone uses the D-network known as D2-Netz. Vodafone offers different contract varieties, with or without a new phone, special prices for young people under 28 years, and different data plans.
With their special feature called Vodafone Passes, you get to determine the apps you use most (WhatsApp, Facebook, and Instagram, Spotify or Netflix) and receive a flat rate for the package you choose, so it won't pull data from your regular data plan. Their smallest plan (4 GB) starts at 29,99 euros per month.
Starting 2022, Vodafone released an English version of their mobile app (once you are a customer). This is a huge breakthrough in the very German-dominated telecommunication market.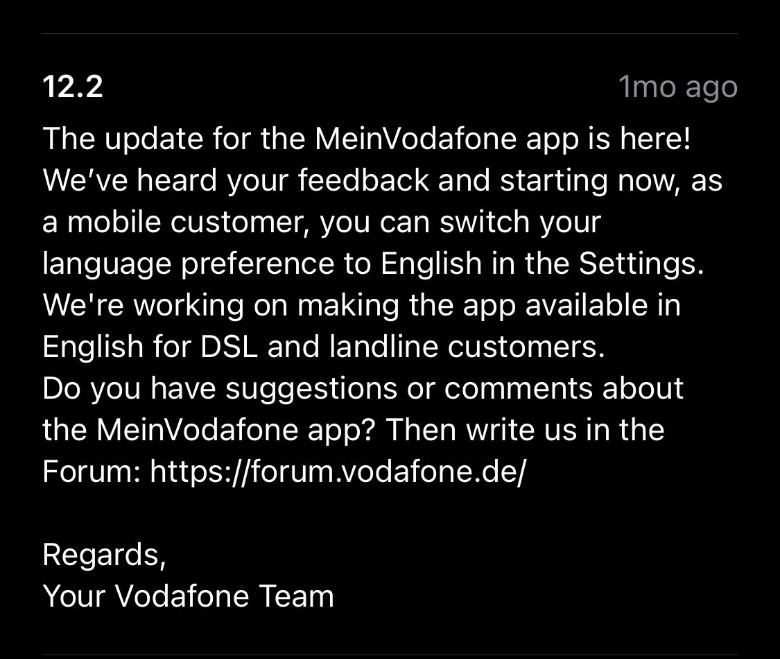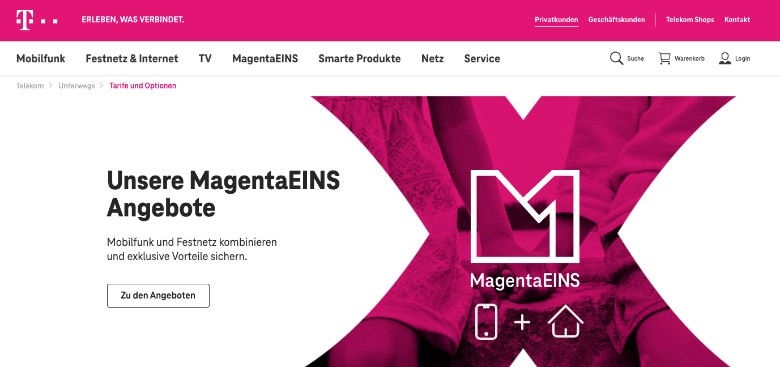 Deutsche Telekom a.k.a. T-Mobile internationally is the largest telecommunications company in Europe, headquartered in Bonn, the former German capital. It used to be state-owned and was turned into a private company in 1996. The Telekom network (D1-Netz) is the best network in Germany and Telekom offers a variety of different contract options. Generally speaking, Telekom charges higher prices for the quality they offer.
You can choose a contract with or without a new phone. You can choose the Premium version, which gets you a new phone every 12 months. Telekom also offers special prices for people younger than 28 years. Their smallest plan (6 GB) starts at 39,95 euros per month.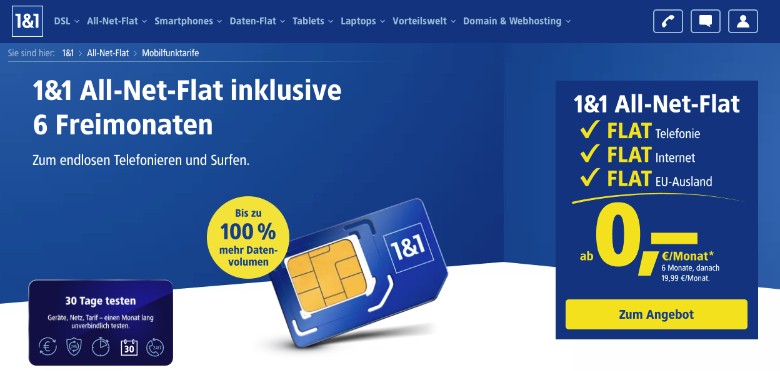 1&1 is a favorite German third-party provider offering plans on the Telefónica network. Their smallest plan (3 GB) starts at 9,99 euros per month for the first 6 months and continues with 19,99 euros per month. Recently, they also started offering the 5G network for their bigger more expensive plans.


Freenet is another well known third-party provider, exclusively focusing on mobile phones. You can choose contracts from all three networks. Their smallest plan (1 GB) with Telekom starts at 9,99 euros per month. Their smallest plan (3 GB) with O2 Telefónica starts at 7,99 euros per month.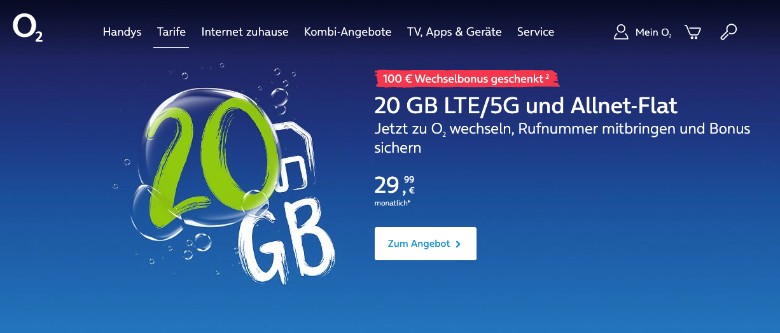 O2 is run by Telefónica Germany since 2005 when the Spanish telecommunication company entered the German market and became the main competitor to Vodafone and Telekom. O2 is headquartered in Munich and runs on the E-network with the least amount of coverage in Germany, especially in rural areas. O2 also offers similar contracts, with or without a phone, and for young people. Their smallest plan (3 GB) starts at 19,99 euros per month.
Are there any unlimited data plans for Germany?
Yes, all three network providers also offer contracts with unlimited data plans for Germany and to a certain limit also for EU roaming. Look out for the following plans:
We have also written an in-depth guide on the topic if you are looking for more details.
Related Guide: Best Unlimited Internet SIM Card In Germany
Where is 5G in Germany?
The 5G network was introduced to Germany in 2019 and Telekom and Vodafone immediately started expanding their coverage. Below you can see where 5G is available so far.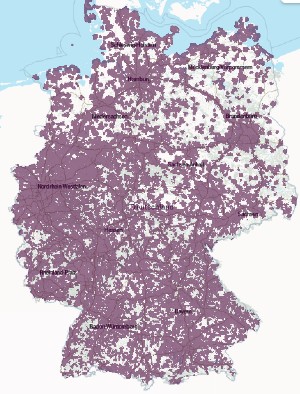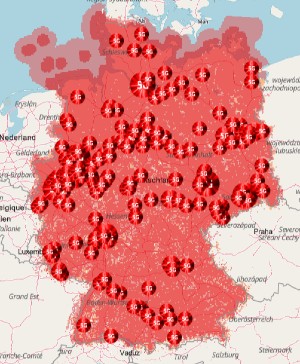 O2 only started at the beginning of 2020 to introduce 5G to Hamburg, Berlin, Frankfurt, Munich, and Cologne. The extension of the 5G network will continue slowly.
Conclusion
The best (for availability) and most expensive mobile network in Germany is the Telekom network; however, Vodafone offers the fastest data speeds and overall great quality for a better price. There are lots of third-party providers out there as well, so be sure to compare, which plan fits your needs best. If you choose a contract, you are usually tied to 24 months.
🔥 Tip: If you do not have an internet contract for your home yet, take a look at our guide for best internet providers in Germany. When you combine mobile with a home internet contract, you often receive benefits or a better price.