Let's face it, in today's world, it is near too impossible to live without the internet anymore. And mobile internet is becoming more and more important. In this guide, we compare your options for the best unlimited internet SIM card in Germany.
Whether you need one to stay connected via social media, watch your favorite YouTube videos on the tram to work, or call your friends and family back home via WhatsApp or Facetime.
Quick Overview Of The Best Unlimited Internet SIM Card In Germany
If you are short on time and just want an answer, here is an overview of our comparison for the best unlimited internet sim cards in Germany.
O2 Basic
O2 Smart
O2 Max
Vodafone
Telekom
Edeka
Monthly cost with contract
€29,99
€39,99
€59,99
€79,99
€84,95
-
Cost per 4 weeks - prepaid
€34,99
€44,99
€64,99
-
€99,95
€94,95
Connection price
€39,99
€39,99
€39,99
€39,99
€39,95
Prepaid: €99,95
€94,95
Incl. 5G
Download / Upload Speed
2 / 1 Mbit/s
10 / 5 Mbit/s
500 / 50 Mbit/s
500 / 100 Mbit/s
300 / 50 Mbit/s
300 / 50 Mbit/s
Call & text flat rate
Incl. EU roaming
Up to 18GB
Up to 22,4 GB
Up to 28 GB
Up to 45 GB
Up to 68 GB
Up to 48 GB
Which SIM Card Is Best For Internet In Germany?
To determine the best SIM card for internet in Germany, we have to look at the network coverage from the three German mobile network providers. Overall, also considering phone call reception next to mobile internet availability, Telekom ranks 1, Vodafone ranks 2, and Telefónica (O2) ranks 3.
The tests conducted yearly by Connect Magazine, illustrate that Deutsche Telekom still offers the best mobile internet reception; however, Telefónica and Vodafone are catching up. At the end of the day, the best SIM card for unlimited internet in Germany varies on where you live and spend the most time.
While Telekom still offers the best internet reception by far outside of big cities in Germany, Vodafone and Telefónica have caught up big time in large cities in Germany and Vodafone in all other areas as well.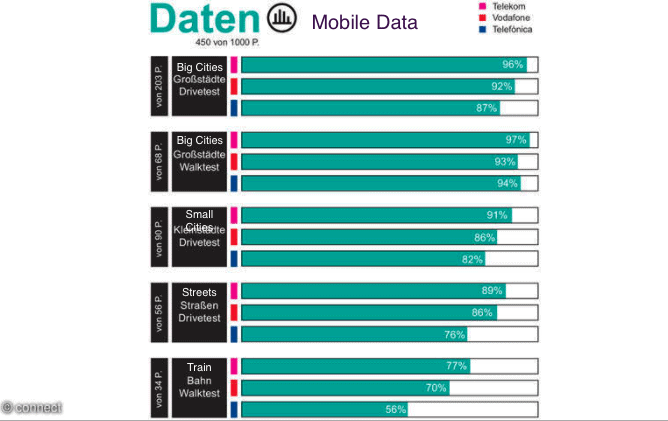 To be sure which 4G or even 5G connection is the best where you live, you should check the availability per provider beforehand by entering your address:
Which SIM Has Unlimited Data Plan In Germany?
All three providers listed above offer unlimited data packages. Below we have a detailed look at the unlimited internet sim cards in Germany, which also provide an unlimited call and text phone plan.
We will show you classic postpaid mobile phone contracts, for which you will need to provide your bank account details and prepaid versions, which you can top up via different payment methods. In case you already have a German mobile phone number, which you don't want to give up, you can easily carry it over to any of the unlimited plans.

O2 offers by far the cheapest unlimited data plan in Germany, starting at 29,99 euros per month. In fact, O2 has three different unlimited data packages on offer. They differentiate mostly in the download and upload speed.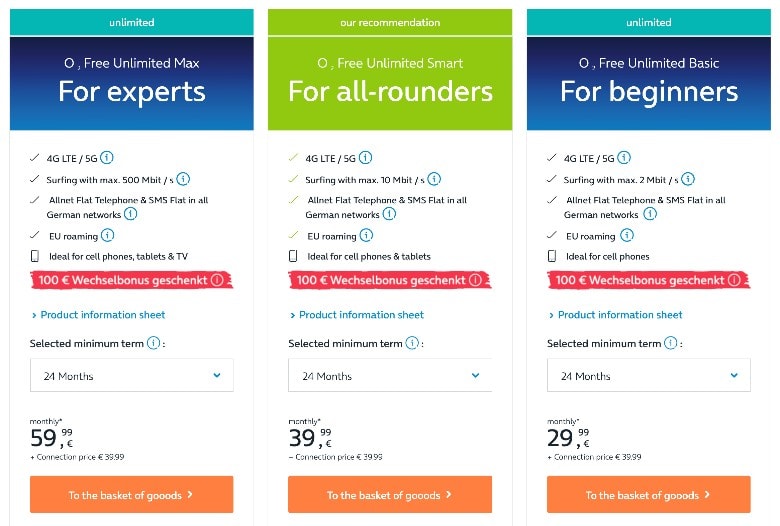 The cheapest unlimited data plan available in Germany for only 29,99 euros per month on a 24-month plan. Users can surf with LTE (4G) and 5G speed where available with up to 2 Mbit/s download and 1 Mbit/s upload. This is enough to browse websites, use WhatsApp and watch YouTube Videos in Standard Definition (SD).
The O2 Free Unlimited Smart plan increases the bandwidth to 10 Mbit/s download and 5 Mbit/s upload. That is enough for gaming, as well as to stream in High Definition (HD) and hold video phone calls. It costs 39,99 euros a month on a 24-month plan.
The Max tariff unlocks the maximum speed possible in the O2 network with up to 500 Mbit/s for downloads and 50 Mbit/s for uploads. It costs 59,99 euros a month on a 2-year contract.
All three plans are also available with a Flex option, which relieves you of the 24-month obligation. Instead, you can cancel per month. This flexibility costs 5 euros extra for each plan.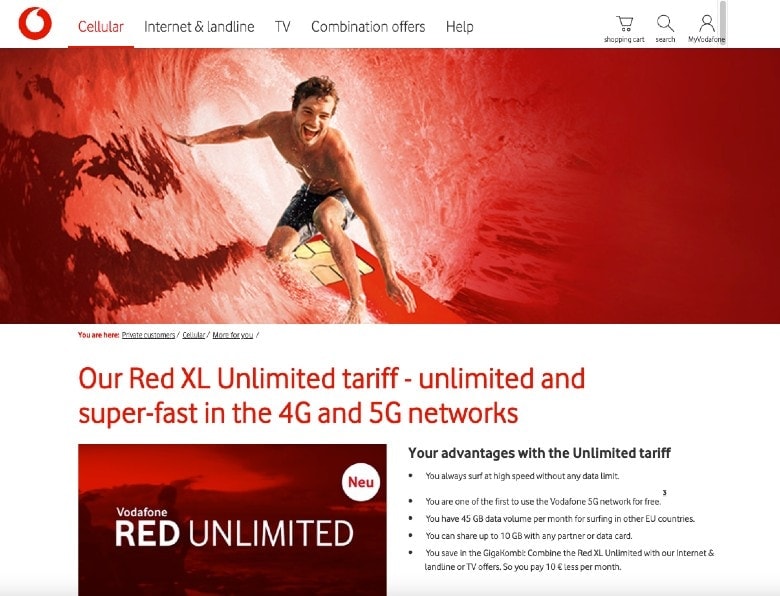 Vodafone offers one unlimited data plan for a fixed price of 79,99 euros per month on a 24-month contract.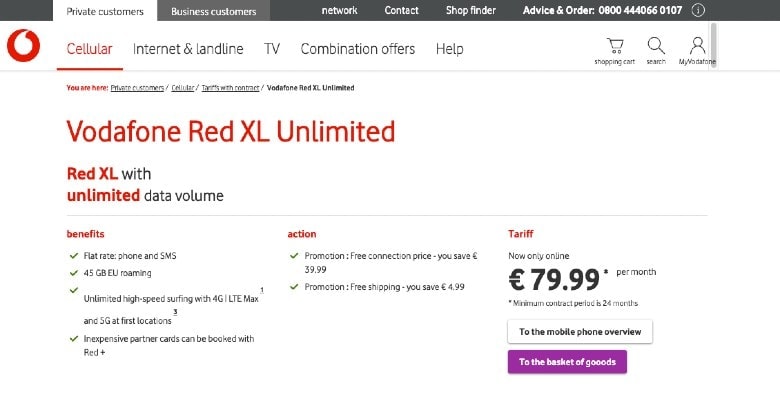 It is the fastest mobile internet connection available. Download speeds are up to 500 Mbit/s, and upload speeds up to 100 Mbit/s via the Vodafone LTE and 5G network.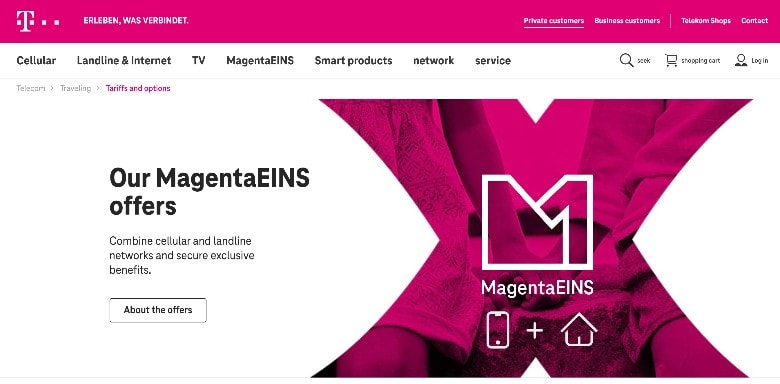 Telekom has one unlimited data SIM option on offer, however available as postpaid contract and prepaid SIM. As always, Telekom justifies having the best mobile network by charging higher prices, 84,95 euros to be exact for the 24-month postpaid contract.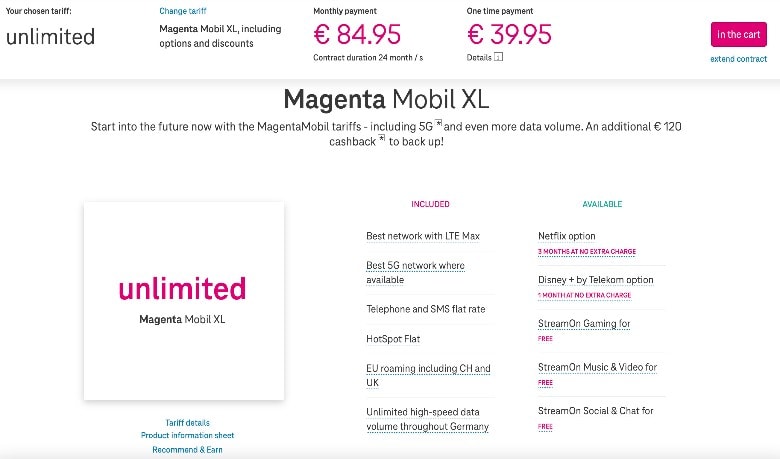 Telekom customers can use the LTE, and 5G network with download speeds up to 300 Mbit/s and upload speeds up to 50 Mbit/s with the postpaid and prepaid option. Also, all Telekom hotspots within Germany are included in the tariffs.
While the postpaid version comes with a one-time connection cost of 39.95 euros, similar to all providers, the starter package of the prepaid version costs 99,95 euros; however, it also brings a balance of 100 euros. You have the option to cancel the prepaid version daily.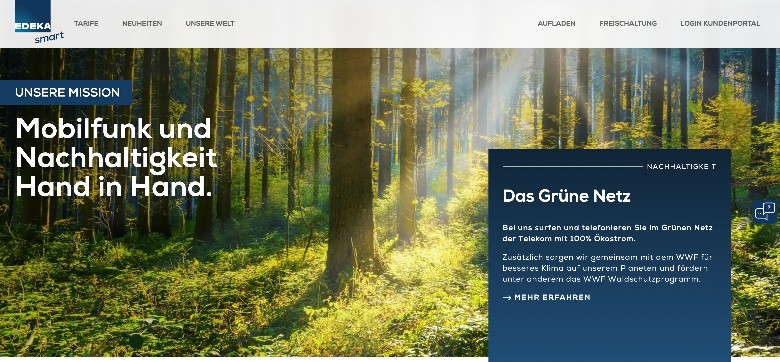 Since 2020, Edeka, just like Lidl and Aldi, has joined the telecommunications market as third-party resellers. Edeka, however, is the only reseller offering an unlimited plan with their prepaid SIM cards. Edeka is a reseller of the Telekom network and thus stands in direct competition with Deutsche Telekom, especially since it pretty much offers the same plan, but 5 euros cheaper than Telekom.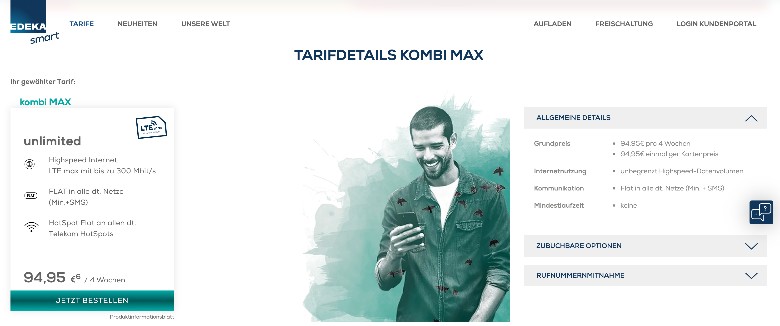 The Edeka Smart kombi MAX is more or less a copy of the Telekom MagentaMobil Prepaid Max. It offers the same download and upload speed of 300 / 50 Mbits, however, only in LTE speed. 5G is not available. Instead, it only costs 94,95 euros per 4 weeks, and also the one-time connection fee is 94,95 euros and brings 95,50 euros as a balance.
As with all mobile phone contracts in Germany, you will need to prove your identity, either by video call or by visiting your local post office.
What Is The Best Prepaid SIM Card In Germany?
Our choice for the best prepaid SIM card in Germany is the offer from Lidl Connect. It has the best value-for-price model and runs on the solid Vodafone network.
However, the ultimate best value for money SIM card in Germany for us offers SIMon Mobile, a flexible contract, which you can cancel every month.
For more details on prepaid SIM cards in Germany, read our guide below.
Related Guide: Best Prepaid SIM cards in Germany
Can You Replace Your Home Internet With An Unlimited SIM Card?
When you get an unlimited data SIM card for your phone, you might be tempted to think that you don't need a separate internet connection for your apartment. You could easily set up a hotspot from your phone for your laptop or TV, if the mobile speed inside your house allows it.
However, some providers do not allow full-time home usage as per their terms and conditions. You need to leave your home several times a month, and should you consume too much data from the same spot or your home address, the providers are at liberty to cancel your contract or connection. You are also oftentimes not allowed to use your SIM card with an LTE or wifi router at home.
To select the best home internet provider for your needs, take a look at your in-depth guide below, where we also introduce you to a provider that offers internet in Germany without a contract.
Related Guide: Best Internet Providers In Germany
How Can You Get Free Internet In Germany?
Germany has over 56.000 free WiFi hotspots that you can access in exchange for your e-mail and other data. You can find these hotspots at airports, cafés, train stations, but also scattered throughout the city center.
Most often or not, they are marked as Wifi or in German WLAN pillars. To help you find them, instead of running up and down the street looking for them, you can use a service called WiFi Map. It is a map-based app that helps you find and connect faster to the available hotspot.
It also allows you to download offline maps, so you can locate the nearest hotspot even without being connected to the internet. It includes a VPN for you to surf with a secure connection; however, we highly recommend using your own VPN that you can control, should you plan on using open wifi hotspots regularly.
We have compared the best VPN services available in Germany, whether you want to protect yourself online or unlock your favorite TV shows that are geo-blocked in Germany.
Related Guide: Best VPN in Germany
Conclusion
In recent years, telecommunication providers in Germany have stepped up their game and made unlimited mobile internet more accessible. Although almost 100 euros per month is still quite expensive for an unlimited internet SIM card in Germany, you would have paid 200 euros for it a few years back.
In our opinion, O2 offers the best price-for-value offer with its O2 Free Unlimited Smart starting at 39,99 euros monthly and giving you 5G unlimited connection.