This is our review of the best liability insurance in Germany in 2023.
Choosing private liability insurance in Germany can be overwhelming. With so many offers out there, it can feel intimidating to try to understand what to look out for and which provider to pick.
It took me over two years to understand why liability insurance in Germany was so important and to get my own policy.
I'm from Guatemala and have been living in Germany since 2012. I've been helping internationals navigate life as a foreigner with Simple Germany (est. 2020). My mission with this guide is to research and share with you the best private liability insurance for foreigners in Germany.
I've signed up for the two English-speaking providers available in the market. I researched their policies in-depth and tested their onboarding process and customer service. They are both amazing at what they do. Here is a summary of what I found:
If you're looking for a great budget-friendly policy, you should consider Getsafe.
If you're looking for a good policy with premium customer service, you should consider Feather.
The best insurance policy for you will depend on your lifestyle and coverage needs. I've reviewed both providers extensively. In this guide, I share with you my findings.
Let's get started.
Quick Comparison Of The Best Personal Liability Insurance In Germany
If you are short on time and want a quick overview of the results of my research, here it is:
| | Getsafe | Feather |
| --- | --- | --- |
| English Website & Customer Service | | |
| Coverage in Euros | up to 50 million | up to 50 million |
| Maximum Coverage per Harmed Person in Euros | up to 15 million | up to 15 million |
| Monthly Cost | from €2,44 | from €4,94 |
| No Deductible | Optional | |
| Cancel Anytime | | |
| Damages to Rental Apartments in Germany | | |
| Good for Families | | |
| Key Loss (Private and Work) | | |
| Damages to Borrowed Things | | |
| Damages While Taking Care of Someone Else's Dog or Horse | | |
| Worldwide Coverage for Damages to Others | | |
| Worldwide Coverage for Damages to Holiday Rental Home | | Europe only |
| Protection in Case the Person Who Harmed You Cannot Pay (Bad Debt) | | |
| Legal Fees from Bad Debt Claims | | |
| Quality Customer Support | | |
| Onboarding Process | | |
| Damages from Drones (up to 5 kg) | Add-on Available | |
The Best Liability Insurance In Germany Reviewed
I got both liability insurances mentioned in this guide. I tested their sign-up and onboarding processes and their customer service.
There was one limitation with my tests. I was not able to test their claims process. So, I relied heavily on their customer reviews and what customers have mentioned in online forums like Reddit.
The information in this guide is based on my experience and in-depth research. I also considered the test results published by Germany's most trustworthy consumer association, Stiftung Warentest. At the end of this guide, I detail the criteria that make a good liability insurance policy.
I will present each policy's benefits and drawbacks so you can make a more informed decision when choosing the best liability insurance in Germany.
All of the liability insurances below have the following benefits:
✓ 100% digital
✓ Easy sign-up process
✓ Cancel anytime
Getsafe, based in Heidelberg, was founded in 2015. Getsafe is Germany's first company to challenge the traditional insurance business.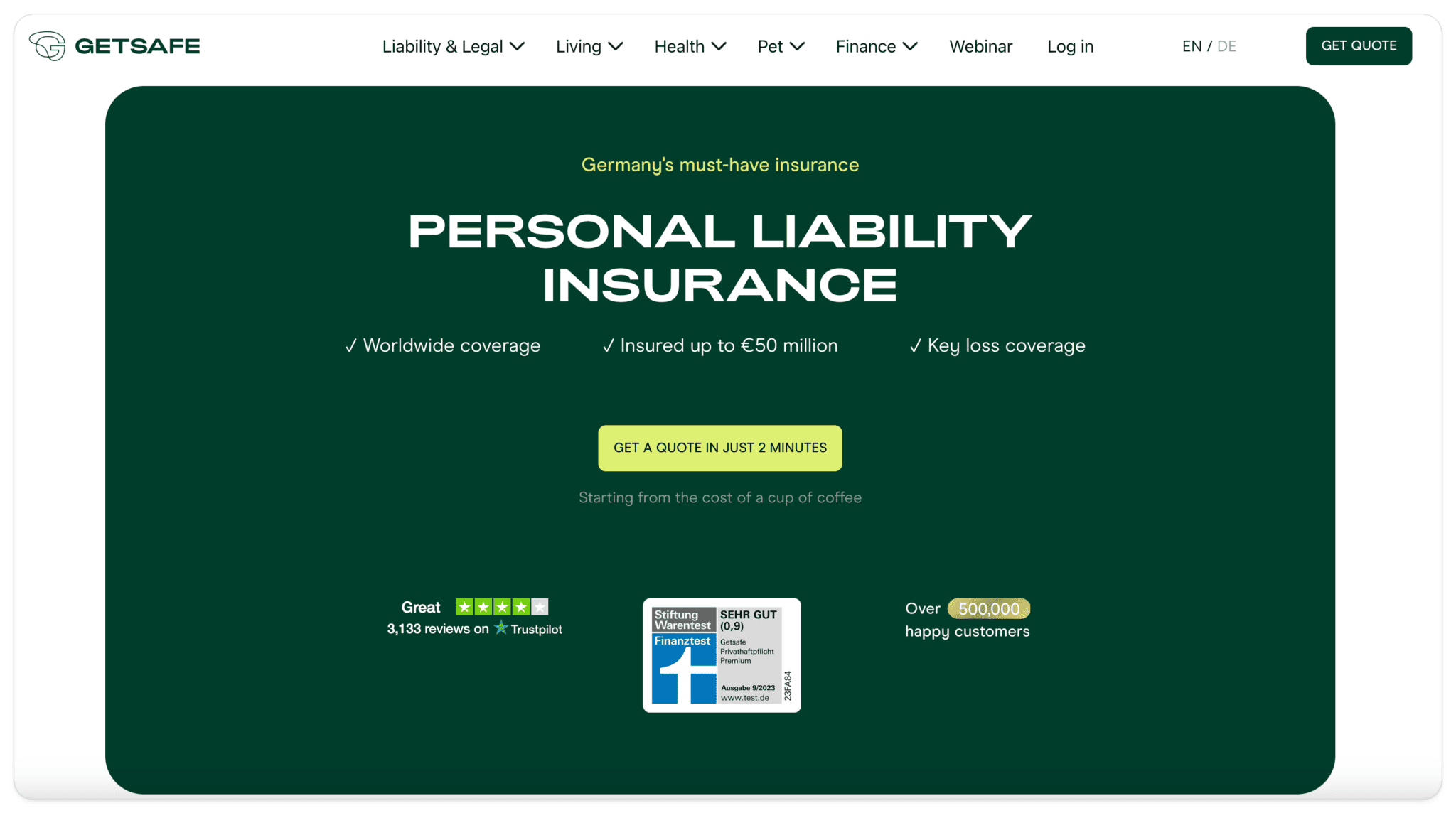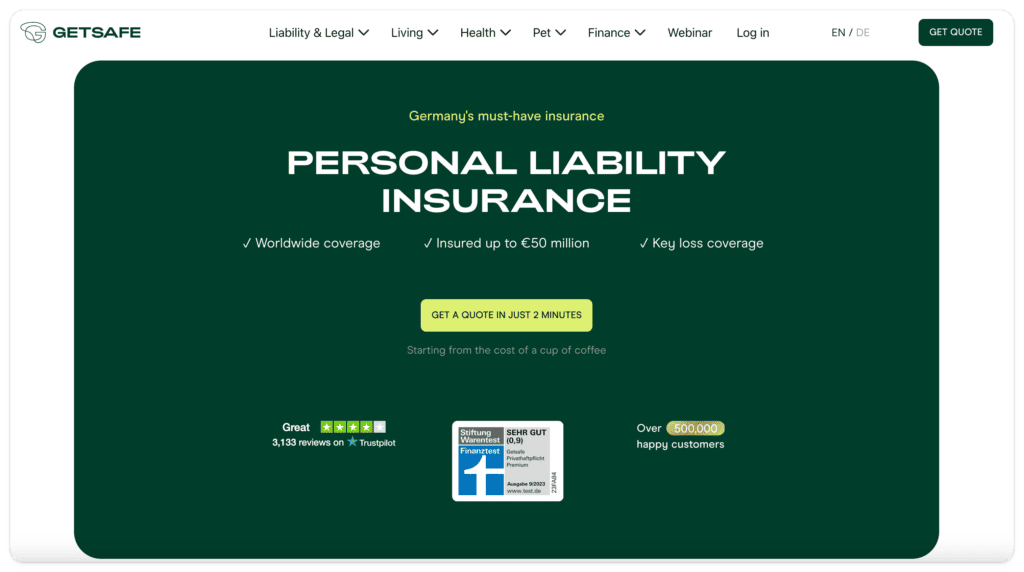 One of their main products is liability insurance. They offer two policies, a basic and a premium plan. I think you should only consider getting the premium policy from Getsafe. For a euro more, you get better coverage.
Their premium private liability pricing for a single person starts from:
2,44 euros monthly with a 300 euros deductible.
3 euros monthly with 150 euros deductible.
3,75 euros monthly without any deductible.
There is no real difference between paying a monthly or a yearly price.
Their premium policy covers up to 50 million euros in claims annually, with a maximum of 15 million euros per person harmed.
You can easily add family (partner, parents, or children) and drone coverage when you sign up.
Recently, the premium liability cover from Getsafe was awarded a score of 0,9 by the Stiftung Warentest, Germany's most respected consumer rating association.
This is a really good score considering the scoring scale:
0,5 – 1,5: very good 👈
1,6 – 2,5: good
2,6 – 3,5: satisfactory
3,6 – 4,5: sufficient
4,6 – 5,5: poor


My experience: I found the onboarding process smooth but with a few hiccups. I quickly got emails confirming my sign-up. Their terms and conditions of what is covered are easy to understand. They also provide an easy-to-scan overview of what is covered. The only way to activate my policy was by downloading their mobile app. I have an iPhone, and in my experience, the mobile app is a bit slow. I like that their app includes guides to learn more about insurance. The mobile app is not protected by any security measures (PIN or face ID). Reaching their customer service is easily accessible through their app. Many customers complain that their response times are a bit long.
Getsafe Benefits
✅ Option to have a deductible
✅ You can quickly add family and drone coverage through their mobile app
✅ A great policy based on the results published by Stiftung Warentest, Germany's trustworthy consumer organization
Getsafe Drawbacks
⛔️ Onboarding process is a bit complicated
⛔️ Legal fees for bad debt claims are not covered
With our special Getsafe code SIMPLEGERMANY15, you even get a 15 euros discount.
Feather Insurance was founded in 2018 and is based in Berlin. They are an insurance service provider that focuses heavily on expats in Germany. Their entire process is in simple and easy English and is highly efficient. Their goal is to make insurance in Germany easy for internationals.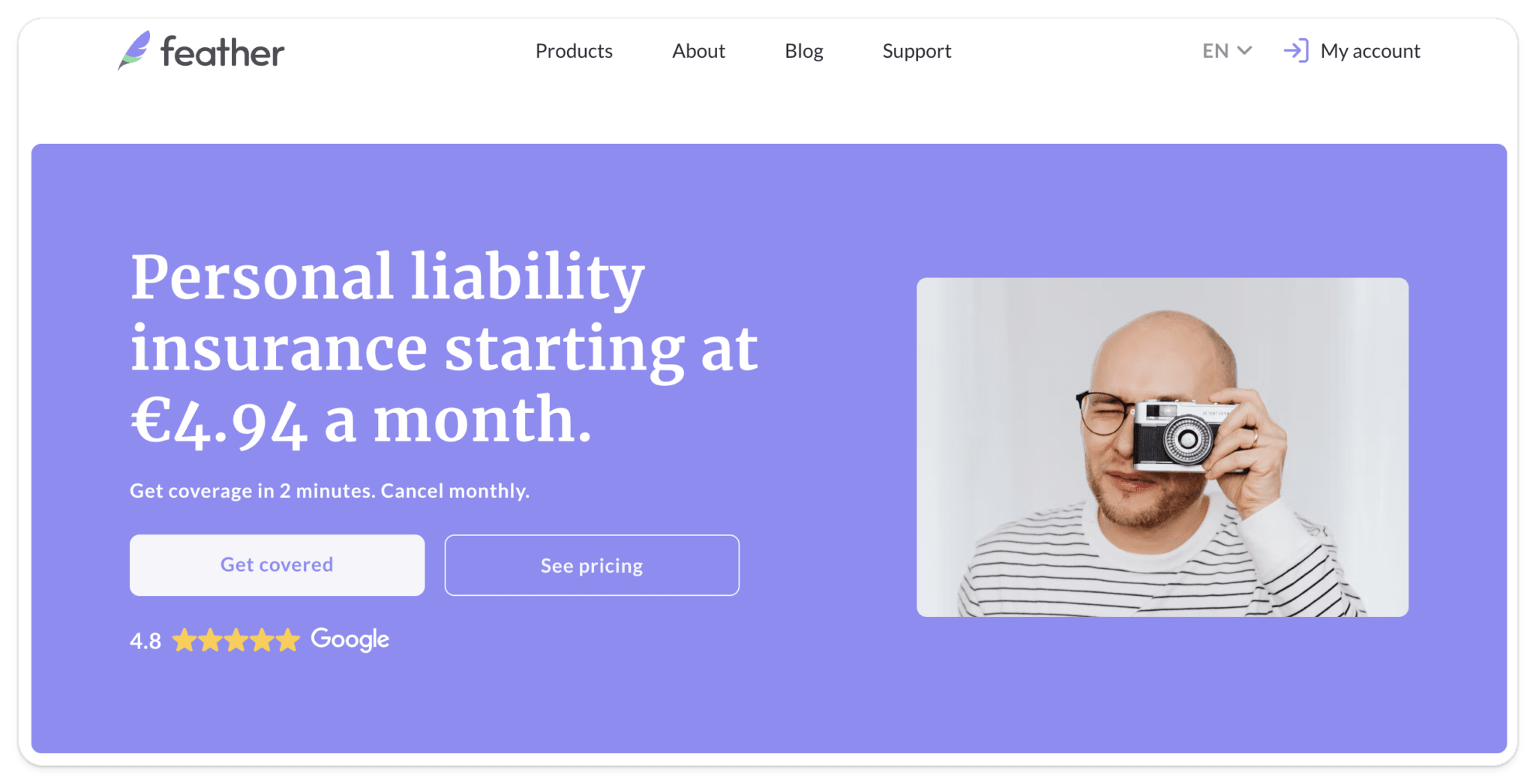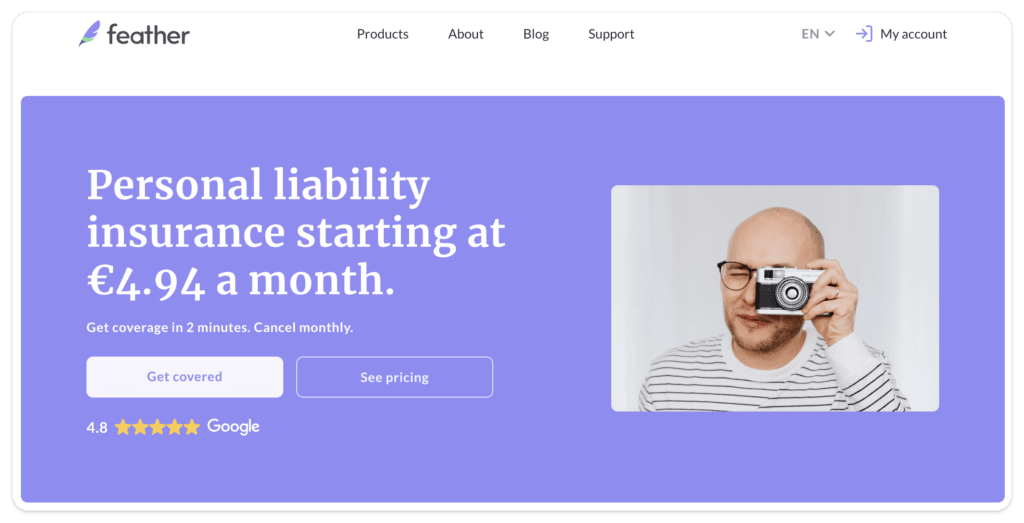 Feather provides a good policy from Barmenia Allgemeine Versicherungs-AG. They do an amazing job of making the whole experience feel seamless.
Their private liability insurance policy starts at 4,94 euros a month for a single person without any deductible. The coverage is up to 50 million euros in claims annually, with a maximum of 15 million euros per person harmed.
When you sign up, you can easily add your partner, kids, and/or parents to your policy. Their sign-up process is easy. Users are in love with their excellent customer service.
On the results published by the Stiftung Warentest on the best liability insurance in Germany, the policy by Barmenia Allgemeine Versicherungs-AG received a satisfactory rating with a score of 2,6.
I found the lower score was because their policy only covers damages to rental homes or apartments in Europe and not worldwide. The worldwide criteria is a new must-have in the study done by Stiftung Warentest. If this is unimportant to you, Feather's policy is just as good as Getsafe's.
Here is the scoring scale:
0,5 – 1,5: very good
1,6 – 2,5: good
2,6 – 3,5: satisfactory 👈
3,6 – 4,5: sufficient
4,6 – 5,5: poor
My experience: I found the onboarding process super smooth. I had no hiccups. Their communication was clear in every step of the way. Their terms and conditions of what is covered are more legal-looking, making it a bit harder to understand. You can access your policy through their website. I was able to beta-test their mobile application, which is coming soon. The mobile app was responsive and fast on my iPhone. It is very minimalistic, and you have the most essential information at a glance. You can contact their customer service quickly through their website or mobile app. Their mobile app has security protection through a PIN or face ID.
Feather Benefits
✅ No deductible
✅ Drone coverage included (electrically powered, up to 5kg, non-commercial purposes)
✅ Some legal fees are covered when filing for bad debt claims
Feather Drawbacks
⛔️ Damages done to holiday rental properties are covered in Europe only
⛔️ To add new members to your policy, you need to contact their customer service team
Guide To Buying Liability Insurance In Germany
Here are some things you should consider when looking for liability insurance.
Liability Insurance Coverage
The German Insurance Association (GDV) has developed general conditions liability insurance in Germany needs to meet.
Based on these conditions, the highly respected German consumer organization, Stiftung Warentest, ran some tests. They evaluated more than 400 liability insurance policies. They published their results in 2023.
What Should A Good Liability Insurance In Germany Cover
After reading the results from Stiftung Warentest, here are the key factors you should consider when selecting liability insurance:
Minimum coverage: Your policy should cover a minimum of 10 million euros in damages to others and their stuff and 500.000 euros to your rental apartment.
Bad debt coverage: This covers you if a third party hurts you or your things, and they can't pay for the damages. A court must rule that the person who did the damage does not have the money to pay you. Good insurance would cover some of the court and legal fees as well.
Cross-liability claims: This includes unintentional physical harm to anyone in your household covered by your insurance policy.
Voluntary work: Any damages you might cause while doing voluntary work.
Worldwide coverage: If you hurt anyone or their things while abroad.
Worldwide holiday apartment coverage: Any accidental damages you do to a holiday rental apartment or room worldwide.
Gradual damage: Damage that occurs over time, such as moisture, soot, or smoke. For example, you drill through a wall and do not notice that you broke a water pipe. The insurance would cover gradual water damage.
Cyber damages: If you accidentally send a virus or malware to someone else.
Caring for other people's dogs or horses: Damages caused by a dog or horse while you're taking care of it.
What Private Liability Insurance in Germany Does Not Cover
No matter how good a liability insurance policy is, it will most likely not cover:
Intentional damages
Damage as a result of mold growth
Damages by your dog → dog liability insurance covers this.
Damages or theft to your stuff (electronics, furniture, etc.) → home contents insurance covers this.
Damages while driving a car → car liability insurance covers this.
Who does it Protect?
Under your liability policy, you can add anyone who lives with you, including parents, children, partners, and au pairs. The one requirement is that they have to be living in the same house.
The Cost of Liability Insurance
Liability insurance in Germany is really accessible. Depending on the coverage you are looking for, you can pay as little as 2.44 euros a month for a single person or 3.42 euros for a family!
Monthly vs. Yearly Payment
While searching for liability insurance in Germany, consider whether you would like to pay a monthly or yearly fee. Unlike an annual contract, a monthly one will allow you to cancel it anytime.
Deductible
Getting a policy with a deductible will make your liability policy cheaper. A deductible is the amount you contribute from your pocket before your insurance kicks in to help with the costs.
F.A.Q.s
Is liability insurance mandatory in Germany?
No, it is not mandatory. However, you should get one, as over 80% of Germans have it. For as little as 3 euros a month, you can have peace of mind that if you ever accidentally cause damage to others and their property, you don't have to worry about it.
Why do Germans have liability insurance?
By German law, you are liable for any damages you cause to others and their property. Liability cases are taken seriously. Alone in 2022, the insurance providers paid over 5 billion euros in liability claims.
Which insurances are required by law in Germany?
The following insurance is required by German law in Germany:
Conclusion
After reviewing the two liability insurance providers above, picking a clear winner is tough. Here are my conclusions:
Getsafe: a great policy, with a very good score from Germany's number 1 consumer organization for a great price. Customer service is good.
Feather: a good policy with fantastic customer service and onboarding process. The only big difference is that they don't cover damages to holiday rentals worldwide.