Techniker Krankenkasse (TK) is one of many public health insurance funds in Germany. With over 10 million insured people, TK is the largest public health insurance in Germany. TK insurance in Germany also happens to be a favorite insurer amongst expats. In this TK review, we will tell you why and show you how to sign up online in just a few minutes.
Why do so many expats in Germany choose TK?
TK, also known as die Techniker, makes an effort to be expat-friendly.
TK does not only offer an English website and sign-up process but also supports the following languages online: Spanish, Polish, Turkish, Mandarin, Arabic. You can also contact their customer service via phone and chat in English.
Their website and processes are very simple. TK offers excellent coverage with relatively low costs. As a bonus for expats, TK also qualifies as health insurance for your German visa application.
Unfortunately, once you sign up, your personal Meine-TK page is only in German. We recommend using the Chrome browser and the Google translate feature with a right-click. Or simply download and activate the TK App, which is available in English and gives you access to Meine TK.
Another plus is that you will have almost no paperwork with TK. When logged in, you can download documents for your employer and the immigration office (Ausländerbehörde) online. And you can upload a sick leave (Arbeitsunfähigkeitsbescheinigung) without any hassle.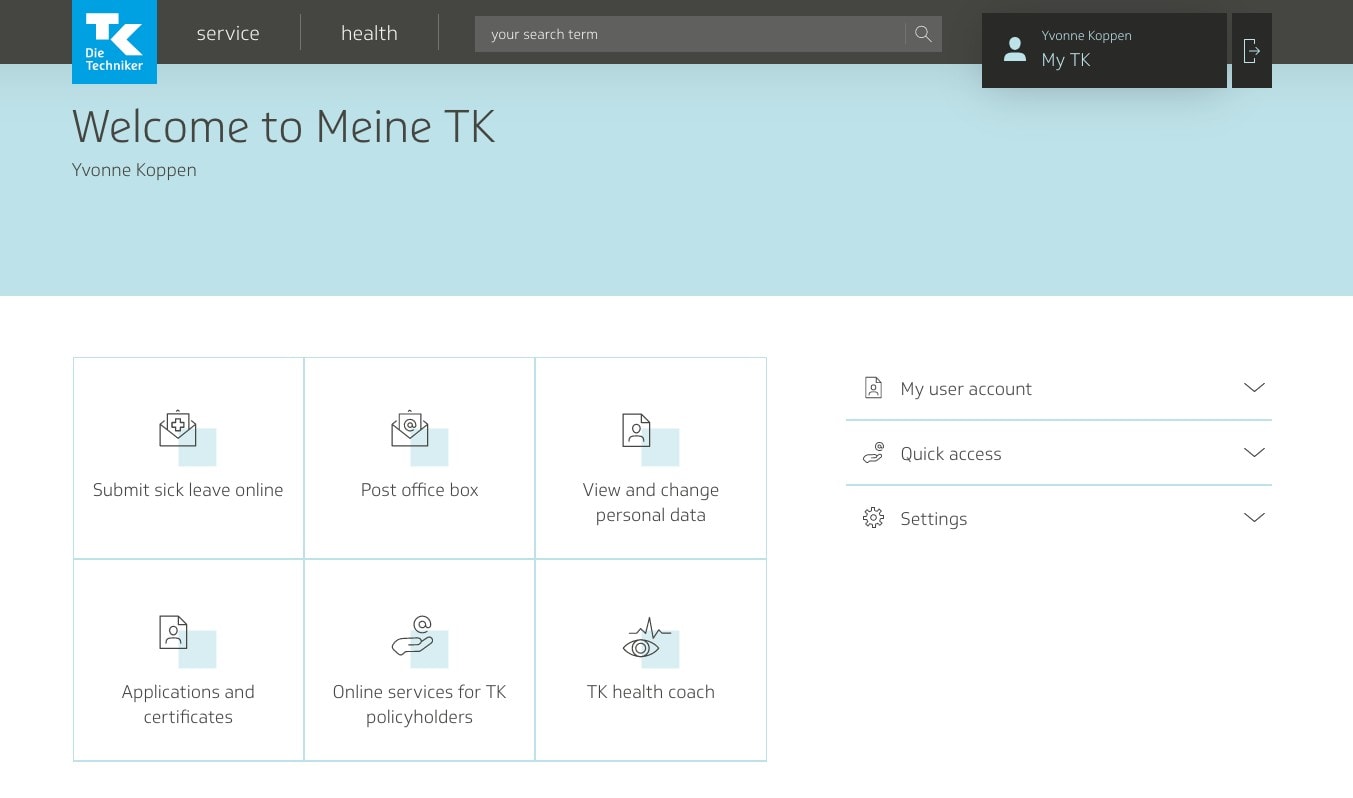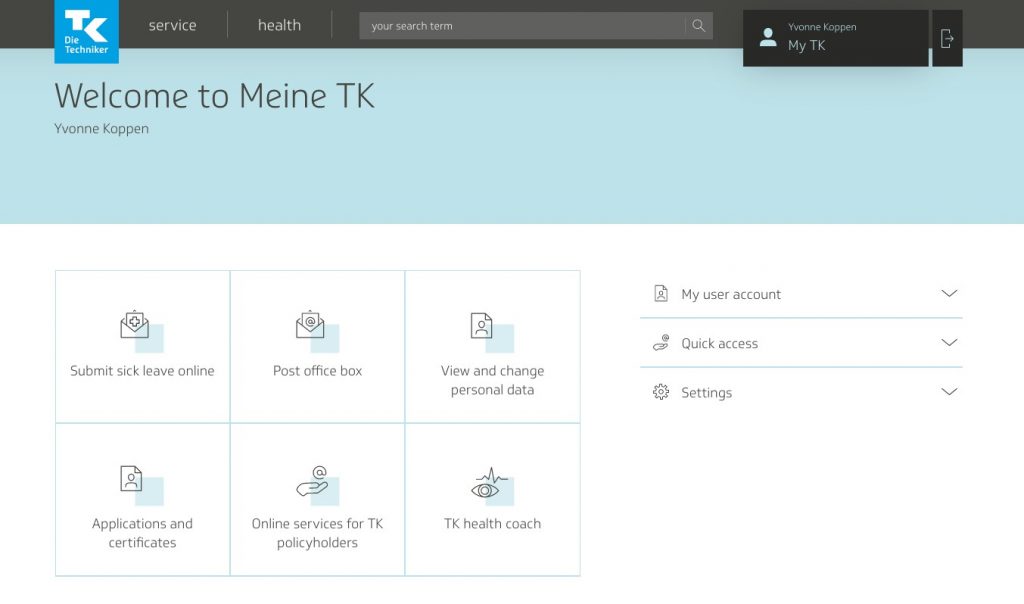 One of the most asked questions in expat forums is how to find an English-speaking doctor. TK helps you out with its doctor finder. You enter your postal code and select the language option English, and within seconds, you will receive a list of doctors in your area. On top of that, TK also offers the TK-AppointmentService. It helps you get an appointment with your doctor, in case you struggle over the phone.
Who can get TK health insurance in Germany?
Health insurance in Germany is mandatory. Most people in Germany can sign up to get TK health insurance. The question is whether you qualify for public health insurance. Anyone earning less than 66.600 euros in 2023 must be insured publicly. Anyone making more than that can opt to be privately insured or choose voluntary public health insurance – which is also possible with TK. There are some cases in which you do not qualify, in such a case private health insurance is your only option.
Related Guide: Private vs Public Health Insurance In Germany
You can either become a TK member online directly on their homepage and answer a few more questions. Or you can use the simplified sign-up form of the expat insurance service provider Feather.
🚀 Bonus: When signing up with Feather for public health insurance, you benefit from free travel health insurance for the first 90 days of your time in Germany, which is a visa requirement for Non-EU citizens. After sign-up, you will receive an email from Feather to claim your free travel insurance policy.
In case you are still on the job hunt, neither public nor private health insurance might accept you. That is when expat health insurance is your best option. It is temporary health insurance for expats until you find a job and can switch to full-time health insurance.
The benefit of using the free services of Feather to sign up for health insurance is in the case that TK does not accept your application, they can also offer you expat health insurance and save you a lot of time and hassle. Best of all their services are 100% digital, in English, and easy to use.
What does TK insurance in Germany cover?
TK health insurance in Germany has excellent coverage of different medical services. Here are the primary services that are covered by TK:
Visits to the general doctor: when you are sick, you can visit any doctor of your choice, as long as the doctor has a license as a statutory health insurance fund doctor. It sounds complicated, but it is not. Generally, google for a doctor in your area, use the doctor finder on Meine TK or ask friends and colleagues.
Hospital care and surgeries: you can always visit the emergency ward (Notaufnahme) on a Sunday or after your general doctor is closed. Should you need surgery or stay in a hospital for a longer time, you have to pay a co-payment of 10 euros per day (for up to 28 days per calendar year).
❗️ Important to know: Most doctor's offices in Germany are closed Wednesday and Friday afternoons.
Primary dental care: Preventive dental examinations are covered twice a year. More complex dental treatments, like crowns, are not covered by TK or public health insurance in general. You may want to consider getting supplementary private dental insurance.
Related Guide: Best supplementary dental insurance in Germany
Screening examinations: Preventative examinations such as a yearly visit to your gynecologist or every second year to your dermatologist are covered.
Medicine: When your doctor prescribes you medication, you will have to visit a pharmacy to hand in the prescription (Rezept – not to be confused with a cooking recipe). You will have to pay a co-payment of 5 to 10 euros, depending on the medicine. TK covers the rest by law.
Vaccinations: TK covers all vaccinations recommended by the Standing Vaccination Commission (STIKO) in Germany. For some vaccinations, your doctor will ask you to buy them yourself at a pharmacy. With the prescription and receipt, you can ask for reimbursement via your Meine TK page.
Glasses: Should your doctor prescribe you glasses, TK will partially cover the costs at a fixed amount. The fixed amount depends on the glasses and is between 10-113 euros per glass.
Family cover: TK also includes your direct family members for free.
Coverage abroad: TK health insurance also provides basic cover within the EU. On the back of your TK eHealth card, you will find the EU sign, which makes it a European Health Insurance Card (EHIC). Upon presenting this card to a doctor or hospital abroad, you will receive the same benefits as residents living in that country.
Word of advice: Since not all countries have the same comprehensive healthcare systems, we highly encourage getting private travel health insurance, for example from Allianz.
Pregnancy: TK insurance covers necessary examinations during pregnancy. These services include check-ups (blood pressure, weight, urine, and sugar levels), palpation, blood tests, three basic ultrasound examinations, nutritional recommendations, services connected with childbirth, and more. You should also consult TK, in how far they will cover special treatments like acupuncture. The cover gets expanded, should the pregnancy become risky.
Unemployment: Should you become unemployed after working in Germany for a minimum of 12 months, you are eligible to receive unemployment money. During that time, the government pays for your health insurance, and you keep the same TK benefits.
How much does TK health insurance cost?
The cost of public health insurance in Germany is between 15,4% - 16,5% of your gross income. The state contribution rate is 14,6%. Additionally, each health insurance company (Krankenkasse) can charge an additional contribution rate of up to 1,9% to cover their cost. TK charges an additional contribution rate of 1,2% (the statutory average is 1,6%).
Your employer covers 50% of your health insurance costs. TK health insurance costs 15,8%, so 7,9% will automatically be subtracted from your payslip.
Therefore, the more you earn, the more you pay for your health insurance. There is, however, a cap at 59.850 euros gross income per year (4.987,50 euros gross income per month), which is used to calculate your public health insurance cost. Should you earn more, it won't impact your health insurance cost.
Freelancers and self-employed choosing to have public health insurance have to pay the full 15,8% themselves. Students pay a reduced rate of around 109 euros per month.
Additionally, you also get insured for long-term care, which cost is 3,05% of your gross income if you have children and 3,3% if you don't have children. As an employee, your employer also covers half of these costs, and freelancers or self-employed have to pay it themselves.
You can use the TK price calculators to know your costs:
My personal experience with TK insurance
When I came back to Germany in 2013, I joined Barmer health insurance because my mom was also insured there. However, a few years later, I started doing my own research, as I had heard of added benefits when taking care of your body and going to preventative screenings regularly (which I do).
I changed to TK because their 24h customer service is one of the best, and their bonus program paid partially for my yoga course as a preventative course. You can search for certified courses on the TK website.
Although I am German, there is nothing I can complain about being insured with TK – that is a strong statement, as you might have found out already, Germans love to complain 🤓.
Further reading: Check out our other German insurance guides for expats.
Official TK Reviews and Ratings
Techniker Krankenkasse is a very good health insurance fund in Germany. That is not only my opinion but also that of many official tests and reviews. The latest being conducted by the magazine Focus Money, naming TK as the best health insurance in Germany.
Conclusion
Health insurance in Germany is mandatory. Should you need or want to stick to public health insurance, TK is a fantastic option for you. They have outstanding customer service, also in English, excellent coverage, and low costs.
Get TK health insurance online in just a few minutes by filling out the simplified application form in English provided by Feather and claim your free travel insurance via email afterward.