In this guide, we break down the best home contents insurances in Germany and give you the benefits and drawbacks of each.
If any of the items in your home gets stolen or destroyed by a fire, you might soon find that you are not financially capable of replacing all the shiny things you used to have.
This is where a home contents insurance (Hausratversicherung) becomes very useful. This insurance is also known as home or household insurance, and it protects your belongings for a small yearly price.
Quick Comparison of the best home contents insurances in Germany
As an expat, it might be tough to decide which insurance to pick. If you are short for time, these are some of the best home contents insurances in Germany:
| | Getsafe | Feather | Lemonade | Adam Riese |
| --- | --- | --- | --- | --- |
| English Website | | | | |
| English Customer Service | | | | |
| Coverage in Euros | fixed | individual | individual | individual |
| No Deductible | optional | | optional | optional |
| Cancel Anytime | | | | |
| Monthly Cost | from €2,99 | from €2,50 | from €2 | from €1,46 |
After reading this guide, you will have a better understanding of why getting insurance for your home's belongings is important and you will be able to pick the right provider for your needs.
What is home contents insurance?
Household insurance or home contents insurance covers your belongings against fire, hail, smoke, explosion, burglary, robbery, vandalism, storms, and water damage caused by burst pipes or a leaking appliance (e.g., a refrigerator).
To keep things clear, "your belongings" are all the items that you might take with you if you ever move to a different house or apartment.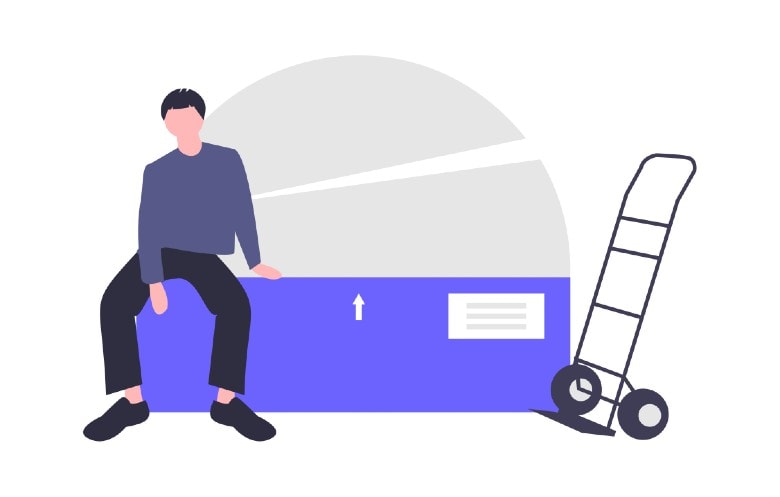 Why do you need home contents insurance in Germany?
If the things in your apartment get damaged or stolen, it is your responsibility to replace them. The landlord does not have the responsibility of replacing your stuff.
Don't think that just because you moved to a safe country like Germany, there are no break-ins or other problems that could affect your things in your home.
According to the federation of private insurers in Germany (GDV), the reported damages for 2019 were:
| Type | No. of Incidents Reported | Avg. Damage (in €) |
| --- | --- | --- |
| Burglary | 290.000 | 1.563 |
| Fire | 170.000 | 2.159 |
| Tap Water | 160.000 | 1.744 |
| Storm and Hail | 120.000 | 432 |
| Glass | 50.000 | 416 |
| Natural Disasters | 10.000 | 2.120 |
Paying a small monthly fee to have the peace of mind that you could replace all of your things without breaking the bank is totally worth it.
What do the best home contents insurances in Germany cover?
Home contents insurance in Germany covers all the loose items that you have in your house: electronics, clothing, furniture, carpets, antennas, cash, and other valuables (e.g., jewelry) in limited amounts.
Does home contents insurance cover your things outside your home?
Some German home contents insurance cover items that are stolen outside of your home. For example, things that were taken during a campervan trip or in a hotel room while you are away.
Does home contents insurance cover bicycles if they are stolen or damaged?
Depending on your household insurance, your bicycle is only covered if it is stolen in your apartment or garage.
If you use your bike often, make sure your insurance will cover the loss of your bike if it gets stolen outside of where you live. You are usually able to add this feature to your policy during the signup process.
Two personal examples of bike theft in Germany
A friend of ours had his fancy triathlon bike locked away in his basement. Well, it got stolen, and he was not insured, a loss of 3000 euros.
On the other hand, Yvonne had her brand new mountain bike stolen. It was locked in front of her office. Our home contents insurance paid the full value of the bike with accessories to replace it within a couple of weeks.
What add-ons can you purchase for your household insurance in Germany?
Breakage of glass: glass furniture, windows, glass-ceramic or induction cooktops, aquariums or terrariums
Gross negligence: Not all insurance policies will cover you if you screw up. Some request that you add gross negligence to your package to ensure that you get 100% of your maximum insured sum if an incident happened because of you. For example: if you left your home while the washing machine was still running and a pipe breaks.
Bikes: As mentioned above, some insurances do not cover your bike to be stolen outside of the property where you live. So make sure to take this add-on if you use your bike often.
Valuables: many providers will only pay 20% of the sum insured if valuables such as cash, certificates, jewelry, expensive art, or some other very pricey item have been affected. If you have anything worth a lot of money, make sure your policy covers this item 100%.
Additional things your home contents insurance might cover
Additional to all of the material things in your house, some home contents insurance also include coverage against:
Financial losses due to phishing emails
Data recovery
Damages to legally downloaded files stored on the hard drive of your computer
What does home contents insurance in Germany NOT cover?
How much should you insure contents for?
Your insurance coverage should be enough to replace all of your household contents if they are damaged or destroyed.
Only you know how much your things are worth. There is no way an insurance company can estimate the value of all of your belongings.
Therefore, we recommend you take the time and energy to provide an accurate estimation of your stuff.
A simple process to determine how much you should insure your home contents for could be:
Go room by room and take video (or pictures) of all the things that are important to you.
Make a list in Excel or Google Sheets with the important things and estimate how much each thing costs:

Take photos of the receipts you still have. Keep the pictures on the cloud or the receipts in a different location. This will help in case you lose the original receipts in a fire or your phone gets stolen.
For electronics and more expensive things, make sure to write down the make and model and when and where you purchased them.

Do a rough estimation of how much your clothes, non-electronic kitchen items, and other items in bulk would cost.
Add all of this up. You now have an average of how much the sum of your policy should be for.
🔥 Tip: Update your list at least once a year to ensure your policy still covers your valuables. Believe it or not, you might have added more valuables to your home than you can think of
⚠️ Be careful not to underinsure your home contents; if you do, you might run into problems with the insurance company when you file a claim.
What is the difference between home contents and liability insurances in Germany? (Haftpflichtversicherung vs. Hausratversicherung)
Haftpflichtversicherung will cover the cost of the damages you accidentally cause to your flat or your neighbors' flat. For example, in this Reddit post, someone explains that after unfreezing their freezer, the neighbor complained about a damaged ceiling due to water leakage.

This damage was accidental, and the person unfreezing the freezer is responsible for repairing the neighbor's ceiling. In this case, their liability insurance in Germany would come to the rescue.
Hausratversicherung, on the other hand, will cover the costs of replacing your things in case they get stolen, are in a fire, storm, or flood. Depending on your insurance, your negligence might also be covered.
For example, let's say you left the window open, and someone broke into your house and stole everything of value. This would be negligence and depending on your policy, you would be covered or not.
Now that you know the low down of home contents insurance, let's jump right into the comparison.
What are the best home contents insurances in Germany?
Here are our top picks for the best home contents insurances in Germany.
This German insurance company was founded in 2016. Users are happy with their excellent customer support and how easy it is to use their native phone app.
Their home contents insurance starts at 2.99 euros a month, and offers up to 250.000 euros cover, regardless of how big your living space is. This means that the monthly premium is not affected by the size of your home. Getsafe insures apartments between 10 to 350 square meters.
Additionally, Getsafe will replace a stolen or damaged item for its original new value and not the remaining time value. So instead of only paying let's say 800 euros for a laptop you bought a year ago for 1200 euros, Getsafe will pay you the original value of 1200 euros.
The add-ons you can have are:
Getsafe Benefits:
✅ Cancel anytime
✅ No deductible possible (if desired)
✅ All the information, including customer service, is available in English
✅ Easy access to everything that is covered
✅ Underinsurance waiver available
✅ Gross negligence included in price
✅ Covers your items if they are outside of your home
✅ Easy way to add flatmates to your coverage plan, free of charge
Getsafe Drawbacks:
⛔️ You must use their native phone app to file claims or call their hotline
With our special Getsafe code, you even get a 15 euros discount. With the below link, the code is automatically applied to the Getsafe website at the end of your purchase.
Feather is a trusted insurance broker for expats. They have been operating in the market since 2018 and offer all their services in English.
Their basic plan starts at 2,50 euros a month, and it covers damages against fire, storm, hail, water, burglary, and theft. They also offer an advanced cover, with higher coverage and even more personalized service.
Feather Benefits:
✅ Cancel anytime
✅ No deductible
✅ English chat available on their website (although response time is a bit slow)
✅ Website and customer support available in English
✅ Underinsurance waiver available
Feather Drawbacks:
⛔️ Their basic plan has a cap amount of coverage, to get 100% of the value of an item back, you need to upgrade to a premium plan.
Lemonade is the newest company on this list. They were founded in the US and kicked off their European expansion in Germany in 2019.
Their sign-up process is very straightforward. Customers seem to be happy with their fast response to claims and excellent customer support.
Their home contents policy starts at 2 euros a month, and it is highly customizable. For example, you can select your type of home (apartment, house, etc.), how many people should be insured, and whether you have any high-value items above 5.000 euros.
The add-ons you can choose are:
Anti-Theft Package for about 2 additional euros a month
Coverage in case your things get damaged due to natural disasters, starting from 2 euros a month
Lemonade Benefits:
✅ Cancel anytime
✅ Highly customizable
✅ No deductible possible (if desired)
✅ Easy-to-understand terms and conditions through their Policy 2.0
✅ All information, including customer service, is available in English
Lemonade Drawbacks:
⛔️ No chat available on their website – customer service is only reachable through email and phone
⛔️ You must use their native phone app to file claims or call their hotline
Adam Riese, founded in 2017, is part of the Wüstenrot & Württembergische AG group, a big and established financial service provider in Germany. It was founded as the Group's strategy to digitize their products.
They offer two packages, XL (standard) starting at 1,46 euros a month and XXL (premium) starting at 1,67 euros a year.
Although their website is just in German, their signup process is very simple and can be easily translated through Chrome's 'translate this page' feature.
The add-ons you can purchase are:
Bicycle theft
Broken glass
Extreme forces of nature (with a 1.000 euros deductible)
Adam Riese Benefits:
✅ Cancel anytime
✅ No deductible possible (if desired)
✅ Gross negligence included in both of their plans
✅ Covers your items if they are outside of your home
✅ Underinsurance waiver available
Adam Riese Drawbacks:
⛔️ English support only available through email correspondence
What do you need to consider when choosing a home contents insurance in Germany?
Coverage of items outside of your home: This includes while traveling, in your gym locker, staying at a hospital, rehab facility, or health spa.
Partner and family members: where applicable: If you live with a partner or other family members, make sure to add them to your policy.
Coverage of items that are worth above 5.000 euros: If you own anything above 5.000 euros worth, make sure that your home contents insurance will cover the full amount of those items if they get stolen or damaged.
The requirements of your insurance provider: Check with your insurance provider if you need to inform them while traveling. Some require that you let them know if you will be away from your home longer than 60 days or more.
Conclusion
After evaluating the four home contents insurance above, we think that the premium plan from Getsafe is the clear winner. You can manually set the sum for your policy. You can easily purchase a bike or glass add-on, and gross negligence is always included. Additionally, their whole website and customer support are in English.
Their smooth sign-up process and highly satisfied customers are even more of a reason to consider this company your next home contents insurance provider.
🔥 Tip: Be sure that the policy you want to purchase covers your personal needs. Be sure to read the fine print and get acquainted with your insurance terms and conditions before you buy it.