Germany is a cycling paradise and depending on where you come from, you might be surprised by the number of cyclists on the road. You might also know already that Germany is the land of insurances, so of course, we help you decide if and which bicycle insurance in Germany you need.
We are avid cyclers and we will review the best bicycle insurance in Germany for you. We will also give you an insight into our own experience and the nature of cycling in Germany.
Which is the best bicycle insurance in Germany?
Here are our top picks for the best bicycle insurances in Germany for expats.
Feather Insurance is an insurance service provider specializing on internationals in Germany. They offer a transparent, fast, and customer-focused app and consultation service. Their bicycle insurance starts at 2,90 euros per month for the basic cover, which protects against bike theft.
Additionally, Feather also offers a comfort cover, which also protects you from extra costs caused by vandalism, accidents, and wear & tear. However, Feather currently does not insure bikes that are older than six months or have a carbon frame.
Feather Comfort Benefits:
✅ Covers theft, burglary, vandalism, and theft of fixed parts
✅ Pays you the reinstatement value of your bike
✅ Covers bikes up to 10.000 euros including all essential parts
✅ 24-hour protection
✅ Worldwide cover
✅ Cancel anytime
✅ Website and customer support available in English
Feather Comfort Drawbacks:
⛔️ You need to use a lock worth more than 29 euros
⛔️ You need to always lock your bike against an immovable object
⛔️ Only new bikes less than 6 months old can be insured
⛔️ Only bikes bought from an official retailer can be insured
⛔️ The wear & tear protection has a waiting period of 6 months and only applies to bikes not older than 3 years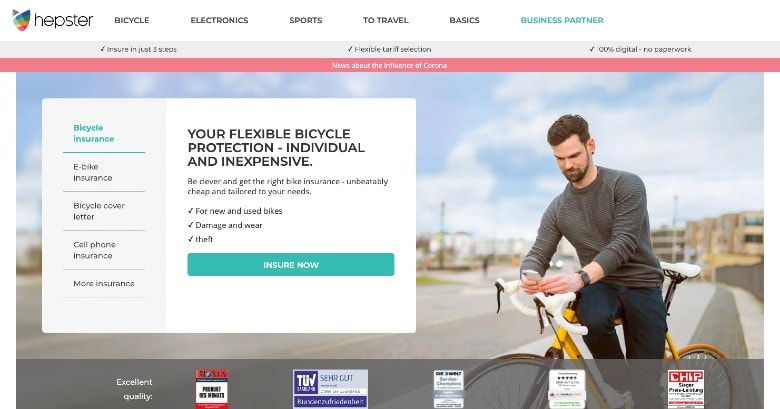 Hepster is a German lifestyle insurance company. They offer insurance for pretty much any sports equipment that has a higher value, all digital and flexible. Their bike insurance does not only offer protection against theft, but you can also choose to insure your bicycle for tear and wear, as well as vandalism.
You can choose between an annual subscription, which you can cancel within three days after the minimum duration of one year has passed, or one-time protection of 7 to 30 days. The annual cover starts at around 60 euros, which is 5 euros per month with no deductible. The price depends on the purchase price of your bike.
Should you be into bike racing or triathlons (like I am 😊), Hepster is a great insurance for your fancy race bike, as the maximum purchase price can be as high as 10.000 euros, including carbon frames. Another benefit Hepster offers is no age restriction on your bike; however, there is a six-week waiting period if your bike is older than one year.
The main downside is that the Hepster website and customer service are only available in German.
Hepster Benefits:
✅ Covers theft, burglary, and vandalism
✅ Cover for tear & wear possible (including falls & accidents, but not during competitions)
✅ Covers bikes up to 10.000 euros including all essential parts
✅ Cover also possible for cargo bikes
✅ Pays you the reinstatement value of your bike
✅ 24-hour protection
✅ Worldwide cover
✅ No age restrictions on your bike (6-week waiting period if older than 1 year)
✅ No minimum purchase price for a bike lock
✅ No deductible
Hepster Drawbacks:
⛔️ Cancel Anytime only after 1 year with an annual contract
⛔️ The wear & tear protection has a waiting period of 4 months and only applies to bikes not older than 3 years
⛔️ Website and customer support only in German

When do I need German bike insurance?
If you have recently bought a new bike in Germany, we highly recommend you consider getting bike theft insurance. I speak from personal experience that this insurance is super important. In fact, it is the only insurance I have made use of so far in my life.
My two-week-old new bike got stolen in front of my office. It cost 800 euros. After filing the claim I received the full 800 euros from my insurance and bought the same bike again.
However, my bicycle theft insurance is included in my home contents insurance, which also protects the rest of my belongings in my apartment. So you only need to get separate bicycle insurance if you do not have home contents insurance or if you would also like to insure your bike against vandalism and wear & tear.
Should you have home contents insurance already, check whether you can add bike theft to its cover. In case you cannot, take a look at our home contents insurance guide and consider switching your insurance providers.
Additionally to bicycle insurance, you should invest in a proper high-quality lock. I only upgraded mine after I experienced the theft of my bike, so don't make the same mistake. The bike lock I use and trust is the Abus Bordo Big Folding Lock.
Our Choice
ABUS Bordo Big Bike Lock
The Bike Lock we use since 2015
Security Level 9 from 15
Buy Now
We earn a commission if you click this link and make a purchase at no additional cost to you.
Why do I need bicycle insurance in Germany?
Bike theft is very popular in Germany, especially in larger cities. In 2020, the resulting damages of bicycle theft were 110 million euros. The number of insured bicycles stolen was 145.000, resulting in an average bike price of 730 euros.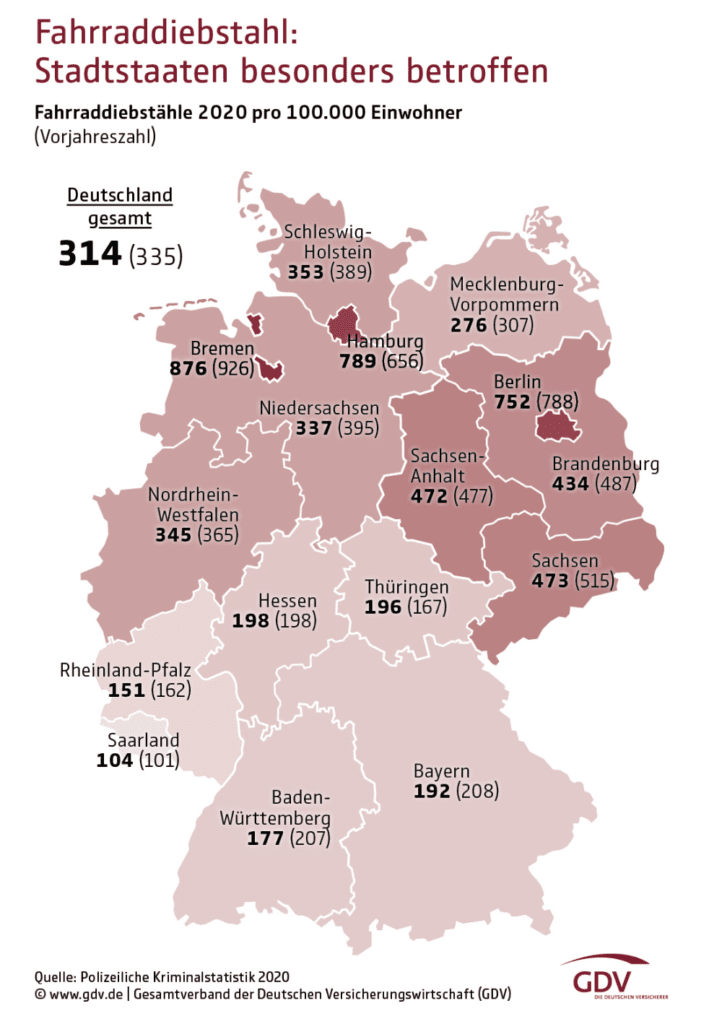 According to Statista, these are the top 5 cities for bicycle theft in 2020 in Germany:
| City | Reported cases | Solved cases |
| --- | --- | --- |
| Berlin | 27.588 | 1.285 |
| Hamburg | 14.576 | 581 |
| Leipzig | 9.129 | 861 |
| Cologne | 7.587 | 532 |
| Munich | 6.050 | 604 |
If you are living in a city and plan on getting or already have a proper bike, you should consider getting bicycle insurance.
Does Bicycle insurance cover damages you cause while biking?
No. The bicycle insurance reviewed in this guide cover theft and vandalism of your bike. Damages you cause to others while riding your bike are not included. These are covered by your private liability insurance.
Does Bicycle insurance cover damages on my bike?
No, it does not. If you damage your bike yourself, you will need to pay for it yourself. However, Feather & Hepster do offer the option to also cover wear & tear, including falls & accidents as long as they don't happen during competition.
Is biking popular in Germany?
Yes, biking is increasing in popularity in Germany year by year. According to Statista, there are around 81 million bicycles owned in Germany. The usage varies, from commuting to work to leisure rides and holiday trips.
E-bikes especially have experienced a boom in the past years and you will see them take you over on the next hill.
A lot of cities in Germany already have plenty of designated cycling lanes and the topic of increasing and improving the cycling infrastructure, even more, is a hot political topic.
Related Guide: Cycling Rules In Germany [2022 English Guide]
Since 2000, there is even a German Cycling Prize awarded each year to innovative projects for the promotion of cycling.
As a side note, for my wife Jen and I, our bicycles are our everyday method of transport all year long. It keeps us active, flexible, and environmentally clean. My personal recommendation is to buy a new bike from a proper local retailer to be safe on the roads. Second-hand bikes sold on eBay or at flea markets are often not in the best shape. Also, keep in mind that when you order a bike online, you have to put it together yourself. I only recommend you to do so, with a little bit of knowledge about bikes.
Related Guide: Buying A Bike In Germany [Where & What Type]
🔥 Tip: Always wear a helmet! Even though it is not required by law.
Conclusion
You made it to the end! We hope you now understand that cycling in Germany is a thing, unfortunately so is bike theft. If you opt for a proper bike, we recommend reviewing your home contents insurance or buying individual bike insurance from Feather.