Finding English movie theaters in Germany that play Hollywood movies in their original language might be an adventurous journey. It's so adventurous that it made it as con# 9 in our pros and cons list of living in Germany.
Germans love to go to the movies. In 2019, the national film funding agency reported that Germans spent 118,6 million in admissions, out of which 62 % were for US productions. As it turns out, though, Germans love to watch Hollywood movies dubbed in German.
Don't worry. It is possible to watch some Hollywood movies in English in Germany. In this article, I'll share the best English cinemas in Germany and seven things you need to be aware of before going to the movies in Germany.
The Best English movie theaters in Germany
Before I give you the ultimate list, you need to be aware of a couple of abbreviations.
OmU (Original mit Untertiteln): OmU movies are 'original with subtitles'. Unless otherwise specified, these subtitles are German.
OV (Original Version): This movie will not be dubbed or have any subtitles.
There is no hard rule where you will find the abbreviations for what kind of movie it is. Here are some examples: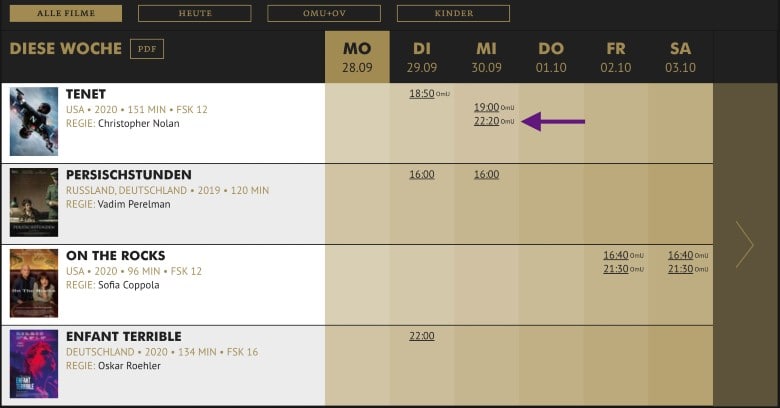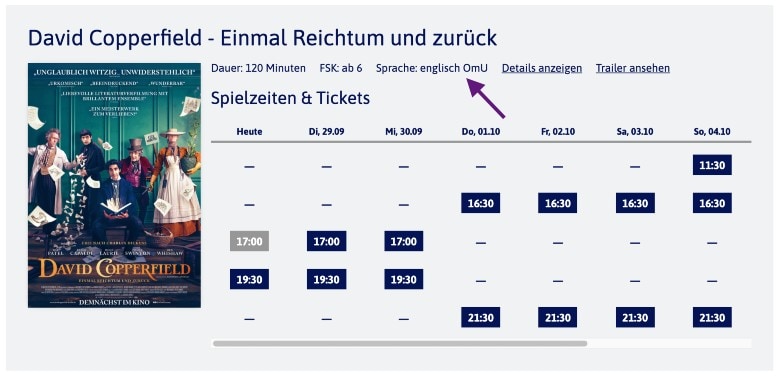 There are movies in German cinemas from other countries, and their original language might be different than English. For example, the movie below appeared as OV, but if you look closely, you will find that it is in Russian.

🔥 Tip: If the movie does not indicate it is in OV or OmU, assume it is dubbed in German.
Ok, now let's go into the list of best english movie cinemas in the most popular German cities for expats.
English movie theaters in Berlin
Berlin is the expat capital of Germany. So if you live here, you will have many options to watch movies in English in Berlin.
The Yorck Cinema Group has a page with all the movies in OV and OmU in Berlin on their website. Also, critic has a nifty tool that can help you search for all of the OV and OmU movies in Berlin.
English movie theaters in Dusseldorf
Cinestar Dusseldorf: In Lörick, about 15 minutes away from the Altstadt (Expat Favorite)
Metropol Filmkunstkino: In Bilk, near the Dusseldorf Arcaden
UCI: In the Mediahafen
English movie theaters in Frankfurt
Cinestar Frankfurt: Near the Innenstadt (Expat Favorite)
Arthouse Kinos: Includes Harmonie and Cinéma. Near the main train station
Astor Film Lounge: In myZeil shopping mall
English movie theaters in Hamburg
English movie theaters in Munich
7 Things you need to know about going to the movies in Germany
Animated movies are only in German: Your chances of finding an animated Hollywood movie in English are very slim. Since these movies mainly target children, the movie theaters will not buy the original version of these movies. So kiss goodbye at watching the latest Pixar movies 😕. 
Half-time breaks exist: If a movie is longer than 2 hours, you will have a 15-minute half-time break. Most people use this break to go to the toilet or stock up on snacks and drinks.
Popcorn is sweet: German movie theaters will always serve 'sweet popcorn', which tastes a lot like kettle corn. If you're lucky, you will find a cinema that also sells 'savory' popcorn, with butter and salt.
Drinking alcohol is allowed: You will be able to buy a beer, or wine to go along with your movie snacks.
Movie theater might be empty: Since there is no significant demand for Hollywood movies in English, don't be surprised if you find yourself with no more than 30 people in the theater. I once watched a movie where there were five people in total.
Previews are in German: Don't freak out when the previews start, and the language you hear is German. I can't tell you how many times I have wondered if I bought the right tickets or not. You will have German previews before a movie in its original language.
English movies are sometimes just available in 3D: In Dusseldorf, where I live, this is the case for most of the films screened in the most popular expat movie theater. 3D movies are naturally more expensive; however, it might be the only way you'll be able to enjoy that blockbuster movie you desperately wish to see. 
There you have it, the ultimate list for English movie theaters in Germany. I hope you enjoy the next blockbuster movie sitting on some comfy seats and enjoying popcorn with beer! 🍿🍺