The German Autobahn is famous worldwide; to some, it is legendary; to others, it is mystique. Whether the Autobahn causes you to daydream or to feel anxious, any foreigner in Germany, whether visiting or living here, won't leave without having experienced it. This article will give you some facts, rules, and controversy on the infamous German Autobahn.
What is the Autobahn?
The Autobahn in Germany is the highway system throughout Germany. Its official name is the Bundesautobahn (federal highway), built to reach cities by car in the fastest way. It is access-controlled and only allows vehicles that can go faster than 60 km/h (37,3 mph).
An Autobahn in Germany must always have two directional lanes separated from each other with a green strip with steel crash barriers or a concrete safety barrier. Each directional lane must have a minimum of two lanes. The Autobahn must always be 'höhenfrei', which literally translates to 'hight free' and means that two or more traffic routes do not intersect on the same level.
The first public highway in Germany that is considered the first Autobahn was inaugurated in 1932 and runs from Cologne to Bonn. Today it is called the A555, and as I originally come from Bonn, it is my favorite stretch of highway to test drive cars or motorcycles.
How long is the German Autobahn?
The Autobahn in Germany refers to an entire highway network. The length of the whole network of the Autobahn was 13.200 km in 2020. That makes it the fourth-longest highway system globally, after China, the US, and Spain. The longest individual Autobahn is the A7 with 962,2 km. It crosses vertically completely through Germany, from the border of Denmark in the north to the border of Austria in the south.
How fast can you drive on the Autobahn in Germany?
There are stretches on theGerman Autobahn where you can drive as fast as your car, the traffic, and your abilities allow. Around 70% of the Autobahn network has no speed limit (unless there is a temporary construction in place). On these stretches, the recommended speed is 130 km/h (80,8 mph).
The fastest ever measured speed on an Autobahn under everyday conditions was 423,3 km/h (263 mph) in 2010. My fastest speed has been 245 km/h (152,2 mph). According to a study done in 2020, only 15% of all Germans have ever driven faster than 240 km/h (149 mph).
If you would like to get a taste of how fast the world around you moves when going at 333 km/h (210 mph) on the Autobahn, start your ride at minute 1:10 in the below video.
Disclaimer: I am in no way advocating speeding. You always need to be 100% comfortable and in control of your car.
10 rules of the German Autobahn
To make your first Autobahn experience a fun and safe one, we outline a few of the most important rules for you.
1. The left lane is only for fast drivers that take over others
Don't ever stay on the left lane if you have space on the right lane(s) next to you. You will encounter yourself with a speeding car approaching at speeds you have never experienced before, sending down a cold shiver on your spine. Should you not move in time and therefore force the fast-approaching car to break, you might get flashed at. So either join the speed if you feel like you can control it or get out of the way.
2. Don't ever pass a slower car on the right
Even if there is space, don't pass a slower car on the right. You are only allowed to take over via the left.
3. Don't bully other drivers through tailgating
Should you encounter a car glued to the left lane, don't bully them into moving right by getting so close that you lose the minimum distance between two cars. You could get fined up to 400 euros for that. A rule of thumb for the minimum distance between two cars is 'Abstand gleich halber Tacho', meaning the distance should be half of the speed you are going. So if you are going 120 km/h, you should keep a distance to the car in front of 60 meters.
4. Always put your blinker out before you change lanes
Traffic on the Autobahn can be fast, lightning-fast in fact, so you need to announce your plan to switch lanes with your blinkers.
5. Always check your side mirrors before you change lanes
Even if you have checked (especially your left mirror) three seconds ago, you might find or even feel a car gushing past you.
6. Trucks need to stay on the right lane
On German highways, trucks need to drive on the right lane unless they are taking over another truck.
7. Obey the speed limit
As you have learned earlier, speed limits exist on the German Autobahn, and you should respect them. There are frequently permanent and temporary radars installed. Speeding during a speed limit can become very expensive or even cost you your license.
8. Always carry a reflective vest, warning triangle, and first aid kit in your car
Next to your driving license and vehicle registration, you must always carry a reflective vest for each passenger. In case of a breakdown, you must wear the reflective vest and place the warning triangle 200m behind your car facing the approaching traffic.
9. Never stop, park, drive or reverse on the emergency lane unless indicated
As the name suggests, the emergency lane should only be used in case of a breakdown. However, on certain stretches of the Autobahn, signs will indicate using the emergency lane for driving. This depends on the traffic situation.
10. Keep a corridor for emergency vehicles in a traffic jam
Should you get stuck in a traffic jam, always help keep a rescue lane for emergency vehicles between two lanes. In the case of three lanes, the corridor should be formed between the left and the middle lane.
Related Guide: German Driving License Explained for Expats
Navigating the German Autobahn
Ausfahrt means exit
There are only exits to the right on the German Autobahn
There are long stretches, mainly in rural areas, without street lighting on the Autobahn
East-West highways are even-numbered, and North-South highways are odd-numbered
Germans put hazard warning flashers on to announce an upcoming traffic jam
The blue directional signs do not have compass directions but rather indicate the larger cities you are driving towards
Map of the Autobahn network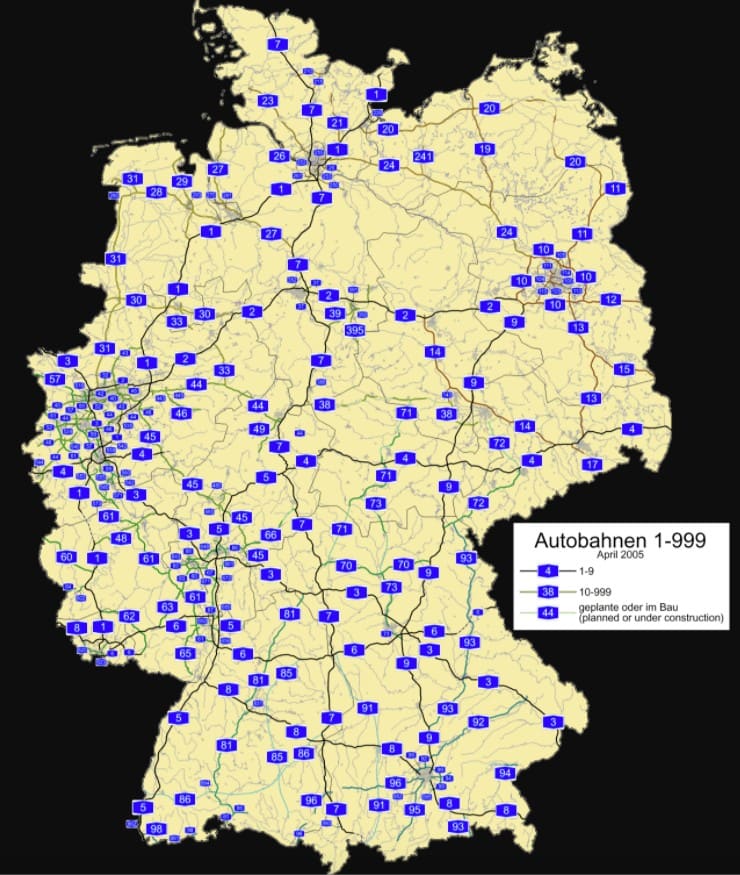 Important German Autobahn signs
Below is an infographic about speed limits on the Autobahn. As a rule of thumb, you can usually find speed limits close to cities and urban areas, sometimes only applying at night, to reduce the noise.
If you don't see any speed limit sign after you enter the Autobahn, you are most likely in an area without a speed limit. If you are unsure, whether you might have overlooked a speed limit sign, pay close attention after the next entry to the highway. If there is a speed limit, it is always announced after an entry to the Autobahn.
Is the Autobahn dangerous?
Whether the Autobahn is dangerous or not is a very subjective question. Let's take a look at Germany's car accident statistics and where most accidents happen that involve injured people to get a better idea.
| Accident location | Accidents with injured people | Small injuries | Bad injuries | Fatalities |
| --- | --- | --- | --- | --- |
| Autobahn | 7% | 8% | 9% | 12% |
| Built-up areas | 69% | 67% | 53% | 30% |
| Countryside speedway | 25% | 25% | 39% | 58% |
These numbers show that the Autobahn accident rate is a lot less than car accidents in built-up areas and countryside speedways. If we look at the number of deaths on highways per 1 billion kilometers driven in other European countries, Germany finds itself in the middle.
| Country | Death rate on highways | Official speed limit |
| --- | --- | --- |
| Poland | 4,8 | 140 km/h |
| Italy | 3,1 | 130 km/h |
| Spain | 2,6 | 120 km/h |
| Germany | 1,9 | No limit |
| France | 1,7 | 130 km/h |
| Netherlands | 1,2 | 130 km/h |
| UK | 1,0 | 113 km/h |
An interesting fact in Germany is that if you drive significantly faster than 130 km/h and get involved in an accident, you will automatically get blamed for negligence of about 30 percent. According to the law, speed increases the operational hazard posed by a vehicle. In case of doubt, the driver must prove that the accident would also have happened if he had adhered to the recommended speed of 130 km/h.
Related Guide: Car Insurance in Germany
The controversy about a speed limit on the Autobahn
In the past years, the debate pro and contra a permanent speed limit on the German Autobahn has become bigger. In October 2019, the German government rejected a proposed speed limit of 130 km/h, yet a study done in 2020 shows that 41% of Germans are for a speed limit, while 31% are against a speed limit. In politics, this topic provides some of the hottest discussions and strong positioning of parties.
Conclusion
The German Autobahn lives up to its legendary status and allows it to experience exhilarating speeds. It is a vital vein for transportation in Germany at the end of the day, whether for long-distance travel or everyday commuting. If you want to experience it in all its glory, take a spin on Sunday morning, as it tends to be the least trafficked at that time.
Enjoy the ride, and stay safe!