If you want to buy a car in Germany, you have to purchase insurance for it, register it, and pay car taxes. Just like any other process in Germany, registering a car is full of bureaucracy. Don't despair, though. We will walk you through each step of how to register a car in Germany, so you can drive your new ride on the famous Autobahn in no time!
Registering a car in Germany might take as little as a week and can be done in a maximum of five steps. To register a car in Germany, you have to be a German resident.
If you move to Germany from another EU country for more than six months and bring your car with you, you have to register it in Germany within the first six months of your stay. You can read more about the rules of car registration in another EU country on the EU website.
5 steps to register a car in Germany
1. Take your car to a general car inspection
🔥 Tip: If the used car you bought already has a valid certificate, you don't need to take the car for a new inspection. Just make sure the previous owner or car dealer hands you the inspection certificate.
Goal of this step 🏁: To get a certificate stating that your car is roadworthy.
To register a used vehicle in Germany, it needs to pass a general inspection (Hauptuntersuchung) to certify that it is safe and clean to circulate in traffic.
The inspection lasts around 30 minutes, and it can cost anywhere between 70 to 150 euros. If the inspectors find any problems, you have four weeks to fix them and present the car again.
If you bought the car from a car dealership, they may offer to take care of this process for you, sometimes for an additional cost. Once they receive the roadworthiness certificate, they will mail it to you via snail mail with all the car registration documents.
How often a car needs to be inspected in Germany depends on how old it is:
New vehicles: their first roadworthiness inspection is after 36 months
Used vehicles: every 24 months
Used vehicles older than seven years: every 12 months
Where can you go get your car inspected?
Some of the certified workshops are DEKRA, KÜS, and GTÜ. However, the most popular one in Germany is the so-called TÜV (Technischer Überwachungsverein).
You should only arrive at the inspection with an appointment. You can easily book one online by googling: "TÜV Termin + city name". Make sure to bring all of your car papers with you.
Fun fact: The TÜV is so popular in Germany that everyone uses the term 'TÜV' to talk about a general car inspection. Germans don't say: 'oh my DEKRA expired', you will always hear them say "my TÜV expired'.
2. Make an online appointment to register your car
Goal of this step 🏁: To get an appointment to register your car in the near future.
To register your car in Germany, you need to make an appointment at the car registration office (Kfz-Zulassungsstelle). You should do this as soon as you bought your car and know it passed the TÜV inspection.
For new cars, you should look for Zulassung eines fabrikneuen Fahrzeugs or Neuzulassung.
For used cars, you should look for Umschreibung eines Fahrzeugs mit Halterwechsel.
Here you can find the links for the Zulassungsbehörde in the biggest German expat cities:
Berlin
Hamburg
Munich
Dusseldorf
Frankfurt
Stuttgart
3. Purchase car insurance
Goal of this step 🏁: To get an electronic insurance number (eVB number).
All car owners in Germany are legally required to have car liability insurance. There are three types of car insurance in Germany: car liability, partial cover, or fully comprehensive cover.
Your car insurance cost will depend on factors like your age, how old your vehicle is, and what type of insurance you want.
To give you a ballpark figure, the German Insurance Federation shared that the average annual premium in 2020 for car insurance was:
Car liability insurance: 258 euros (mandatory)
Partial cover insurance: an add-on to the car liability insurance for 85 euros (voluntary)
Fully comprehensive insurance: an add-on to the car liability insurance for 329 euros (voluntary)
Once you have purchased car insurance, your insurance provider will give you a digital number for your policy called 'eVB Nummer', which will be necessary to register your car.
Related Guide: Car Insurance in Germany [In-Depth English Guide]
4. Purchase your license plates online
Goal of this step 🏁: To get two license plates.
In Germany, your car needs to have a license plate in the front and in the back. If you don't have your license plates already, you will need to purchase them. I suggest you buy them online, to save time and money at the registration office (KFZ-Zulassungsstelle).
When you buy the license plates via a website like the STVA, you have the option to reserve the license plate combination of your liking, if available, following the letter(s) for the city of registration. You need to enter the abbreviation for your city to continue the selection:
B for Berlin
M for Munich
F for Frankfurt
HH for Hamburg
D for Dusseldorf
S for Stuttgart
The ADAC provides a full list and further explanation of all of the license plate abbreviations in Germany.
After the letter(s) indicating where it is registered, you can choose a combination of other letters (1-2) and numbers (1-4). This is what a typical license plate in Germany looks like:

If you don't want to get your license plates online, there are plenty of shops in and around the registration office.
You can estimate to pay between 20 and 40 euros for the two license plates.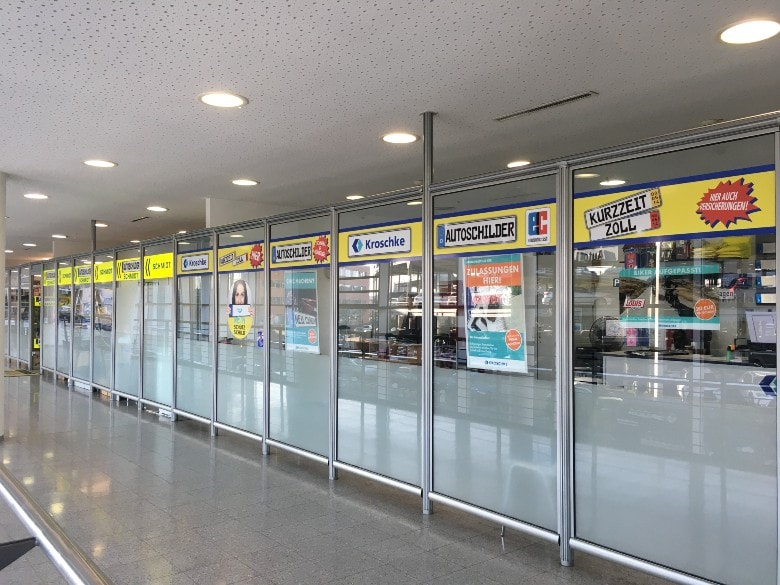 5. Register your vehicle at the car registration office
Goal of this step 🏁: To get a new registration certificate part I (Fahrzeugschein) and the stickers on your license plates.
It is time to head to the registration office with all your documents.
In Germany, the car registration office is called Zulassungsbehörde, which is also known as KFZ-Zulassungsstelle.
Documents required to register a car in Germany
The documents you will need to bring with you to register a car in Germany will depend on the type of vehicle you have (new, used, or imported).
Fun fact: You don't need a driver's license to register a car or purchase car insurance in Germany.
The mandatory documents to register a car in Germany are:
Your German residence card (temporary, permanent, or blue card)
Your passport
The registration certificate part II (Fahrzeugbrief)
Form 032021 filled out. You will need to add an IBAN of your European bank account; this will allow the customs office to take the yearly vehicle taxes from your account automatically. You can estimate the taxes you will pay by using a car tax calculator in English.
Your license plates
For new vehicles: You will additionally need to bring the Certificate of Conformity from your car manufacturer (COC-Papiere).
For used vehicles: You will also need to bring the report of the last general inspection, the registration certificate part I (Fahrzeugschein), or the de-registration document.
For Berlin, you also need to bring this filled-out application for registration to your appointment.
Read more: Are you looking for a German bank account in English? Look no further. We have compiled the best German bank accounts for expats for you to check out.
The official will check all of your documents, and if everything looks good, they will ask you to pay for the vehicle registration. The price depends on your region. On average, the price to register your vehicle in Germany ranges between 30 and 60 euros.
You should also ask for the emission sticker (Umweltplakette) from the official, which you need to stick on the lower right corner of your windshield.
Most German governmental offices do not accept credit cards, so be prepared to pay cash or with a girocard.
Once you've paid, you will get a new registration certificate part I (Fahrzeugschein), and an amended registration certificate part II (Fahrzeugbrief). The official will also place the stickers of your city on both license plates and the sticker for the next inspection, known as 'TÜV Plakette' on the rear license plate.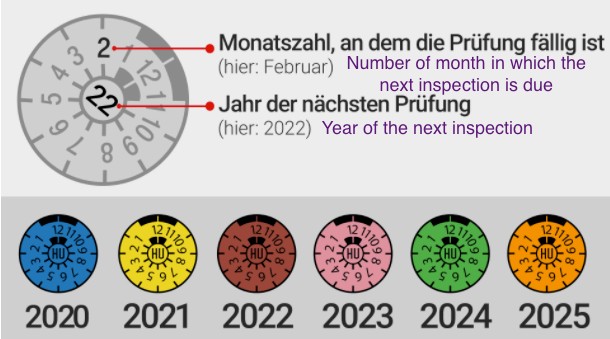 How much does the whole process cost?
The fees to register a car in Germany are not regulated, so the amount you pay depends on where you live. Here is what we paid in November 2020:
Car registration: 30,20 euros
Emission sticker: 5 euros
License plates: 37,90 euros
Fee for reserving and choosing a preferred license plate: 12,80 euros
TÜV inspection: 115 euros (covered by the car dealer)
Car insurance: 623,93 euros
Our total cost for registering our used car was 85,90 euros. If you want to add the car insurance to it, which is not really part of the registration cost, but you need to pay to get your car registered, our total cost was 709,83 euros.
Can you register a car in Germany online?
Yes, you can! Since October 1st, 2019, you can register a car online. However, not everyone will be able to do this, due to the following caveats:
The car's first registration needs to be after the 1st of January of 2015
The new owner needs to have a digital ID card. For expats this ID card is called Elektronischer Aufenthaltstitel (eAT)
You can find all the details on how to register your car online on the Federal Ministry of Transport and Digital Infrastructure's website. The information is in German; however, you can easily use the 'Translate to English' feature in Chrome.
Congratulations! You have successfully registered your car in Germany. With your new ride, it's time to take a spin on the famous Autobahn! Enjoy! 🚘
Related Guide: The German Autobahn [A Detailed Guide For First-Timers]