Saving money in life is a huge topic that often requires a more detailed look at your lifestyle choices and spending habits. In this guide, however, we give you 11 actionable tips on how to save money in Germany without telling you to dine out less and reduce your shopping.
If you are also interested in how much money you need in Germany to live, take a look at our case study on the cost of living in Germany. 
1. Choose A Fee-Free Bank Account & Credit Card
In today's digitalized world (yes, even in Germany 😉), there are more options than just your traditional brick-and-mortar bank in your neighborhood, with sometimes hefty fees. You can easily save up to 150 euros a year when choosing a mobile bank like N26. The only traditional German bank that offers most of its services in English and is free if you receive a minimum of 700 euros in it each month, is Commerzbank.
N26 - The Mobile Bank
100% in English and digital
Free bank account & virtual Mastercard
Savings & loan options
Customer service 7-days a week
Open N26 Account
Transparency: We earn a small commission if you click this link and open an account at no additional cost to you.
Related Guide: Best German Bank For English Speakers
2. Only Buy Necessary Insurances
You have probably heard it before, and we say it as well – Germany is the land of insurances. However, that does not mean that you should blindly get all the insurances you can find or get offered to you. Always ask yourself whether you can handle the financial costs or cuts resulting from an accident, damage, or theft from your own pockets without threatening your financial stability or not?
You should definitely not save on private liability insurance; however, mobile phone insurance may not be necessary. We have written a detailed guide on which insurances in Germany you should have and which ones are nice to have depending on your lifestyle.
Our Choice
Related Guide: Insurance In Germany [Must-Haves For Expats]
3. Choose Cycling As Your Main Transportation
The cheapest, cleanest, and healthiest way to get around town in Germany is by bicycle. Germany is a very cycling-friendly country, and a lot of cities in Germany have designated cycling lanes. My wife and I have been cycling through Düsseldorf for the past eight years.
4. Choose Your Supermarkets Wisely
Grocery shopping differs somewhat in every country. Germany boasts a variety of different supermarkets, offering different shopping experiences and also different prices. We have outlined the 12 most popular supermarkets in Germany in our below guide, from purely organic supermarkets to discounters. Learn with which supermarkets you can save money up to 25% on food in Germany.
Related Guide: Top 12 Supermarkets In Germany [Buy Groceries Like A Local]
5. Save Money On Public Transportation With A Monthly Or Yearly Pass
If cycling is not your thing or you actually have to cover longer distances, public transport in Germany is a great option. Instead of paying for each trip individually, get a 10er ticket that discounts each ride by about 25%, if you don't ride regularly, or a monthly pass such as the Deutschland Ticket for only 49 euros a month if you ride the train or bus daily. Also, be sure to check with your employer if they offer a Firmenticket, a discounted monthly pass for the local public transportation.
If you travel lots between bigger cities, the Bahn Card is a great way of saving money in Germany. You can buy different types for a one-time fee (from 17,90 euros), resulting in reduced individual tickets (from 25% discount). Often a Bahn Card is already worth getting if you plan on taking 2-4 interregional train trips per year. If you are a frequent rider, you can also get the Bahn Card 100, which offers unlimited rides.
6. Change Electricity Provider & Car Insurance
When you move into an apartment in Germany, you will always have electricity, as you silently agree to a contract with the general city provider. However, you can actually choose from which provider you would like to receive electricity, often for a better price. You can save between 100 to 200 euros when you change providers. Find out how in our in-depth guide below.
Our Choice
Ostrom | Energy. Just Better.
English website & customer service
Flexible - cancel every month
One fair & transparent plan
100% digital
Purely renewable electricity
Get Electricity from Ostrom
Transparency: We earn a commission if you click this link and make a purchase at no additional cost to you.
Related Guide: Best Electricity Providers In Germany
Should you buy a car in Germany, you need to have car insurance. Similar to electricity, you should compare your car insurance every year to benefit from the best prices. We have also written a detailed guide about what to look out for when getting car insurance in Germany.
Related Guide: Car Insurance In Germany [In-Depth English Guide]
7. Do A Tax Return Every Year
As a regular employee without any additional side income, you do not need to file a tax declaration. However, you should calculate whether you can save on tax in Germany by handing in a tax return, as the average tax return in Germany is around 1000 euros. We have reviewed the five best tax return softwares in Germany, which allow you to calculate your taxes for free. Only if you think it is worth it will you get charged between 30 to 40 euros.
SteuerGo Tax Software
Tax return in 20 minutes
100% in English and digital
Customized tax tips
Average tax refund of more than 1.000 euros
File Your Taxes
Transparency: We earn a commission if you click this link and make a purchase at no additional cost to you.
Related Guide: Best Tax Return Software In Germany
8. Benefit From Free Things & Sharing Neighborhoods
Sharing is becoming more and more popular in Germany. You can sign up to the neighborhood platform nebenan.de to borrow, sell, or buy things from your neighbors. This is also a great platform to get to know new people.
If you like to read books, have an eye out for free book exchanges in your neighborhood. You can often find them in parks.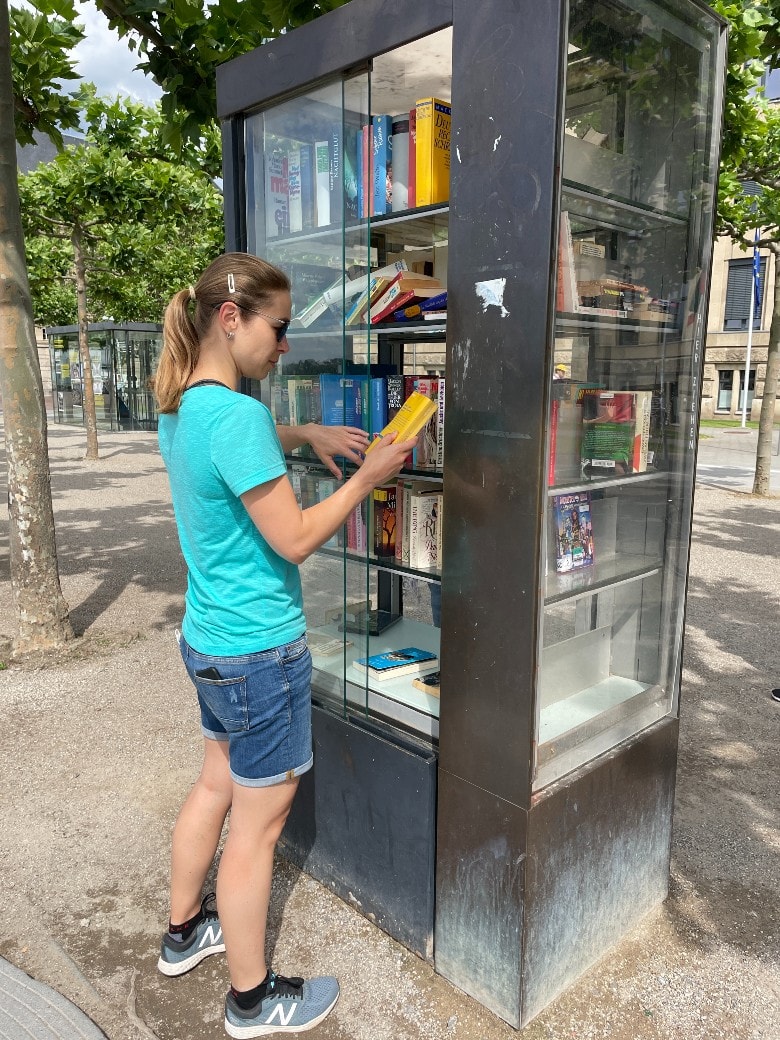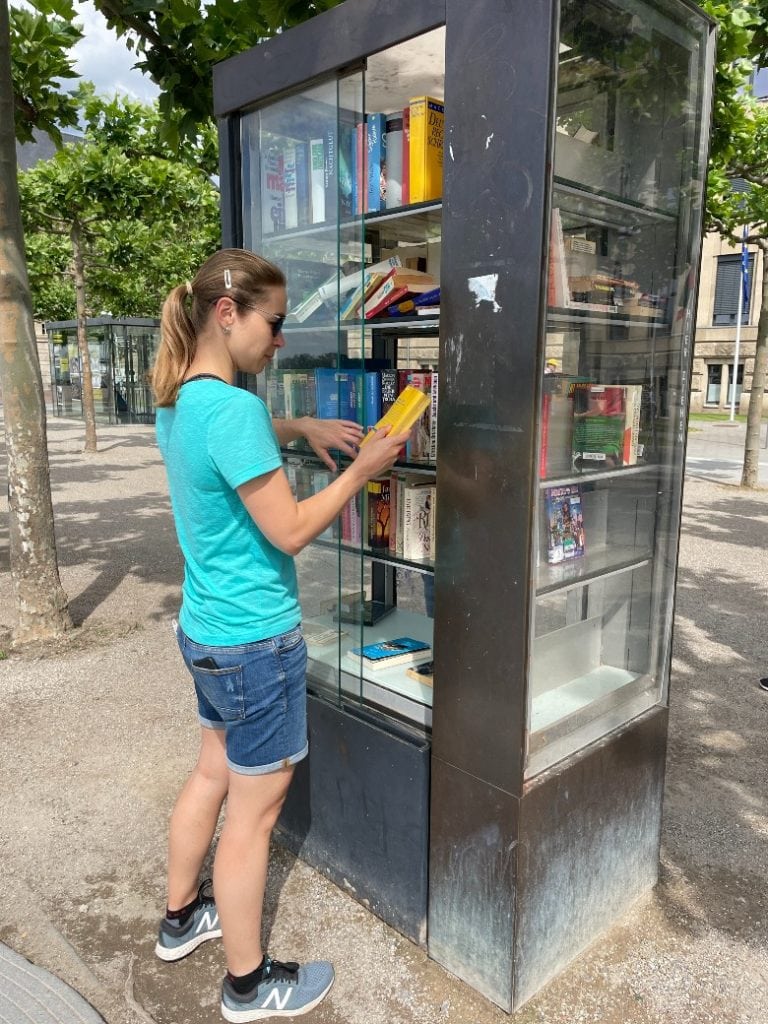 Another alternative to save money on books in Germany is to become a member of your local library. A yearly membership, for example, in Düsseldorf costs 20 euros a year, and you can borrow books, CDs, DVDs, and games for free for 2-4 weeks.
9. Choose Your Sports Options Aside From A Gym
There are around 9.500 gyms in Germany with around 10 million members. So a gym is a popular choice in Germany, however, depending on the type of gym, the monthly membership can cost you between 15 – 80 euros. If you are into other sports outside of weight training and fitness classes, consider joining a sports club (Sportverein).
Sportvereine are by far more popular in Germany than gyms. In 2020, 24 million people were a member of one of the 88.000 sports clubs. Some sports clubs have a yearly membership fee, others a monthly. The median monthly membership fee is around 6,30 euros and therefore a Sportverein is a great way to stay fit and active, to meet new people and to save money in Germany.
If you don't want to settle on one type of sport, you can also take a look at the Urban Sports Club. As a member, you have access to tons of different sports facilities all over Europe.
10. Decide Whether You Want To Pay Church Tax
When you are employed in Germany, and you consider yourself religious or a member of a church, you will pay church tax of 8 or 9% of your income tax in Germany. We have written a detailed guide on who pays church tax, how you can avoid paying it, and what you should look out for when leaving the church.
Related Guide: Church Tax In Germany Explained [English Guide]
11. Benefit From Student & Employee Discounts
If you are a student, you can benefit from student discounts pretty much anywhere. So make it a habit of asking or looking for Studententarife or Studentenrabatt before purchasing something. The most common places you can save money as a student in Germany are with bank accounts, internet and mobile providers, public transport, health insurance, cultural events, gyms, and many more. You can also take a look at portals such as studentenrabatt.de.
As an employee, you may also benefit from certain employee discounts (Mitarbeiterrabatte) with other brands if your company joined portals such as Corporate Benefits. Such benefits don't always get communicated fully by companies when joining them, so be sure to ask your manager or colleagues whether your company is part of such a portal. If so, don't forget to check the portal before your next online shopping, as you might get a sweet discount, and I can speak from experience that it is easy to forget when you are determined to buy something.
Conclusion
We hope these saving tips in Germany were helpful to you so that you can maximize your savings. They are all relatively easy to implement and don't take much time compared to the possible savings.