Moving to Germany alone is complex, however moving to Germany with pets can be an extra stressful experience, but it does not have to be one if you prepare well.
If you are wondering if you can bring your cat or dog to Germany, the answer is with the proper documents, yes, you can! In most cases, all you will need is for your pets to have a microchip, a valid rabies vaccination, and an Animal Health Certificate.
In this guide, we will cover the requirements to travel with your pet to Germany and some tips that will make flying with your furry friend easier.
Disclaimer: This guide is for non-commercial dog and cat immigration to Germany. You are allowed to bring a maximum of 5 pets.
Requirements For Bringing A Pet To Germany
If you want to move to Germany with pets and you are probably wondering what papers you need, here is the list:
1. Age
According to the German Federal Ministry of Food and Agriculture, the minimum age your cat or dog needs to have to enter Germany is 15 weeks.
The 15 weeks minimum age comes from the fact that dogs and cats must have a rabies vaccine to enter Germany. The first vaccine against rabies can be given to a puppy or kitten after they turn 12 weeks. It takes around 21 days for the rabies immunity to build up. So adding those weeks together, we land on the minimum 15 weeks of age.
2. A microchip
Your pet must have a microchip that conforms to ISO standard 11784 (HDX or FDX-B transmission) and can be read with a reader corresponding to ISO standard 11785 (source). I know this sounds very technical, but don't worry, you have to make sure to give those specifications to your vet before your cat or dog gets the microchip.

The microchip is mandatory for pets that have been re-marked since July 3, 2011. If your pet was marked before this date, they are allowed to enter the country with a tattoo as long as it is clear and readable.

A microchip is useful not only to find your pet when it gets lost but also to claim ownership if someone else is claiming they are the owners of your furry friend.

If your pet's microchip does not comply with the ISO standard 11784, you can do one of the following three options:
Bring a suitable microchip reader with you
Call the EU Port of Entry to ask if they have a reader capable of reading your pet's microchip
Ask your vet to implant a suitable microchip
3. A rabies vaccination
Your dog or cat must have a valid rabies shot before entering Germany. The rabies vaccination must be injected after the microchip. If your pet gets a primary vaccination, you must wait 21 days after the shot before your furry friend is eligible to enter Germany.

Germany considers a primary vaccination when:
It is the first shot after the microchip was implanted
The previous rabies shot expired before your pet could get a new one
If your pet got a booster vaccination, you don't need to wait 21 days before you can travel.

The validity of the vaccination depends on the type of vaccine. Therefore, you should consult with your veterinarian for further information.
The EU website has detailed the requirements the rabies vaccine must comply with to be valid in Europe in Annex III.
4. Animal Health Certificate (for non-EU countries)
💡 Good to know: If you are traveling from an EU country, you will need to present your EU Pet Passport. You can get a European Pet Passport from any authorized vet. The EU Pet Passport will always be valid, as long as the rabies vaccination is also valid.
An Animal Health Certificate (AHC) is a legal requirement to take your pet to Germany. The purpose is to keep Germany free from rabies and any other foreign diseases.
The AHC needs to be issued by an official veterinarian. An official veterinarian is certified to perform work on behalf of the government of the country you live in. As an alternative, it can be issued by an authorized veterinarian and then endorsed by the proper authority of the country you live in.
An AHC typically includes information like the pet owner's details, the cat or dog's description, rabies vaccination details, and a rabies blood test (if required).
In addition to the certificate, the person traveling with the pet must have a written declaration (that you should write yourself) indicating the pet is entering the country for non-commercial reasons.
The Animal Health Certificate is valid for ten days after the vet has signed it. So make sure to call in advance to organize the appointment, so it fits with your travel plans.
You may find the Animal Health Certificate form on the website of the German Federal Ministry of Food and Agriculture, as well as an explanation of how to fill it out.
For more details about the papers you need for your pet to travel to Germany, you can check your government's resources:
🔥 Tip: If you require specific information for your country of origin, you can always contact the German Embassy or Consulate in your country.
5. Blood test (not always required)
To find out if your pet needs to have a rabies blood test, you can search for your country in the list of countries in Annex VIII of the EU website. If your country has "rabies antibody titration test" next to it, then your pet has to get the test done before traveling.


After the rabies vaccination, you need to wait at least 30 days before doing the blood test. Additionally, you need to do the blood test at least three months before entering the EU.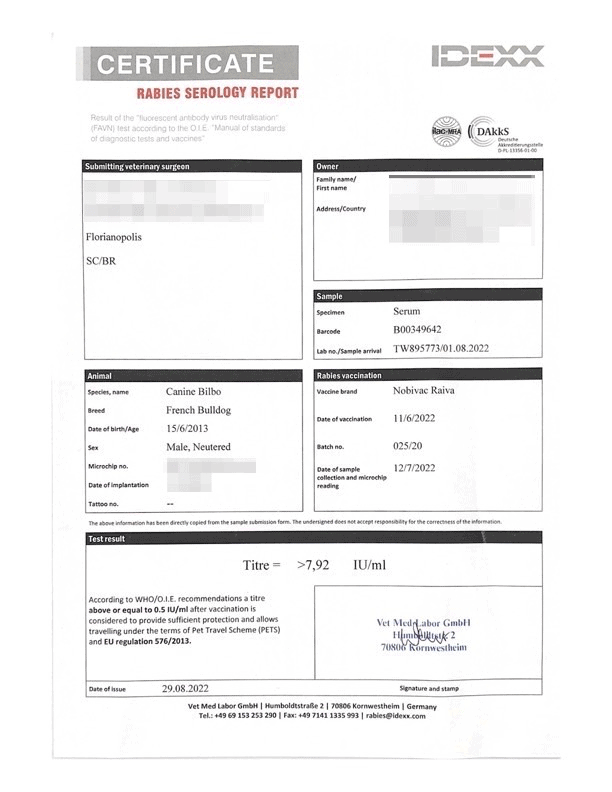 If your pet needs to have a rabies antibody test, it will need to remain in quarantine for 90 days. The quarantine starts on the day your pet's blood was collected for the test. Quarantine means that your pet cannot leave the country for that period of time.
What Happens If You Don't Follow the Requirements?
Should you decide to bring your pet to Germany, without fulfilling the requirements, your pet will be confiscated by German customs at the airport and placed in quarantine at a local animal shelter.
Depending on what requirement is missing for your pet to safely enter Germany, the quarantine can last between one week or six months. The worst scenario is missing the rabies vaccination.
Please make sure to have all documents checked and ready before boarding a plane to Germany with your pet. Otherwise, you will put your pet and yourself in harm's way.
Being in quarantine for an extended period of time will traumatize your animal, as it will have no contact with the outside world. It will also be a financial burden for you. Here in Dusseldorf, the animal shelter charges you 20 euros per day for a cat and 23 euros per day for a dog that stays with them, due to not fulfilling the custom requirements.
Which Dog Breeds Are Banned In Germany?
The following dog breeds (including any mixed breed) are not allowed to be imported to Germany or held in Germany unless you have a specific license, which involves an incredibly high amount of bureaucracy and costs:
Pit Bull Terrier
American Staffordshire Terrier
Staffordshire Bull Terrier
Bull Terrier
These breeds get considered dangerous dogs (category 1) as listed on the official German customs page.
Additionally, every German state holds a list of other dangerous dogs, such as a Rottweiler. These dogs often get named category 2 dogs and get considered dangerous until proven otherwise with a character test.
8 Tips For Flying With Your Pet To Germany
If you are wondering how to fly a pet to Germany, the following tips are for you.
1. Book a pet-friendly flight
Before booking your flight, make sure to check the airline's pet policy. You need to know if your cat or dog is allowed to travel in-cabin (with you) or if it needs to go in a special cargo area. Also, make sure to check the size and breeds allowed, as well as the size of the carrier you will need for flying. Especially for cargo kennels for big dogs the requirements are airline-specific and vary.
Not all airlines will allow you to reserve a spot for your pet while booking the ticket online. So it is highly recommended that you call the airline directly and make the reservation for you and your pet with them. In addition, some airlines have a maximum amount of pets allowed in an aircraft, so it's super important that you get the confirmation that your cat or dog is allowed to travel on the same flight as you.
If you own a snub-nosed dog (e.g. bulldog, pug) or cat (e.g. British Shorthair, Persian), then you will need to do things a bit differently. Most airlines do not accept these types of pets on normal flights. The reason is that because of their breathing issues they might go under too much stress during the transportation process that they might suffer circulatory issues or even die.
Lufthansa Cargo offers a great service to transport your brachycephalic pet called Live Animals Cargo.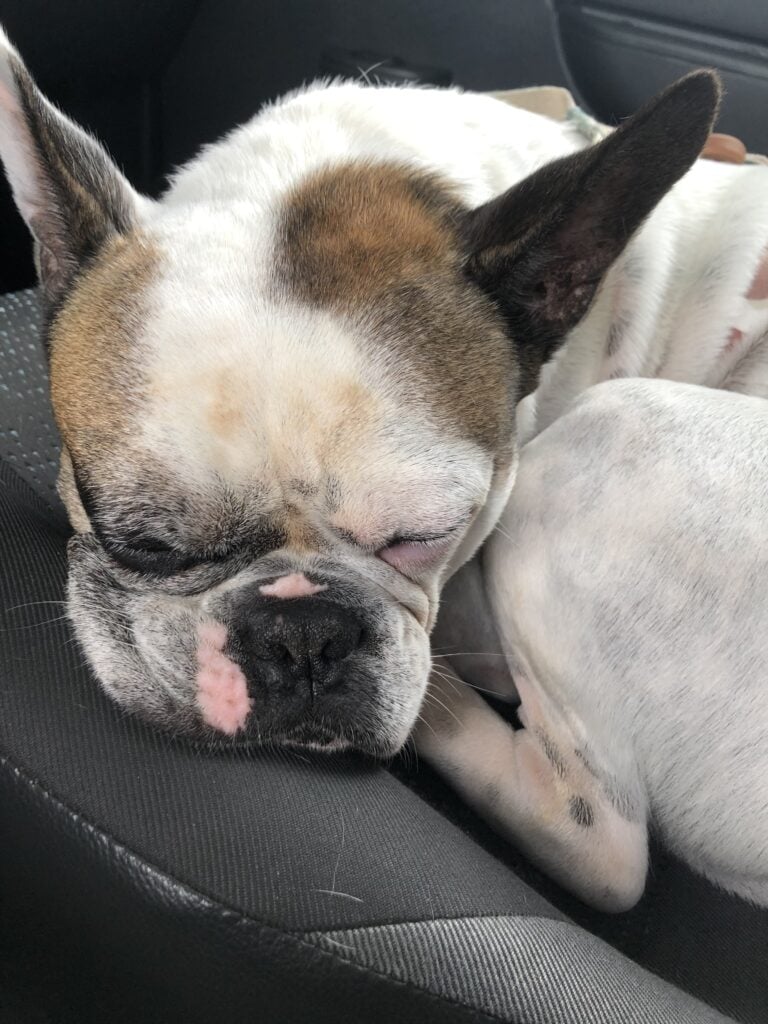 2. Train your pet to like the pet carrier
When moving to Germany with pets, they will need to be in a carrier most of the time of your trip. So it is important that your cat or dog makes a positive association with the carrier. The goal is to make the carrier a safe place where the pet can relax, eat and sleep.
You can place one of your pet's favorite toys in the carrier. Having something that has the scent of your pet will give it a sense of security.
You can also plan some short trips with your dog or cat, so they get used to being inside the carrier. You don't need to go far. You can drive to the store or around the block a few times; this will make them get used to the bumps and sounds of a moving vehicle.
If your cat is not leash-trained, then you might want to have a carrier that is a bit bigger to allow your cat to stretch.
Cargo Kennel
Buy Now
Transparency: We earn a commission if you click this link and make a purchase at no additional cost to you.
3. Prepare for the airport security procedure
Airport security will require you to take your feline friend outside the carrier to pass through the metal detector. In most airports, you can ask for a private screening room, so you don't have to worry about taking your pet out of the carrier in a hectic environment.
In other cases, a private screening room will not be available. If this is the case and your pet is prone to feeling nervous around new and loud environments, it might feel the need to escape. To avoid chasing your furry friend (especially your cat) around the airport, consider getting a harness and a leash for your cat, even if it is not leash-trained.
4. Ask for relaxing medication (only if necessary)
If you think your pet will be stressed during the flight, ask your vet for some relaxing medication.
Do this a couple of months before your trip so you can try them at home in a safe environment. This way, if your pet responds with an allergic reaction or the medication does not work, you can go back to the vet.
5. Feed your pet at the right moment
If your flight is in the morning, you can feed your pet a bigger meal than usual the night before. Try to avoid feeding your pet 6 to 9 hours before the flight; this will minimize the chances of pooping or vomiting in the airplane.
Pack some food with you, so when you arrive in Germany, you can find a quiet place and feed your pet. It will be so happy and grateful.
6. Keep your pet in a safe place before leaving your home
Some pets might get nervous and will sense something weird is happening by seeing you packing or taking out their carrier. Especially if your cat gets nervous and tends to hide, you can put it in a safe and comfortable place. For example, in the bathroom with a comfy blanket or similar.
This way, you know exactly where your pet is, and you won't have to run around your apartment looking for it shortly before you have to leave for the airport.
7. Pack essentials for your pet
Besides your pet's food, remember to pack the essentials when you move with your pets to Germany:
A disposable foil tray and some litter: You can find a quiet place at the airport and try to get your cat to do their business before boarding the plane.
Baby wipes: So you can clean things easily in case something unexpected happens.
Plastic bags: Just in case you need to scoop up some mishappens before throwing it in a bin.
Water and food bowl
Absorbent toilet training pads: If your pet wants to do their business on the plane, this is a lifesaver to avoid an uncomfortable smell for you and your fellow passengers.
Leak-Proof Pet Pads
Buy Now
Transparency: We earn a commission if you click this link and make a purchase at no additional cost to you.
8. Check airport regulations
Make sure to check how pet-friendly the airports are that you will be in. For example, some have pet relief areas; others allow you to take your pet outside of the carrier, as long as they have a leash.
9. Prepare for Customs and Immigration
Once you land, you and your furry friend will need to go through customs and immigration. Here you will present all your documents, your pet will be examined, and hopefully, be given the green light to enter the country.
If you sent your pet by cargo, for example through Lufthansa's Live Animal Cargo service, then the process might take a bit longer. We heard from a Brazilian couple who traveled to Frankfurt and sent their french bulldog through this service and waited six hours to be reunited with their furry friend again.
FAQs For Moving to Germany With Pets
Can pets ride on trains in Germany?
Yes, pets up to the size of a regular house cat travel for free in trains. Now, what does the 'size of a house cat' mean? As long as your pet fits inside a carrier and the carrier fits under the seat or on the shelf above the seat, then they can travel for free.
If your dog is not in a carrier, it needs to be leashed and wear a muzzle at all times. If your dog is bigger than a regular house cat, you need to get a ticket for your dog.
If you're traveling long distances (between cities), you can purchase your dog's train ticket online. You can do so either by the new Deutsche Bahn website (https://next.bahn.de/) or through their mobile app called NextDBNavigator. The website is in German, but if you use Chrome as a browser, you can translate it to your language of preference. If you want to book it in German, you are looking for the word 'Hund'.
If you are traveling short distances (within a city), you need to consult with your local transportation company as some cities allow dogs to travel for free, while others require a ticket. You can always find a service center in the main train station of your city where you can ask about the regulations that would apply to your furry friend.
How long must a pet stay in quarantine when moving to Germany?
Germany does not require your pet to be in quarantine, as long as it has a valid rabies vaccination (which is one of the requirements to allow your furry friend to enter the country).
Does my pet need a passport to move to Germany?
If you are traveling from a non-EU country, you need to show the Animals Health Certificate, as mentioned above. If you are moving to Germany with pets from another EU country, you only need to show the official EU Pet Passport.
How Much Does Bringing Your Pet To Germany Cost?
The whole process, including the flight, might cost between 1.500 and 2.500 euros. It highly depends on your country of origin and whether a rabies antibody test or not might be needed.
As an example, a Brazilian couple who travelled with their french bulldog paid 2.200 euros for the whole process. Here is the breakdown:
| Item | Price |
| --- | --- |
| Microchip + Rabbies Vaccine | €100 |
| Rabies antibodies test | €320 |
| Animal Health Certificate | €30 |
| Kernel | €160 |
| Forwarding agency (for Lufthansa's Live Animal Cargo) | €270 |
| Flight ticket | €1.200 |
| Customs | €140 |
| Total | €2.220 |
Example of costs in 2022 to bring a french bulldog to Germany from Brazil
Life With Your Pet In Germany
Before you jump on that plane to Germany, make sure when looking for a place to stay in Germany that it allows pets. Whether you are initially looking for a short- or long-term apartment, you will need to get approval from the landlord to hold a cat or dog. Homelike is a great platform to find initially furnished apartments, with a filter for pets.
Related Guide: Renting In Germany [A Detailed Guide In English]
Once you have successfully moved to Germany with your pet, you, of course, need to know the rules and regulations of holding a cat or dog in Germany. While holding a cat in Germany does not require any approval or bureaucratic steps, you need to follow a few steps when owning a dog in Germany.
We have written a detailed guide on what to pay attention to when owning a dog in Germany.
Related Guide: Dogs In Germany [ A Complete English Guide]
Conclusion
There you have it, a step-by-step guide on the procedure for moving to Germany with your pets. We hope this guide has been helpful to you to understand how you can move your pet with you to Germany. We wish you all the best of luck with your move!