So you're wondering what a good salary in Germany is? You might have gotten a job offer and don't want to be getting less than the average salary in Germany, or you want to know how much money you need to cover your basic expenses?
A good salary in Germany is the one that will allow you to afford the lifestyle that you want. Anything above 47.700 euros a year (gross) will place you in Germany's above-average range of income.
In this guide, we will dive deep into salaries in Germany so you can better assess where you stand and whether you need to negotiate your salary with your future employer.
What is Considered a Good Salary in Germany?
If you ask ten people what a good salary in Germany is, you will get ten different responses; this is a very subjective question, and the answer depends on lifestyle and location. In some cities, you will earn more; however, the average cost of living might also be higher.
StepStone, a job listing site in Germany, did a salary study in 2021 where they analyzed 250.000 salary data points. In their report, they surveyed Germans and found that 43% said they were happy with their yearly gross salary of 64.253 euros. 41% of the Germans said they were not happy with their salary of 49.630 euros a year. So even though they earn above average in Germany, they did not feel that was enough.
If you're looking for the answer to how much things cost in Germany, we have written a detailed guide on the cost of living in Germany where you can assess how much you can expect to spend on things.
If you are moving to Germany from abroad and have a job contract, you need to know that you should be receiving a minimum salary to get your work permit or EU Blue Card.
Salary Requirement For Blue Card In Germany
The minimum gross salary in Germany for an EU Blue Card is 58.400 euros per year. For in-demand professions in the fields of mathematics, computer science, natural science, engineering, and human medicine (excluding dentistry), a lower minimum gross salary of 45.552 euros a year applies for the EU Blue Card.
Salary Requirement For Work Permit In Germany
Should you not qualify for the EU Blue Card, your German employer needs to pay you the same salary as your German co-workers get paid. To prevent exploitation, this is one of many things the German Federal Employment Agency checks before permitting your future employer to actually employ you.
What Is The Minimum Wage In Germany?
As of October 1st, 2022, the minimum wage in Germany is 12,00 euros per hour. The government has declared that after the change on October 1st, 2022, the minimum wage will remain stable for the next 15 months, and they will only reassess it in January 2024.
According to the Federal Statistical Office of Germany, full-time employees work on average 41 hours a week. So the gross minimum wage for a full-time employee on a four-week month would be 1.968 euros.
Part-time employees work on average 19,5 hours a week, making their minimum wage 936 euros.
What Is The Average Wage In Germany?
According to Statista, in 2021, the average gross annual salary in Germany was 47.700 euros a year, or 3.975 euros a month.
The numbers above are for all of Germany. However, the average gross salary will depend greatly on your location, professional experience, education, size of the company, and gender. Yes, you read that right: gender.
Average Gross Salary In Germany By Gender
As in any other part of the world, Germany also struggles to decrease the gender pay gap. Although there are a lot of initiatives in Germany to breach the gap, studies still show that men earn more than women. On average, men earn 49.752 euros a year (gross), and women 42.936 euros a year (gross).
If you would like to find a company that strives to reduce the gender pay gap and value diversity in their company, you can check the job listings in a great initiative called 50inTech.
Average Gross Salary In Germany By Location
The location also plays a significant role in the average income in Germany. According to the website called gehaltsvergleich.com, the average gross salary in the most popular cities for expats is:
Munich: 45.360 euros per year (gross)
Düsseldorf: 43.512 euros per year (gross)
Stuttgart: 45.048 euros per year (gross)
Hamburg: 41.700 euros per year (gross)
Frankfurt: 45.276 euros per year (gross)
Berlin: 38.016 euros per year (gross)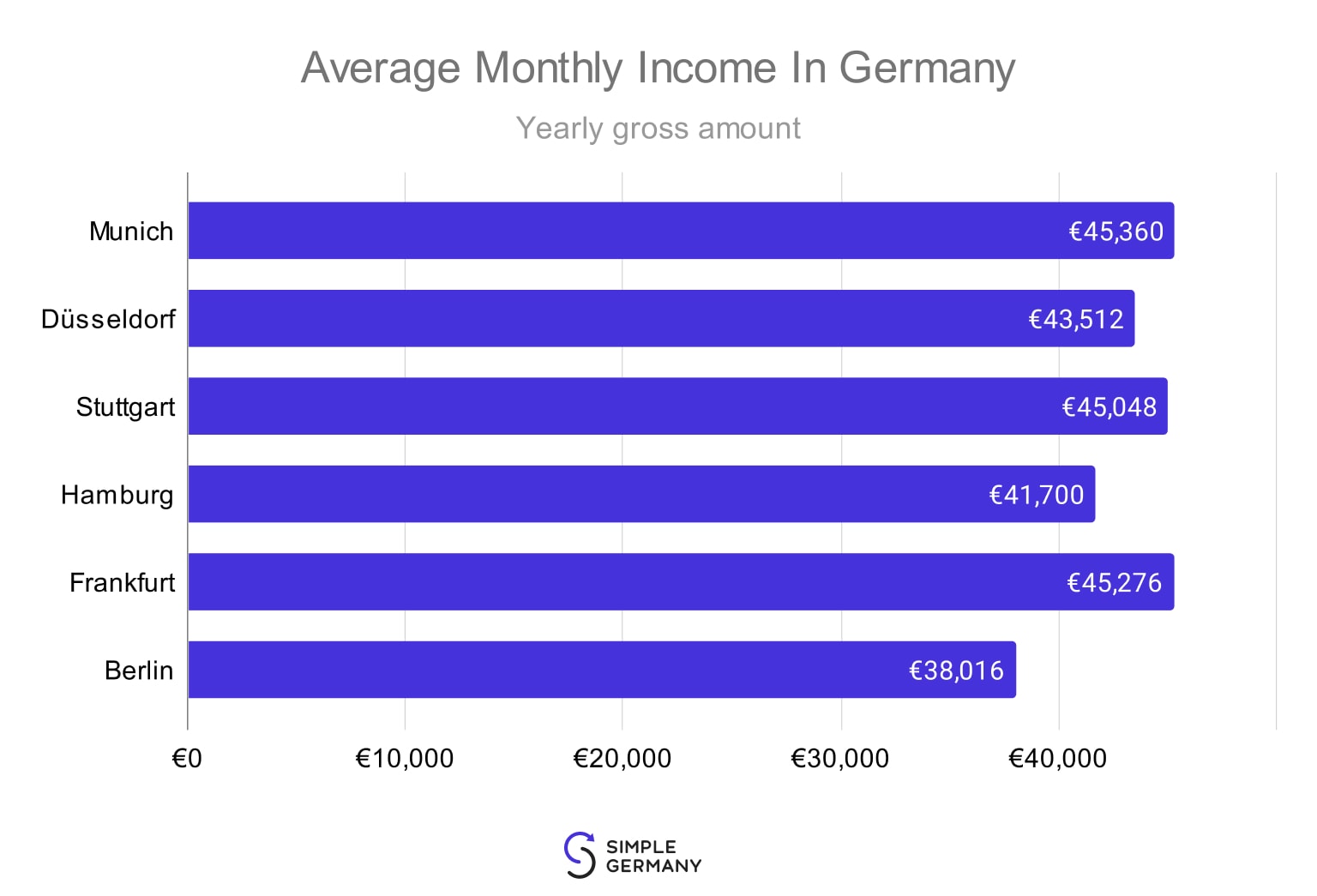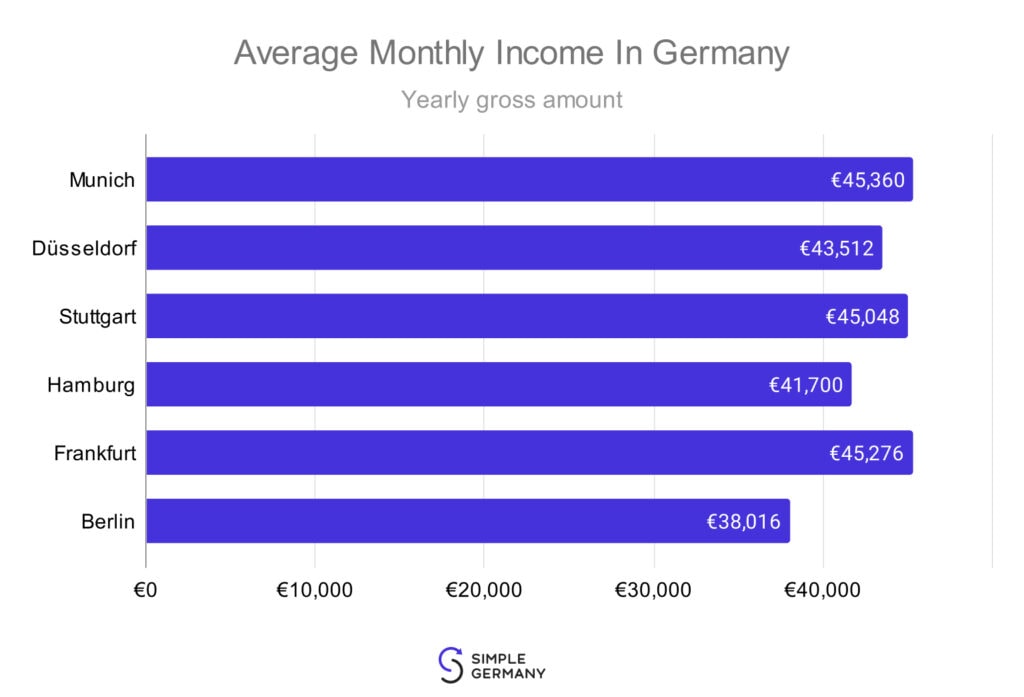 Now, it is important to highlight that the costs of living are also very different in every city. For example, Munich and Frankfurt are the most expensive cities in Germany. In comparison, Berlin and Düsseldorf are in the middle.
Related Guide: Best Cities To Live In Germany [For Expats]
You can also use a website like Numbeo to check the cost of living in the city in Germany you would like to move to.
In Germany, high taxes and social contributions are deducted from your salary every month (roughly 40%). And the gross wage is not what you will be seeing in your bank account. You can use an online calculator to estimate your disposable income (amount after paying taxes and social contributions).
Average Gross Salary In Germany By Profession and Work Experience
Your monthly salary will also depend on your profession and experience level. Below is a list of some of the most popular professions in Germany for expats. You can click on each link, which will take you to Gehalt.de, a website with detailed information on how much you can expect to earn in your profession.
If you don't find your profession listed above, check Gehalt.de.
Average Gross Salary In Germany by Company Size
According to a study done by the job listing website Stepstone in 2019, the company's size highly affects whether you will get an above or below the average wage. Companies with 500 employees or less pay around 10% less than the average. Companies with 501-1.000 employees pay roughly 2% above average. And a corporate company with more than 1.000 employees pays around 16% more than the average pay.
Please take this with a grain of salt, as it highly depends on the company and your profession.
The same study found that product managers and IT managers earn well above average in large companies.
Is 60.000 Euros A Good Salary In Germany?
60.000 euros a year in Germany is considered a good gross salary as it is well above the average salary of 47.700 euros a year for the whole country. Most Germans who earn 60.000 euros or more are very happy with their salary.
However, whether this salary is enough for you or not, depends on your lifestyle and the size of your family. For example, your diet, transportation, entertainment options, size and location of your apartment, how often you shop, etc.
Brand New!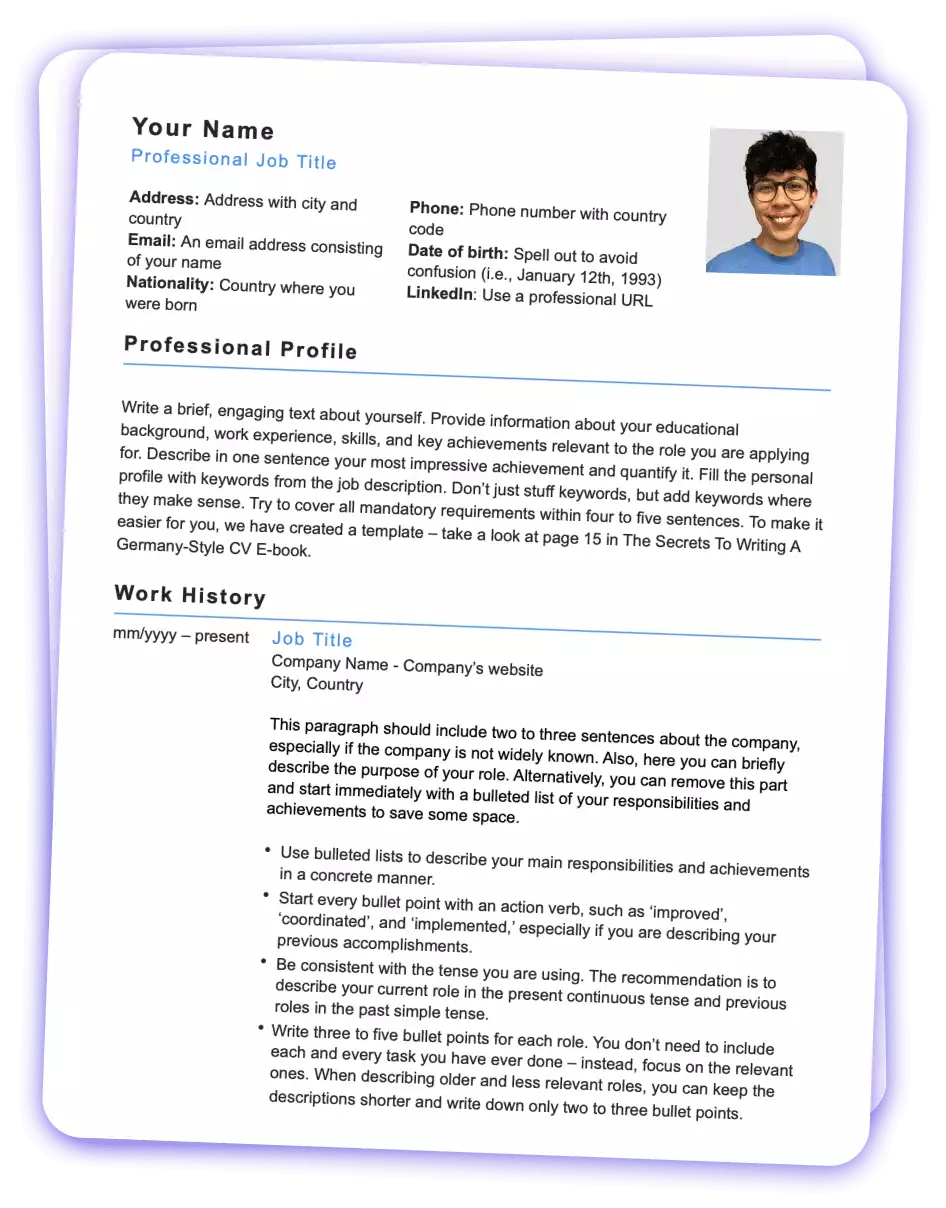 What is Your purchasing power with Your salary in Germany?
Your salary in Germany might not mean much if you don't know how many goods and services you will be able to purchase with it.
So let me introduce an economic concept called purchasing power parity. Don't worry; I won't dig deep into this concept and will try to keep it as simple as possible.
Purchasing power parity (PPP) is a metric used in macroeconomics to compare the number of goods and services you can buy in different countries. Economists create a basket of goods and services that can be purchased in every country and use it as a base for their comparison. It is a tough job to come up with this metric, and it is not perfect; however, it is the best one we have found to give you an idea of how far your euros can take you in Germany.
The most popular purchasing power parity ratio is the Big Mac Index. So how can you use the price of a burger to figure out your purchasing power in Germany?
In our calculations below, we need to make sure we are working with the same currency, so we will need to convert everything into US dollars.
Step 1: we will figure out how many Big Macs you can purchase in your country with your current salary.
Find the price for the Big Mac in US dollars in your country. I've gathered a selected list below:
– USA: US$5,15
– UK: US$4,48
– India: US$2,34
– Mexico: US$3,67
– Turkey: US$2,50
– Germany: US$5,00

Convert your net salary to US dollars
Divide your current net salary in US dollars by the price of the Big Mac in your country
The result will tell you how many Big Macs you can currently buy in your country.
Step 2: we need to calculate how many Big Macs you could purchase in Germany.
If you already have a job offer, estimate your disposable income (net salary) with an online calculator.
Convert your net income into US dollars
Divide your net income in US dollars by the price of the Big Mac in Germany (5 US dollars)
The result will tell you how many Big Macs you can purchase in Germany with your job offer.
Example: Now let's look at an example to explain this concept better. I am from Guatemala, and I am earning an exceptionally good net monthly salary of 20.000 Quetzales (Guatemalan currency), which equals around 2.550 US dollars.
The Big Mac Price in Guatemala is 3,31 US dollars. So I would be able to purchase 770 burgers with my income in Guatemala.
Imagine I get a job offer in Germany for 59.000 euros a year (gross); this is a little above the minimum threshold for an EU Blue Card. The job offer is for Düsseldorf, which is in North Rhine-Westfalia. I am single, and I don't pay church tax. Using the salary calculator, I estimate my net monthly income will be 3.059,27 euros or 3.286,71 US dollars. With this salary, I would be able to purchase 664 burgers with my income in Germany.
Now at first glance, it's obvious that my purchasing power will decrease in Germany as I will have fewer burgers, so to speak. However, what is important to highlight in this calculation is that the result will provide a general sense of a standard of living and does not consider the quality of life in each country.
Quality of life is one of the main reasons people move to Germany, as there are a lot of social security services to benefit from, education is free, there is minor corruption and violence.
So yes, in Guatemala, I would have a higher purchasing power because the cost of services is lower, and I would be earning a well-above-average pay. So I could have a regular cleaning service and a nanny (if I had kids). However, the health, political and educational system are among the worst in the world.
So at the end of the day, I rather have fewer burgers to eat and have a high quality of life than have a lot of burgers in a dangerous and corrupt environment.
Final Thoughts
Only you can answer whether a salary is good for you or not. You will need to consider your cost of living, disposable income, purchasing power, and quality of life in a country.
I hope this guide has guided you in what the average gross salary for your profession in Germany is to feel comfortable accepting the job offer or feel empowered to negotiate for a higher salary that will allow you to buy more burgers 🍔.