So you have decided to move to Germany. Congratulations ?!
Now it's time for one of the hardest parts of the process: finding a job.
Before starting your job hunt in Germany, you will need to prepare your resume and cover letter. Even though resumes may be an international concept, there are some differences between countries.
For example, in Europe, the most widely used term is CV instead of resume. The German word for CV is Lebenslauf, which means 'Life Race'. A CV is used more as a place to state facts instead of promoting professional achievements, soft skills, and details about responsibilities.
In this article, you will find German CV templates in English that you can use on your next application. I will also share some tips to impress German employers with your resume.
Simple German Style CV Template in English
A CV is the first impression you will make. Like all first impressions, your CV only has a few seconds to impress the reader.
We highly recommend using a tool like resume.io to create your CV. I've made a sample CV for you so you can view what your finished document should look like.
You can also view a full size of the German CV Template in English I used.
Resume.io offers a few German CV templates in English. The one I have used for the example above is called Moscow. I would highly recommend choosing a template that supports uploading a picture, as that is what a German recruiter will expect.
Once you have created your CV, download it as a PDF and then digitally sign it by using a tool like Smallpdf.
How to write a German CV (Lebenslauf) in English
The expectation of a German recruiter might be different than what you are used to. So translating your current resume might not be enough.
The German CV (Lebenslauf) is considered less of a marketing product and more of a factual document. You are encouraged to write real, hard facts and avoid all kinds of fluff or self-promoting sentences.
The German CV is between one and two pages and has five or six sections. Let's explore each one in more detail.
1. Personal Information
The minimum personal data you should include in this section is your name and your address. German recruiters expect to see a few more details about you, though. So if you don't add all the personal information described below, be prepared to answer some similar questions during your interviews.
? Good to know: just like in many other countries, it is illegal for companies to reject an application based on gender, age, race, or sexual orientation.
Most Germans include additional personal information in their CV. As an expat it is important to understand how this extra information might help you in your application.
Passport size photo: This needs to be a professional headshot. Do not add a picture of you on holidays, or at a party. Germans will judge your professionalism based on this picture, so make it count! There are some foreign names that Germans are not used to hearing, so providing a photo might help them know what pronoun to use for you.
First and last name: Germans usually have only one first name and one last name. For those who have long names (I have two first and two last names), I would recommend using the first name you want to be called by and a last name. This reduces confusion on the employer's side on what name to use. I had an Egyptian colleague who added all of her names in her application, and this led to confusion. The employer took her first two names and considered them to be a first and last name. This was a mess when they sent her the contract and set her email address.
Address: Don't forget to include your country!
Phone number: Only add this if you have a German phone number. Otherwise, you might consider adding your skype ID.
Email address
Nationality: This could help the employer know if they will need to sponsor a work visa for you or not.
Date of birth
Short profile (optional): A summary of your skills and qualifications. Mention in two to three sentences why you are relevant for the job you are applying for.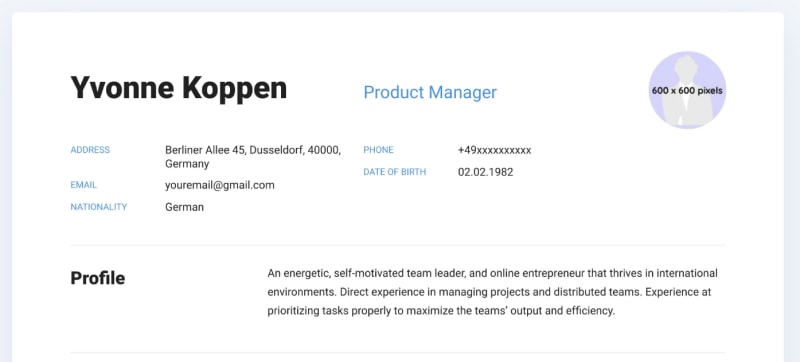 2. Work experience
Start with your most recent job. For each position, make sure to include the:
Name of the company
Title of your position
Type of work you did: For example, part-time, full-time, internship, just for the project, etc.
Dates you were employed: include the month and year.
Country
Key responsibilities: it is recommended to list your responsibilities as bullet points to make it easier for the reader to scan through your CV. Remember to stick to the facts.
Germans like to read 'gapless' CVs. So if you took a year off between your jobs to travel, you should mention this in your CV. Any gap above three months is worth mentioning in your German CV.
Also, you are encouraged to mention any voluntary work you have done.
3. Education
This section should have your education, including secondary and higher education. You should list your latest education degree first. Each degree should include:
Name of your university or school
Program that you studied
Period you studied for: make sure to include the month and the year
City and country you studied in
4. Skills
Use this section to list any other relevant qualifications or skills to the role. Some examples of what you can include are:
Languages: make sure to indicate the language and the proficiency level
Computer skills: Mention any IT skill you have which is relevant to the position
Relevant achievements or certificates
Driver's license (optional): Some jobs might require you to drive the company car to go to fairs or for other purposes. So make sure to include the driver's license you have and for what type of vehicle.
5. Hobbies and Interests (optional)
In this optional section, you can feel free to include any hobbies or interests that might be relevant to the position. Remember, Germans love facts, so if you add this section, make it short and sweet.
Also, try to be specific about your interests. Travel is very generic, and almost everyone loves to do it.
6. Your signature
Bonus points if you add this to your CV. Germans usually sign their CV with the date and their name.
German or English – In which language should you write your CV?
If you are applying for an English speaking job, it is a good idea to write your CV in English. Since you are applying for a job in Germany, chances are a German person will look over your CV. If you are learning German, you can write your CV in English and indicate in the language section that you are currently learning the language.
Read more: Can I work in Germany without speaking German?
If your German level is good enough, go for it! Just a word of caution though: Germans, as any other sane person, dislike typos and grammatical errors. So you better have a native German proof-read your CV. Also, make sure only to do this if your German is good enough to handle the interview in German as well. If you create your CV in German, you are already setting the expectations to your future employer that you have good German skills.
Regardless of the language you choose for your CV, make sure to follow the German standards.
Final Thoughts
In this article, you learned that a German CV is a one to two-page factual document, and it is not used as a promotional tool. You can add your soft skills and other details of your experience in your cover letter.
German recruiters and employers expect to receive a CV free of typos and grammatical mistakes. So only send your CV in German if you are truly confident with the language.
Remember to only include information that is relevant to your role.
Happy job hunting!
Thanks for reading until the end. If this article was helpful to you, and saved you time of research, please consider buying us a coffee as a small donation. It allows us to keep Simple Germany alive and striving.
If you have any questions, feel free to contact us. We are happy to help.