In short: yes, there are English-speaking jobs in Germany. Foreigners who look for jobs in tech startups or digital departments have a higher chance of finding work in Germany without speaking German. Foreigners who want to work in HR, accounting, marketing, consulting, medicine, or law have the least opportunity to find employment in English in Germany.
I have been living in Germany since 2012. From 2012 to 2022, I had four jobs, all of which have been in English. In this guide, I will share the facts you need to know to assess your chances of moving to Germany and finding a job in English.
🔥 Tip: You don't need to be living in Germany to apply for a job. German companies are very open to hiring someone who lives abroad and helping them relocate to Germany.
How realistic is it to find English-speaking jobs in Germany?
Finding an English-speaking job in Germany is challenging but possible. Let's look at some data which proves this point 🧑🏽‍💻 .
According to the German Federal Employment Agency, 12% of Germany's employed workforce was foreign in 2018.
Sites like LinkedIn or Indeed might show hundreds of thousands of job listings in English. However, when you read the requirements closely, you will often find: "Good German and English language skills required".
In 2018, Indeed interviewed over 2.000 employees in Germany and found the following interesting facts about language:
44% of German employees use a foreign language in their job. The number one foreign language spoken in German offices is English, followed by French and Russian.
29% speak a foreign language at work every day and 35% at least two to three times a week
47% use a foreign language to communicate with international colleagues
27% said that they also use English in meetings
Additionally, the German Federal Office of Migration and Refugees issued over 31.000 Blue Cards in 2019. A Blue Card is a European residence permit issued to highly skilled workers from non-European countries. In other words, over 31.000 non-German speakers entered the country in 2019 to perform high-skill jobs.
In its most recent study, Indeed revealed that Berlin is the city with the most job ads in English (14%), followed by Munich and Frankfurt with each 11%.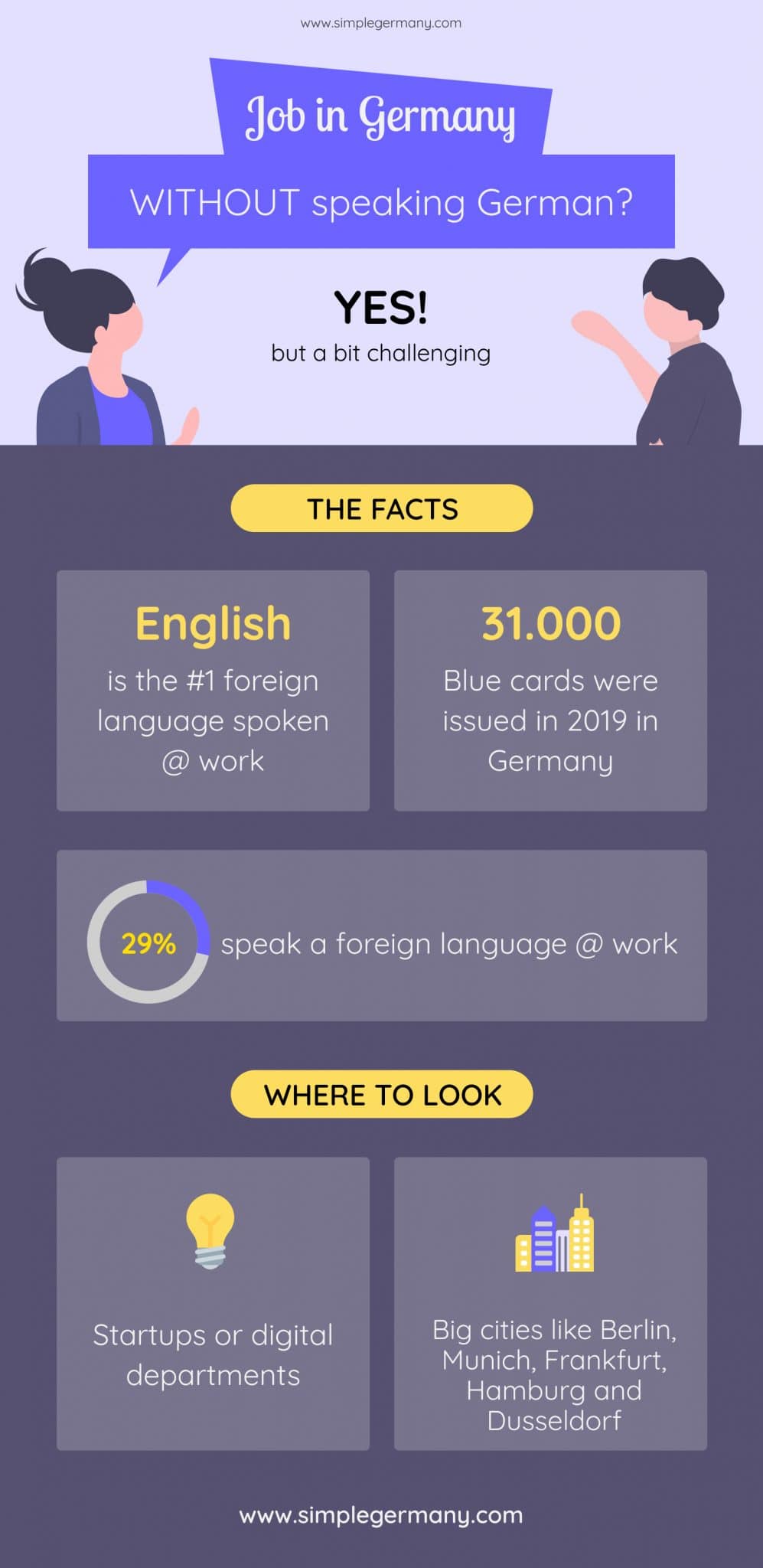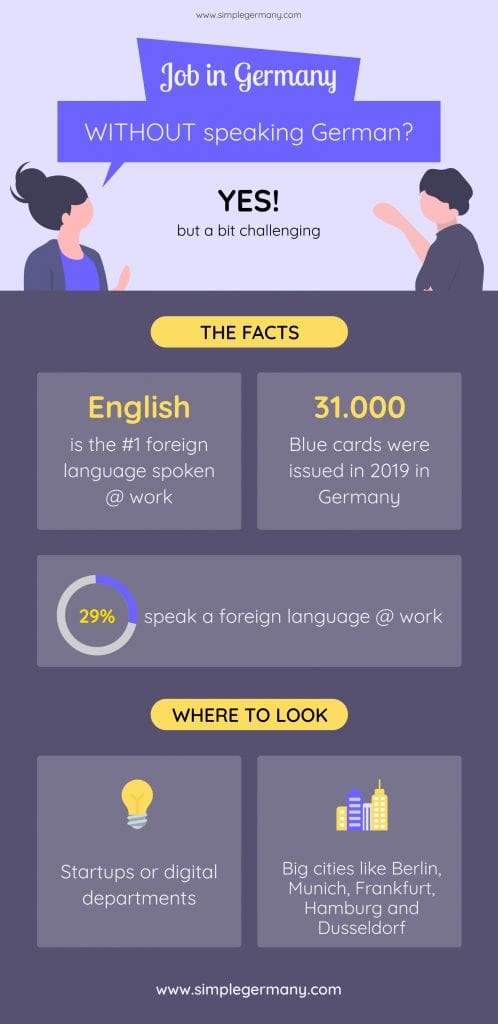 Who has the highest possibility of finding an English-speaking job in Germany without German?
From the experiences my expat friends and I have had in Germany, I have observed that those who join a tech company, startup, or a company's digital department have the highest probability of finding a job in English.
On the other hand, jobs that require you to know or work with German laws are the least likely for you to get without speaking German. These professions include HR, accounting, consultant, doctor, lawyer.
As an example, I have a Mexican friend who is in HR. She recently applied for a job at a startup in Berlin. The company's language is English. However, her interview was in German and English, and they asked her a bunch of questions about German labor laws. The job she applied to requires her to speak German as she and her team would need to deal with contracts. Luckily she speaks German, so that was not a problem for her.
5 Tips to help you find an English-speaking job in Germany
1. Look for jobs in the right place
Below is a list of English websites that will help you out in the journey of finding work in Germany without speaking the German language:
Additionally, be sure to have a strong LinkedIn profile. You can find that great companies post their jobs on LinkedIn, and you can apply to their jobs directly. As a software developer, I receive a lot of job offers through LinkedIn.
Other sites that might be worth exploring are Monster, StepStone, and Indeed. You can use the word 'English' in your search to try to filter out all the jobs that require you to speak English.
2. Search for jobs at startups over big organizations
Startups tend to be more open to having an international team, so it's common for them to have English as their company language.
Germany is motivating Germans and international residents to start companies. According to the German Startup Monitor, 2.013 startups were created in 2021, employing over 33.500 people.
3. Choose bigger cities
The top 5 cities where you want to focus your efforts on are Berlin, Munich, Frankfurt, Hamburg, and Düsseldorf.
Here is a small summary of what each city is known for in Germany:
Berlin: It has the largest startup scene. It even has an area called 'Silicon Allee' 😅 . You can read all about the startup ecosystem in Berlin in this EU Startups article. It is known as the creative and cultural capital of Germany.
Munich: Amazon, Microsoft, Apple, and Google have offices in Munich. It is known as the digital capital of Germany. You may also find jobs in industries like electronics, IT, and automotive.
Frankfurt: It is home to all major German banks and the European Central bank, which makes it the financial and banking capital of Germany. Other industries include: logistics and IT.
Hamburg: It has the biggest harbor in Germany, which makes it the cruise capital of Germany. Other industries include: renewable energy, sports, and aviation.
Düsseldorf: It is known for media, fashion, and telecommunications. Additionally, it also has a big startup scene.
4. Look for offers in the digital departments
Most big German companies have a digital department. This is where you can find your shot at getting an English-speaking job. I worked for Vodafone, one of the biggest telecommunication companies in Germany. If you look for job offers, you will find them all in German. The official company language is German. So how did I get a job there? Well, I joined the digital department.
The digital department has all sorts of international employees, who do not speak German. We all did different jobs. Some of the most popular ones were: product owners, agile practitioners, UX designers, user acceptance testers, software engineers, and business analysts.
5. Adapt your CV & Cover Letter to German standards
Even though you are applying for an English-speaking job, the chances are that a German will be the one to review your application.
The following pointers will be important for you to include in your CV for Germans to love it:
A picture
Date of birth
No fluff
Responsibilities & achievements
Max 2-pager
Brand New!
What if you cannot find an English-speaking job in Germany? Then, my friend, you will need to learn some German. Companies generally require expats to have a B2 language level to participate in meetings and perform a non-customer-facing job.
Related Guide:
German CV Template in English
German Cover Letter Guide
3 Steps you need to take after Finding an English-speaking job in Germany
Congrats if you have nailed an English-speaking job in Germany! Finding work in Germany is one of the most important steps in moving to Germany or staying here.
🔥 Tip: Most companies will pay for you to take German language lessons.
Once you arrive in Germany, you will need to take care of some things to settle in Germany correctly.
1. Bureaucratic visits
Registration office (Bürgeramt): This office is where you will need to do the Anmeldung aka register as a resident. This office sends your information to the Tax Administration Office (Finanzamt), which issues your tax ID.
Immigration office (Ausländerbehörde): This office is the one in charge of giving you your work and residence permit.
Strangely, most governmental workers refuse to speak English with immigrants, and all forms are only available in German. So our advice would be to ask your employer to send someone who speaks German with you to these appointments.
2. Sign up to services available in English
3. Sign up to other important services
Although some essential services, like banking and insurances, are available in English, others remain a bit more traditional, and you can only sign up for them in German.
Don't worry, though. We have done extensive research to find the best service providers for you so you can easily decide which one fits your needs most:
Final Thoughts
Finding an English-speaking job in Germany might seem like a very challenging task. However, data and personal experience show that there is hope and that if you set your mind to it, you too will be able to find work in Germany and be able to live here.
Your chances of finding English-speaking work in Germany are higher if you focus on tech companies, startups, or a big company's digital department. Also, don't be shy in sending your CV to job listings that are in German and asking if their position is available in English.
Even though you might not be speaking German in your daily job, it is always good to learn the basics. If you decide to stay here for many years, you will benefit from speaking the language. Like in any other country, you will only understand the people and their customs by being a part of it, which involves speaking German.
Germany is a great place to live. You can check out our guide, where the pros outweigh the cons of living in Germany. Also, here are some other sections on our site that might be useful to you:
Good luck (Viel Erfolg)! 🍀