In this N26 review, I share with you my experience of using N26 in Germany. I opened my personal N26 account only in early 2019, that is 7 years after I moved to Germany! Although the company was founded in 2015, I heard about it for the very first time in 2019 from expat coworkers. When I first arrived in Germany, modern and online banks were not a thing. So my choices were very limited.
I opened a bank account with the bank the company that hired me recommended to me: Stadtsparkasse 🥺 ; this bank is full of bureaucracy and complications. I was mind-boggled when I discovered N26 and opened an account with them.
💡 TLDR: N26 is a 100% online bank, with great customer service including on weekends, and a super-easy signup process; all of this is in English! They have four plans: N26 Standard (free), N26 Smart (4,90€) N26 You (9,90€ a month), and N26 Metal (16,90€ a month). All premium plans get you a free Mastercard debit card, while the free plan gets you a free virtual Mastercard. They all have limited free ATM withdrawals a month, and give you a set number of sub-accounts to help you save for your projects.

Although N26 offers personal and business accounts, you can only have one account type with them. Shared accounts and credit cards are not available. Despite its limitations, N26 is a favorite and highly rated bank amongst expats. Some expats use N26 as their secondary account and still open an account with a bank that offers more services (credit card, investments, etc). You can read our guide for a full comparison of the best German banks for English speakers.
N26 The Mobile Bank
100% in English and digital
Free bank account & virtual Mastercard
Savings & loan options
Customer service 7-days a week
Open N26 Account
Transparency: We earn a small commission if you click this link and open an account at no additional cost to you.
What Is N26?
N26 is a modern mobile German bank that offers its services 100% in English, Spanish, Italian, French, Portuguese, and German with an easy signup process and friendly mobile and web applications. They provide personal and business accounts.
Modern banking companies, a.k.a. Fintech companies, have been popping up in the past few years in Europe. N26 launched in 2015, their headquarters are in Berlin. Their original name was Number 26 Bank, which was changed to just N26 in 2016.
Unlike a lot of other Fintech companies, N26 is a real bank that has its own banking license, approved by the German Federal Financial Supervisory Authority (BaFin).
12 Great Features You Get With Your Free N26 Account In Germany
Here are my top 12 features worth mentioning in this N26 review for Germany:
1. Amazing Customer Service
This has to be one of the top factors for me to recommend a product. N26 has quick, fast, and friendly customer support through live chat, which is available every day from 7 am to 11 pm. And the best part? It is all in English! Should you open a paid premium N26 account, you even get phone support.
If you compare customer service to any traditional German bank, N26 is lightyears ahead. Most German banks with branches have super weird opening hours, which makes it almost impossible to reach them or to go there in person to handle simple things.
2. 100% Online – No Paperwork
This bank is 100% online, for real! From the signup process to the handling of all of your transactions. I love not having to deal with letters or any other sort of paperwork!
3. Quick Signup Process
I opened my bank account on a Sunday afternoon, with my pj's on, from my couch in like 10 minutes.
You fill out a form online, get identified through a service called IDNow, and that's it! Your bank account is ready to roll!
Compare this to opening a bank account in a traditional German bank. I had to sit personally with my assigned account manager, the process took 45 minutes, and all of this during my lunch break. I'm glad those days are long gone.
Note: Not all passports are supported for the online video ID check. Instead, you will need to fill in a form and head to your closest post office to identify yourself. Some nationalities will also need to show their residence permit and hence won't be able to open their N26 account on the day of arrival to Germany.
4. Easy To Save Money
N26 offers a feature called sub-accounts. Depending on the plan you choose, you can create between two to ten sub-accounts.
Sub-accounts in N26 allow you to put money aside from your main account to save for whatever purpose you need.
5. Full control of your transactions
Through an instant push notification on your mobile phone, you can double-check any transaction you did with your N26 bank account. There is no faster way to notice any charging errors or possible abuse.
6. Get An Overview Of Your Expenses
The N26 app offers an easy way to get an overview of your expenses to be able to check where all your money actually goes.
You can even add custom tags (e.g. #friends, #xmasGifts) to each expense to create a new category in the report.
7. No Bureaucracy
You can easily set the limit for cash withdrawals and payments, activate online payments, lock and unlock your card, and reset your PIN through the app without needing to contact customer support or fill out an official form.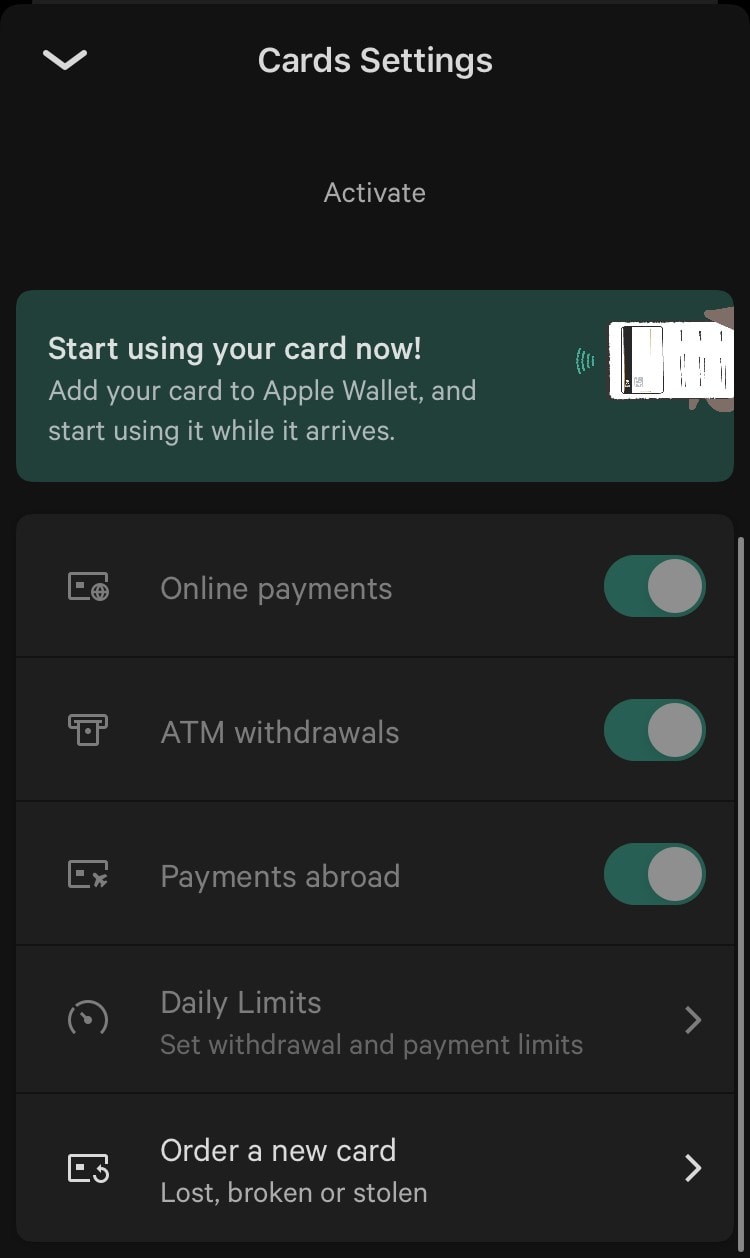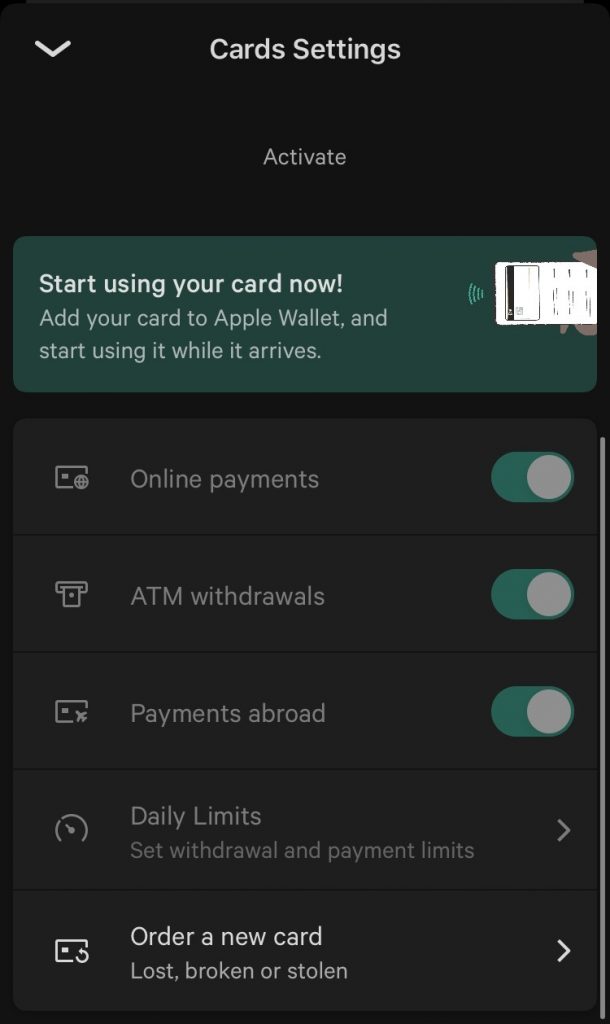 8. Send Money Abroad Easily
As expats, we sometimes need to send money back home. N26 has integrated Wise (former Transferwise) into their app.
Wise is an amazing platform that allows you to send money in 19 different currencies abroad without all the expensive currency conversion fees traditional banks charge. Wise is up to five times cheaper than sending money through a bank.
9. Great Card For Paying Abroad
N26 does not charge you any extra currency conversion fees for paying abroad in a different currency, unlike most traditional banks. They use the real exchange rate provided by Mastercard for your transactions.
10. Full Control Of Your Mastercard
The free N26 Standard account was reduced to a virtual debit card. However, you can still order a physical debit card by paying a one-time 10 euros fee. The cool thing is, N26 allows you to add your card details to Apple and Google Pay even before your card arrives. Now that is great customer service!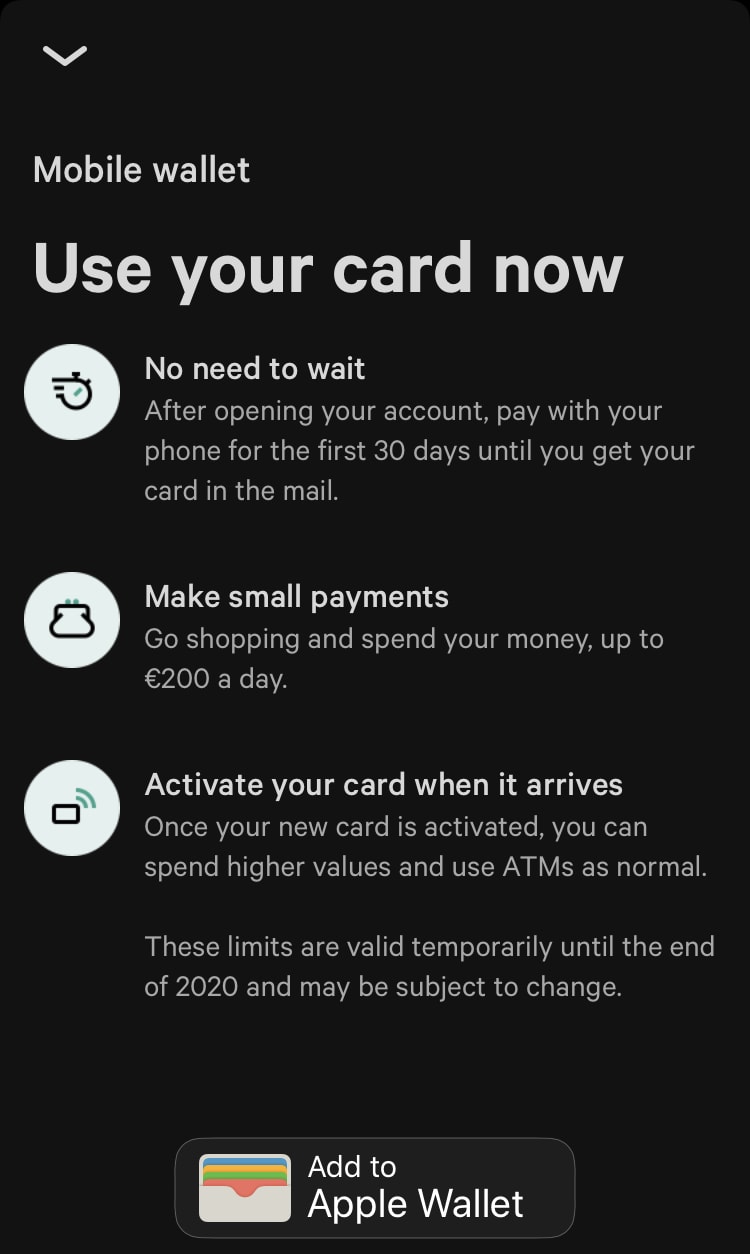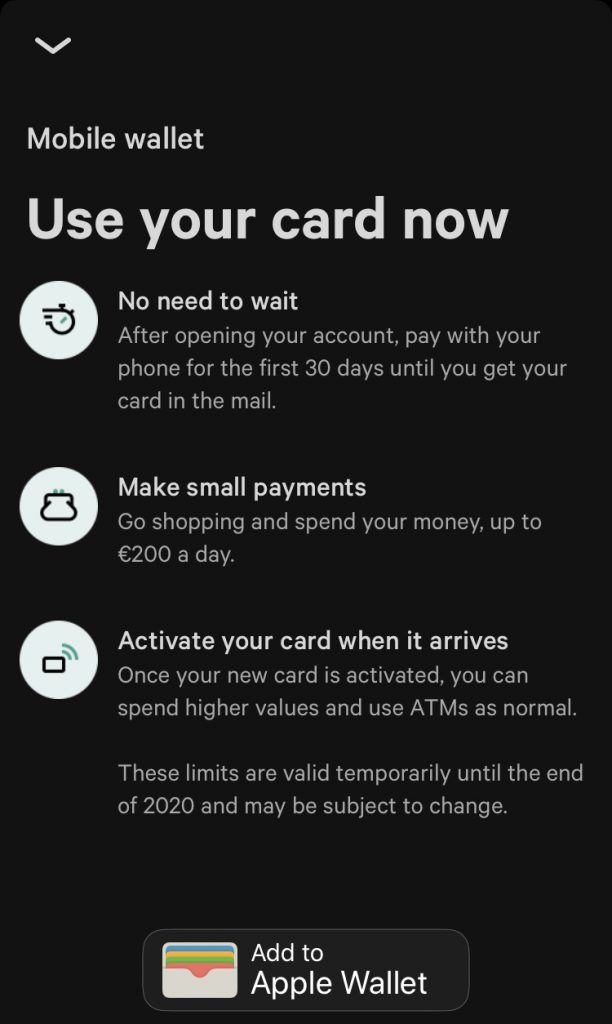 11. Cool And Quirky Features In Their App
The N26 app revolutionized mobile banking. Needless to say, its ratings in the iOS app store are 4,8 stars out of 81k reviews. In the Google app store, it has 3,7 stars out of 110k reviews. Here are some of its features, I find most convenient:
Quickly hide your balance: Through their mobile app you can quickly blur out your balance with one tap. This is a neat feature if you want to show the app to some friends, but you don't want them to actually know how much money you have.
Easy access to bank details: With one tap you can easily find your IBAN and BIC numbers. Also, you can effortlessly share them.
ATM Locator: You can easily find a map with all the ATMs near you to withdraw money.
Easily set scheduled payments: You can quickly have an overview of your scheduled payments, set, and delete new ones.
12. Advanced Banking Features
Unlike any other mobile bank, N26 offers a depth of advanced banking features. These include:
Overdraft up to 10.000 euros
Consumer credit up to 25.000 euros
Installment loans for purchases between 50 and 500 euros
Saving Options starting from 500 euros with EasyFlex Savings
N26 The Mobile Bank
100% in English and digital
Free bank account & virtual Mastercard
Savings & loan options
Customer service 7-days a week
Open N26 Account
Transparency: We earn a small commission if you click this link and open an account at no additional cost to you.
6 Things That Are Not So Great With An N26 Account In Germany
This N26 review for Germany would not be complete without some negative points. Not everything is amazing with N26. There are some drawbacks and limitations that you need to be aware of if you decide to open an account with them.
Here is a list of things I personally don't really like about N26.
1. Limited Cash Withdrawals
Germany is one of the countries where cash is still king. It is not uncommon to go to a restaurant or shop where they only accept cash (Bargeld).
If you don't plan your ATM withdrawals properly, you might end up paying 2 euros withdrawal fees for getting cash from the ATMs in the Eurozone with N26, even if you have a premium account. For any cash withdrawal in a foreign currency, there is a 1,7% fee.
Account Type
Monthly Free Euro
Cash Withdrawals
N26 Standard
up to 3
N26 Smart
up to 5
N26 You
up to 5
N26 Metal
up to 8
2. The Account Is Just For You
N26 does not allow more than one person to be the owner of the account. This means that you cannot have a shared account with your partner. However, they introduced shared Spaces recently.
3. No Credit Card Available
N26 does not offer any credit card. The only two cards N26 offers is a Mastercard debit card and a Maestro card (also known as EC card or girocard) for Germany.
If you need a credit card, be aware that credit cards in Germany work a bit differently than in your home country. We explain the different credit cards and give you a lowdown of the best free credit card in Germany in our related guide.
Related Guide: Best Free Credit Cards In Germany
4. You Can Only Have One Account Type
Unfortunately, you cannot register a personal and business account with N26. You have to choose one and stick with it.
I opened my personal account back in 2019. However, I found that N26 Business was exactly what I was looking for. So I had to proceed to close my personal account and signup again for a business account. That sucks.
5. You Cannot Access Your Account If You Lose Your Phone
If you want to access your account through a computer, you need to verify this login with your phone. This is great for two-factor authentication and all. However, if you ever lose your phone, you won't be able to login into your account immediately.
In this case, you will need to contact customer support to resolve your issue.
6. You May Manually Need To Request An EC Card
Not all German venues accept a Mastercard as a payment method. Some only accept the famous EC Card (EC Karte) or girocard.
The default card you get from N26 is a Mastercard debit card. Therefore, you might find that you won't be able to pay with it everywhere in Germany.
Luckily, you can manually request a Maestro card through the N26 app. Even though it is not part of the official girocard and EC network in Germany, you are able to use it, wherever the maestro sign is shown.
New Additional N26 Financial Products
Recently N26 has worked on expanding its product portfolio by adding the Savings and Credit option for account owners.
N26 EasyFlex Savings
With N26 EasyFlex Savings, you are now able to open a separate saving account for any amount between 500 and 100.000 euros. Your deposit length is fully flexible and you can access your money anytime within 2 business days. Like everything with N26, you can open your savings account within minutes via your smartphone and without any paperwork.
The savings account will not be held by N26 though, but by a partner bank that is also licensed.
⚠️ Important Note: If N26 only accepts your residence permit to verify your identity, you won't be eligible for easyflex. You can check your nationality in N26's list.
N26 Credit – Instant Loan Directly In your App
With N26 Credit you won't be able to get a mortgage, for that you will still need to talk to a traditional bank, like Commerzbank. However, N26 offers the probably easiest and fastest way of getting a small loan, between 1.000 and 25.000 euros.
First, you apply for credit, by asking for a real-time offer, with the variables that suit you and your needs. Second, you can accept the 0ffer by signing digitally. Depending on your offer, the loan comes directly from N26, with which you will get the loaned money paid into your N26 account within an hour. Or your loan comes from auxmoney, with which the loaned money will take around three business days to arrive in your account.
What Are The N26 Fees?
You can open a personal or business account with N26. Both types of accounts have four plans to choose from – N26 Standard, N26 Smart, N26 You, and N26 Metal.
The more expensive the account fees of your monthly plan are, the more perks you will receive. For example, a premium account can give you a higher number of cash withdrawals per month, travel insurance, unlimited free withdrawals in other currencies, and a higher number of sub-accounts.
🔥 Tip: You cannot have both a personal and a business account with N26. You have to choose one.
Monthly Fees For A Personal N26 Account
| Account Type | Monthly price |
| --- | --- |
| N26 Standard | Free! |
| N26 Smart | 4,90 euros |
| N26 You | 9,90 euros |
| N26 Metal | 16,90 euros |
You can find a comparison of all of the accounts and their benefits on the N26 website.
Monthly Fees For A N26 Business Account
| Account Type | Monthly price |
| --- | --- |
| N26 Business | Free! |
| N26 Business Smart | 4,90 euros |
| N26 Business You | 9,90 euros |
| N26 Business Metal | 16,90 euros |
Two additional benefits a business account has compared to the personal account are: cashback on all your purchases and the ability to download all of your transactions in a CSV and PDF format to help you out with your tax declarations.
You can find a comparison of all of the accounts and their benefits on the N26 website and a full overview of all costs and fees in this PDF by N26.
Is N26 A Real Bank?
Yes, N26 has a full banking license approved by BaFin. When N26 launched, it was partnered with Wirecard – a no longer existent German payment processor and financial service provider.
💡 Additional reading: If you have not heard of Wirecard before, this New York Times article will bring you up to speed with the scandal surrounding this company.
N26 received its official banking license from the European Central Bank in 2016. This means that they cut all ties with Wirecard, which was limiting the services N26 could offer to their customers. With this full banking license, N26 became a real bank in 2016.
Is N26 A Safe Bank?
Yes, it is! Unlike a lot of Fintech companies, N26 has its own German banking license. This means that it is supervised to meet all European regulatory requirements by the Compensation Schema of German Private Banks (EdB). Part of these requirements is that your funds are covered up to 100.000 euros.
Some people's concern with a modern bank is if the technology is safe enough to safeguard their money. Online banks don't have safety vaults, security cameras, or personal verification processes.
N26 guarantees that they take security very seriously. All N26 accounts come with strong security measures that protect transactions and all in-app features. Some of the security features N26 provides are:
Smartphone pairing: You can pair one smartphone with your N26 account. This guarantees that only you have access to your banking app and money.
Secure login: You can log in with a password, fingerprint identification, and face recognition.
Instant push notifications: You can enable push notifications to keep track of what transactions are happening in your account.
3D Secure: This is a Mastercard service that adds extra protection against fraud when purchasing things online.
Full control of your card through the app: You can set your cash withdrawal and spending limits, reset your pin, and lock your card in case you lost it, and also unlock it in case you find it again.
You can read in detail all of N26's security measures on their website.
How To Open A Bank Account With N26?
If this N26 review for Germany convinced you to open your N26 account, you are taking one big step towards reducing bureaucracy, while settling in Germany.
Follow these 9 simple steps to open your N26 bank account:
Click on Accounts in the menu and choose the type of bank account you want
Click on Open Account
Enter your personal information including
– mobile phone number
– address (for shipment of the card, you do not need to live there and can specify a c/o option)
– Nationality and place of birth
– Your legal sex
– In which country you are a tax resident (by moving to Germany and spending at least six months of the year in Germany, you become a German tax resident)
Create your password
Agree to T&Cs
Verify your identity via a video call to open your account
Download the N26 app
Wire at least 10 euros to your new N26 account to activate it
Your N26 Mastercard will be shipped within a few days, however, you can already start using it virtually via the app
Enjoy mobile banking in 2022!
Conclusion
I love N26! I highly recommend them due to their easy signup process, great customer support, and friendly app. Plus, all their communication is in English, which makes it super easy for us expats to understand what is going on with our money and account.
As you probably read in this N26 bank review, not everything is super awesome. They do have their limitations, as they don't offer a shared account, you can only have one type of account with them, no credit card available, and a limited amount of ATM withdrawals per month.
If any of the lacking features are super important to you, you can always have two bank accounts. Use N26 as your day-to-day account and Commerzbank as your secondary account. We even wrote a whole guide comparing the best bank accounts for expats.
Go and check N26 out, they're cool 😎 .