You might be wondering: "Why do cashiers keep asking me at checkout if I have a PAYBACK card in Germany?" This guide will dive deep into what the PAYBACK program is and if it's worth it for you to sign up.
What is the PAYBACK CARD Germany?
The PAYBACK card in Germany belongs to the PAYBACK program, which is a free bonus program with over 600 partner companies. PAYBACK is the most popular 'loyalty program' or 'rewards program' in the country. According to Statista, over 30 million people have a PAYBACK card in Germany.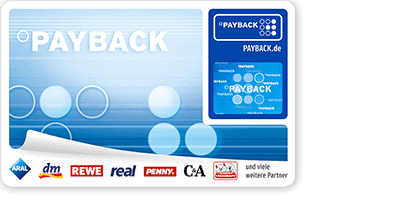 The PAYBACK program was founded in Munich in 2000 and has been part of the American Express Group since 2010. They are present in Germany, Italy, Poland, India, Mexico, and Austria.
How Does the PAYBACK Program Work?
Every time a customer presents their PAYBACK card to a partner company at checkout, they collect points. As a PAYBACK cardholder, you may exchange points for cash, rewards, Lufthansa Miles & More miles, or donate them to a good cause. Currently, there are over 600 partner companies in the PAYBACK program.
PAYBACK generates its income by acting as a marketing agency for the partner companies. The benefits for the partners are:
Attracting new customers.
Retaining customers through the incentive of collecting points and special offers.
Obtaining data about customers' shopping behavior.
The last point is a critical one for many people. The PAYBACK program is free to join for all customers. However, PAYBACK requests permission to share your basic data with its partners.
What Data Does PAYBACK Collect?
If a PAYBACK cardholder agrees, certain data is collected every time they use the PAYBACK card in Germany. Partner companies use the data to understand purchasing behaviors and create targeted marketing campaigns.
For example, imagine you gave permission to PAYBACK to share your data and you purchase computer games often from a PAYBACK partner store, and you use your PAYBACK card every time at the checkout to collect points. The partner company might use that information to send you coupons and special offers for a new computer.
It is important to point out that the information collected depends on the company's type of goods or services. For example, pharmacies do not collect the name of the medication a customer buys but rather the product category or group.
For more details on what information is collected by PAYBACK and by the partner companies, make sure to check out the following resources:
🔥 Tip: If you use Chrome as a browser, you can translate the German pages into English (or any other language) by right-clicking on the website and choosing the option "Translate to English".
If you grant permission to PAYBACK to share your data with partner companies, you always have the right to opt out and still continue to use the loyalty program to collect points.
How to sign up for the PAYBACK program in Germany?
The only two requirements to be able to sign up for a PAYBACK card are:
You must be 16 years or older.
You must be a resident of Germany.
You can easily sign up for the PAYBACK program through their website or at any partner store like dm, REWE, real, PENNY, and Aral, amongst others. Once you have signed up, you can use your customer number to start collecting points, as the physical card might take 3 to 4 weeks to arrive.
Remember upon sign-up that you have the option to consent or reject PAYBACK's requests to:
Receive advertisements by mail from partner companies.
Collect your data for advertising and market research.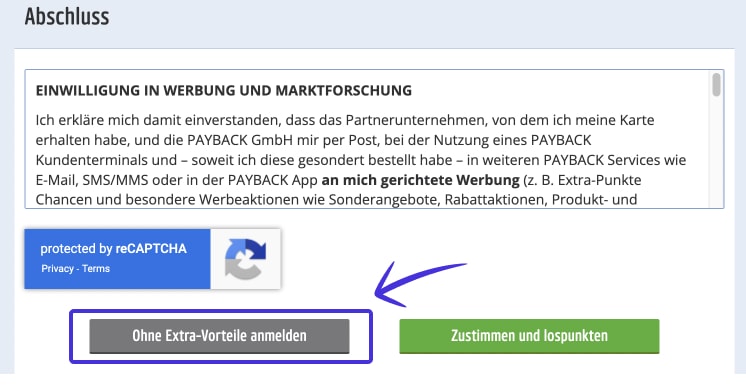 Understanding PAYBACK points in Germany
To collect PAYBACK points, all you have to do is present your PAYBACK card in Germany at checkout. The cashier will scan it, and your PAYBACK account will receive the points.
What are PAYBACK points worth?
Each PAYBACK point is worth one eurocent. How many points you collect with each purchase depends on the amount of your purchase and the type of service the partner company provides:
Majority of shops (supermarkets, drugstores, fast food restaurants, clothing stores): 2 euros = 1 point
Gas stations: 2 liters = 1 point
Contract-based companies, you receive points per contract. As an example:

DHL: 25 points if you book a forwarding or storage service
For more details on how many points you get from each partner, make sure to check the official PAYBACK partner page.
How To Check How Many PAYBACK Points You Have?
You can easily check how many points you have in two ways.
Log into your account through the PAYBACK website

Download the PAYBACK app to your phone and log in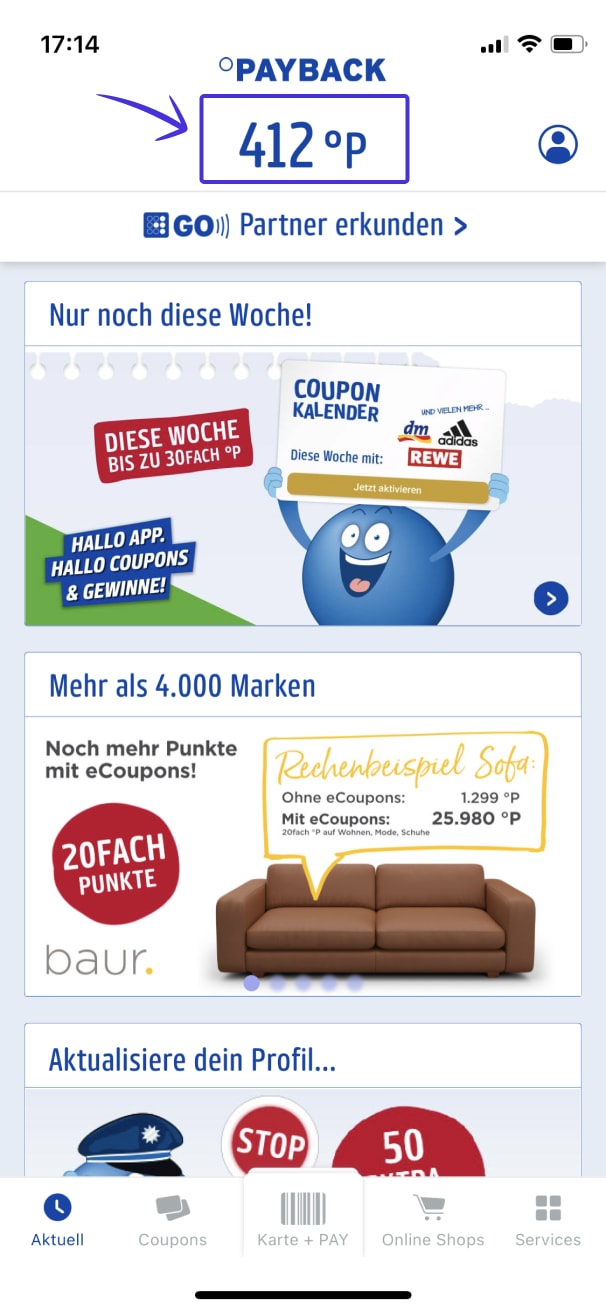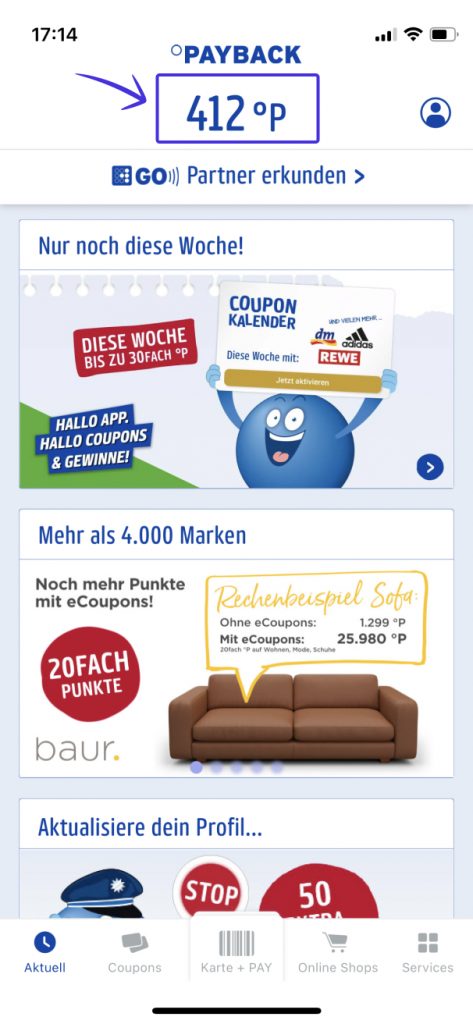 If any of your points are about to expire (they are valid for 36 months), you will see a warning message in your account.
How To Redeem PAYBACK points in Germany?
You will need to collect a minimum of 200 points before you can redeem them for any of the offers within the PAYBACK program.
Here are some of the popular ways you can redeem your PAYBACK points:
Pay for your purchase: You can use your points to pay for all or part of your purchase at the partner stores. Some shops that accept PAYBACK points as payment are dm, real, Burger King, and Aral.
Convert your points into Miles & More miles: If you have a Miles & More card, you can exchange your PAYBACK points one to one, so one PAYBACK point = 1 Miles & More mile.
Exchange your points for vouchers: You can exchange your points for shopping vouchers that you can use in your purchases from companies outside of the PAYBACK point program. For example Airbnb, Spotify, IKEA, and Zalando. You can check out PAYBACK's website for the full list of vouchers you can get.
Exchange your points for products: Within the PAYBACK app and website, you will find offers for cooking, sport, multimedia, or lifestyle products that you can purchase with your points. Be sure to compare the price of what you want to purchase with other providers. The prices of the products in the PAYBACK program are often higher than if you would buy them with cash.
For more options on redeeming your points, make sure to check the PAYBACK website.
⚠️ Good to know: PAYBACK points are valid for a maximum of 3 years from the time they are credited to your points account. Your points will never expire if you have the PAYBACK American Express credit card. We go into more detail about this credit card below.
3 Ways To increase the number of PAYBACK points you collect?
1. Use Coupons
PAYBACK has many coupons that you can use during your checkout to increase the number of points you collect.
You can get these coupons through the PAYBACK app. In addition, if you have authorized PAYBACK to send you snail mail, you will most likely receive these coupons in your mailbox as well.
Here is an example of a coupon for dm. The fine print says that I get ten times the points if I use this coupon with my next purchase.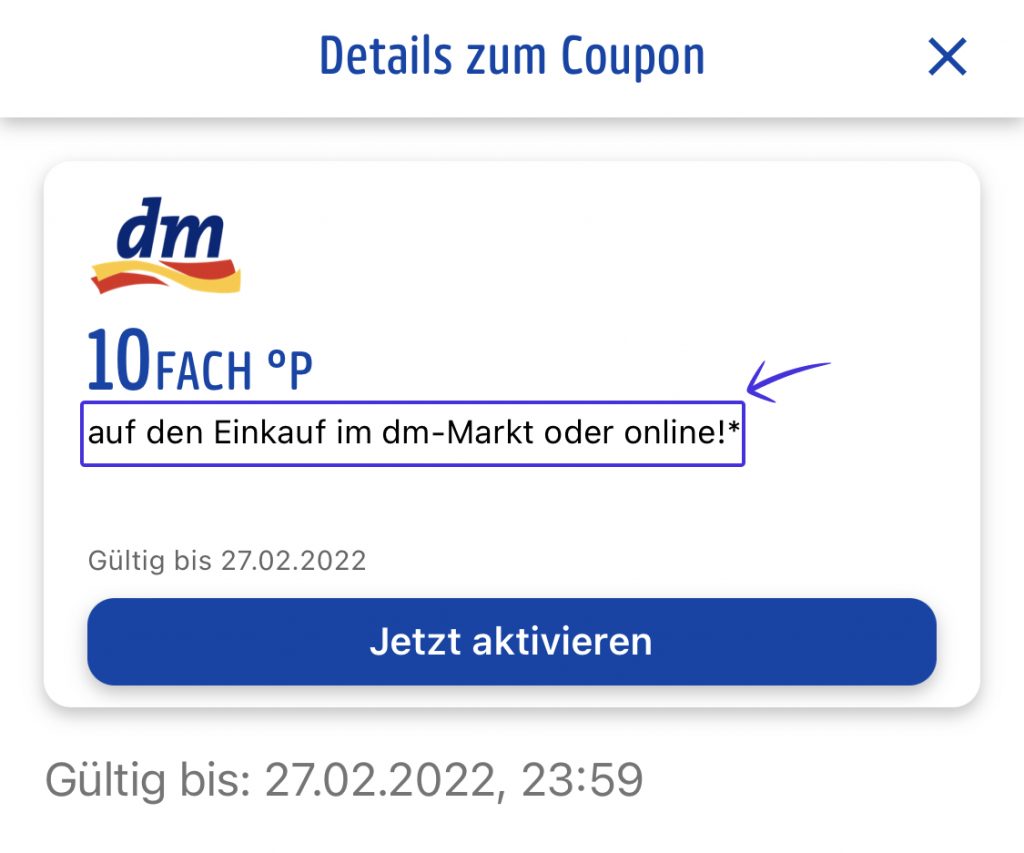 Be careful to read the coupons' fine print, as some might say it only applies to specific products. For example, this other dm coupon says in the fine print that it is only applicable for baby products: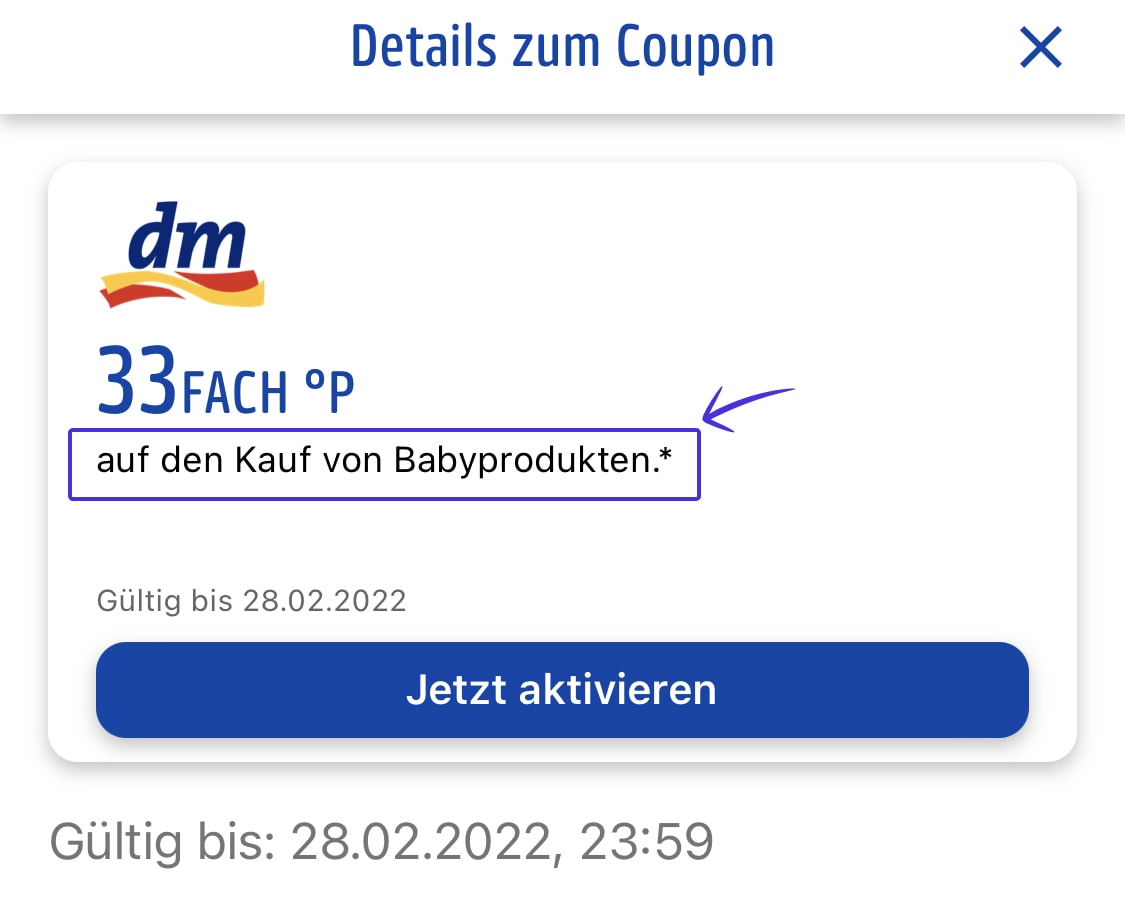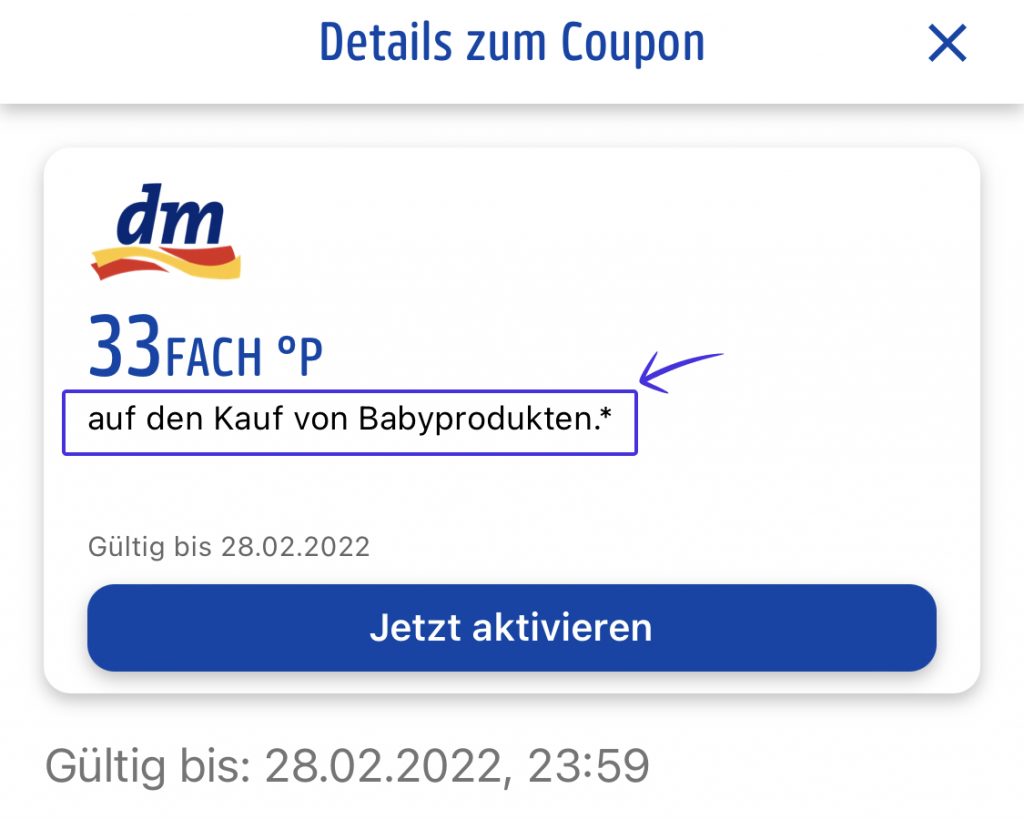 2. Use Special Links For Online Purchases
You can also collect PAYBACK points when signing up for services online. For example, if you sign up to Disney+, you can get up to 250 points.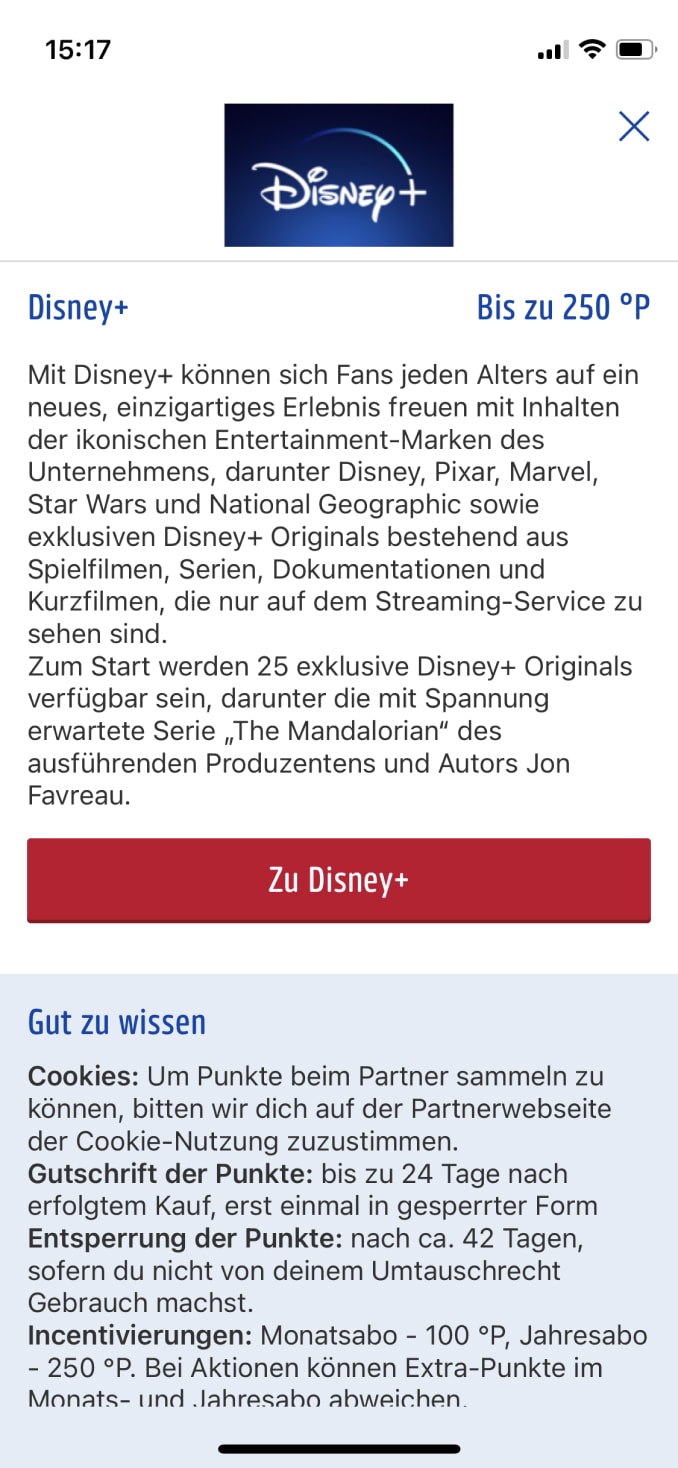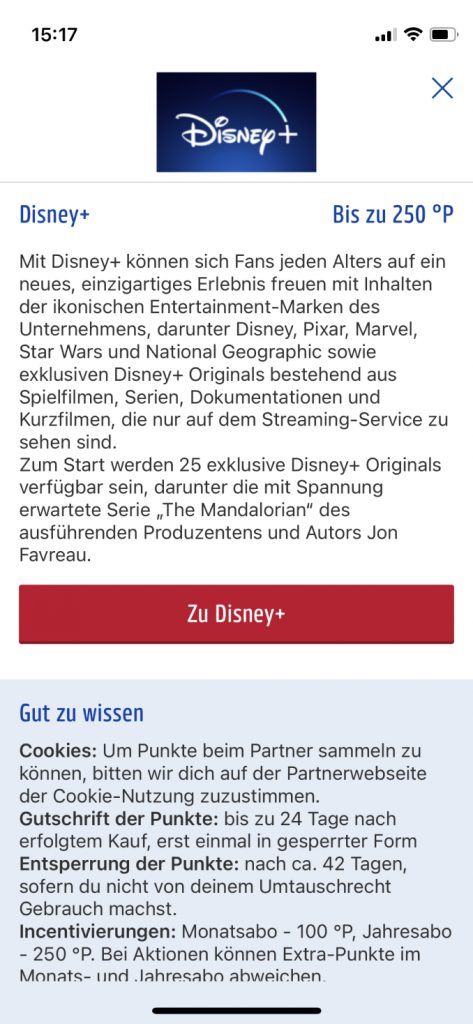 All you have to do is use the link in the app to sign up for the service. This link will add cookies to your browser so that PAYBACK can credit you the points to your account.
3. Get the PAYBACK American Express card
By far, the best way to increase your collection of PAYBACK points is to sign up for the PAYBACK American Express card in Germany.
The main difference between the Amex PAYBACK card and the regular PAYBACK card is that you can collect points with every purchase you make with the Amex PAYBACK card; it does not matter if the company is a partner store. Currently, with the Amex PAYBACK card, for every €3 spent, you collect 1 point. Additionally, you will get double the points if you use the PAYBACK American Express card in partner stores.
The PAYBACK American Express card can be used worldwide, but we would recommend just using it in euro countries as there is a high 2% fee for paying in a different currency.
Also, there is a high 4% fee for withdrawing money from any ATM worldwide, including Germany.
We have written a detailed guide on the Best Free Credit Cards in Germany with no hidden fees like the AMEX one.
Related Guide: Best Free Credit Card In Germany
Again, here is an overview of the benefits and drawbacks of getting the PAYBACK American Express card in Germany:
PAYBACK American Express Card Benefits:
✅ No annual fee
✅ You can use it to collect PAYBACK points with any purchase, not only partner stores
✅ You get double PAYBACK points when you use it with partner stores
✅ PAYBACK points don't expire (normally, they expire after three years)
✅ You get a sign-up bonus. It could be money or points, depending on the offer.
PAYBACK American Express Card Drawbacks:
❗2% fee for paying in currencies other than the euro
❗4% for withdrawing money from any ATM
⛔️ Not all shops in Germany accept American Express credit cards.
You should consider getting the PAYBACK American Express card if:
You want to maximize the number of PAYBACK points you can collect.
You will only use the card to pay for purchases in euros.
You are ok with Amex deducting the total amount you owe from your bank account every month, as no partial payments are possible.
Is It Worth It To Sign Up for a PAYBACK Card in Germany?
The PAYBACK card in Germany is worth it if you use it consistently. With the regular PAYBACK card, you might be able to collect enough points to pay for a partial or complete purchase at a partner store. If you get the PAYBACK American Express card, you can maximize the opportunities to collect more points.
In a Toytown thread, some PAYBACK customers have given some examples of how they have used the PAYBACK card and how they have redeemed their points. Here is one:


I signed up for the regular PAYBACK card in 2015. I use it regularly at REWE, dm, and Aral. I have been able to pay for some full or partial purchases at partner stores throughout the years.
According to Galileo, a popular well-researched TV show in Germany, PAYBACK customers get, on average, 20 euros as cashback per year.
Conclusion
If you consistently shop at PAYBACK's partner stores and you like collecting points, then you should consider signing up for the PAYBACK program. Consider applying for the PAYBACK American Express card to take full advantage of the PAYBACK program and maximize your chances to collect points.
Signing up for the PAYBACK program and redeeming the points is quite simple, and as a customer, you have the right to accept or reject PAYBACK's request to track and use your data for marketing research. So the choice is yours!
Happy point collecting! 🎰